A fat guy's review of Fitbit Coach for Windows 10
With Fitbit releasing a new app to the Microsoft Store, I was anxious to see how much it'll help my workouts. Here are the results.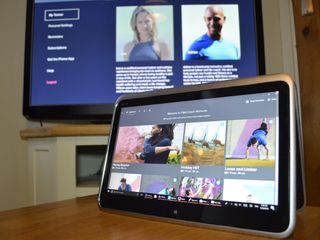 Fitbit Coach is a guided workout application that's available on a number of platforms, including iOS (opens in new tab) and Android (opens in new tab). It recently launched on the Microsoft Store bringing its services to Windows 10, Xbox One, Windows 10 Mobile, and HoloLens. The app has loads of guided workouts and can cater them to your specific fitness level. I wanted to know if it'll encourage me to get off the couch and get back into shape.
The app itself is free and you can use very basic features without a subscription, but to get full access you'll need to upgrade to a premium account for $39.99 per year.
See in Microsoft Store (opens in new tab)
Features and design
When you first boot up Fitbit Coach, you can sign into your Fitbit account and do a basic fitness test to help the app know your fitness level. You can tell it which exercises were easy or difficult for you to help it understand your needs. If you're using the free version you're limited to some basic workouts, but paying for premium opens doors to over a hundred custom workouts.
The workouts feel very much like any other fitness video you've seen. A coach guides you through movements and you end up doing a varied set of exercises that focus on different muscle groups. The pacing is well done with short breaks between exercises that you can use to watch the video guides on how to perform the next exercise. You can have the music Fitbit selects for you running in the background but personally I'd opt for using something like Spotify which you can play during your workout on a PC, Xbox One, or phone.
The workouts are designed for people working out at home. You don't need a lot of equipment other than space, a wall, and some little things to enhance your exercises like a medicine ball. This makes Fitbit Coach very accessible, especially to people new to fitness. I've done a number of workout plans and they all have their strengths and weaknesses, but if you're a beginner a high learning curve and a long shopping list of equipment can be enough to turn you away from a fitness program.
Fitbit Coach has a lot of workouts already and will gain more over time. If you loved Xbox Fitness and were upset when it was discontinued, Fitbit Coach is definitely worth a look. It doesn't have the Kinect tracking that Xbox Fitness did but has the luxury of working on the Xbox One as well as your PC, phone, and non-Windows devices.
After you've done a workout, it gets synced with your Fitbit account and you can review your activity on your other devices. I did a workout on my Xbox One and while it took a moment to sync across, I reviewed it on my laptop. It's a little thing that's a big help when it comes to staying on top of a fitness plan.
How Fitbit Coach affects my health
While this is primarily a review of Fitbit Coach, it's important to briefly go over my fitness background to show why this app is such a good fit for me.
In my adult life I've struggled to stay fit, ranging from 185 lbs to 315 lbs with my weight going up and down depending on my current lifestyle. Over the last ten years I've been on both sides of the activity scale, running a half marathon and playing American football at university on one side and being relatively inactive while working from home on the other. The main factor determining my fitness level wasn't a knowledge of how to work out or access to equipment, it was if I had a specific goal to accomplish and motivation to obtain it.
With Fitbit Coach, I gain a structured fitness plan that combines my love of tech with the convenience of being able to workout from home. It very much fills the same gap as the now discontinued Xbox Fitness by providing a variety of workouts to prevent boredom while also being a well-structured plan. There's enough motivation within the app to give me an extra push and the fitness reporting and tracking helps me have a sense of accomplishment.
If you're the type of person who can get up in the morning and run or go to the gym without someone having to throw you out of bed, I'm not sure how much Fitbit Coach will help you, it's hard for me to judge that. But for me and many others in my situation, having a fitness instructor in my living room that combines with technology I already have is a huge boost to my workout regime.
Summary
Fitbit Coach is a well-designed app that will help you get into or stay in shape if you follow its plan. It's a strong testimony to Fitbit being on board with Windows 10 and its cross-platform syncing makes it a great companion for anyone trying to get into shape. While you don't need a Fitbit device to use Fitbit Coach, the experience is enhanced by having one.
There aren't many downsides to Fitbit Coach besides its price of $39.99 per year. That's a lot less than a gym membership but also comes without any equipment or facilities. The value of the subscriptions depends greatly on what you already have to work out with. For me, who is more concerned with staying active and working on cardio than looking like a model, it's an incredible app that I'm very happy to have in the Microsoft Store.
Pros
Loads of guided workouts.
Cross device syncing.
An impressive Xbox One counterpart.
Works with a popular fitness platform in Fitbit.
Cons
$39.99 per year to get full benefits.
See in Microsoft Store (opens in new tab)
News Writer and apps editor
Sean Endicott brings nearly a decade of experience covering Microsoft and Windows news to Windows Central. He joined our team in 2017 as an app reviewer and now heads up our day-to-day news coverage. If you have a news tip or an app to review, hit him up at sean.endicott@futurenet.com (opens in new tab).
So did you actually lose any weight??? Remember, pics or it didn't happen!!!

I don't know about the fat man, but I bought Ionic 2 weeks ago, notification and sync completley broken, sensors are inaccurate (counts steps when you sleep, sleep tracking is random, altimeter varies 15-20%). And their support just sends you the same "How To" link and recomend you to try other OS (how many phones am I supposed to carry with me?). I returned it for a refund, patched my band 2 with heat shrink bands, and instead of coach that costs $400 without any body tracking (not good for people who are excercising wrong and get injured) I get better features for free.
I'll use:
1) Indoor - My trusty XBOX 360 Kinect running Fitness evolved (Ubisoft) with excercise tracking on my band - Feedback on my form and hundreds of combinations of work out / yoga /tai chi / warm ups etc 2) Indoor - Design my own workouts and upload them to my band 2, use the xbox for music 3) Outdoor - Running/Cycling/Hiking - using GPS and review my stats and share full stats (Fitbit partial screenshots) 4) Sleep tracking - Always works, no matter how much battery is left or how you strapped the band, accurate sleep restoration indication (Fitbit doesn't have it). Smart alarm (fitbit doesn't have) Turns off screen and notifications automatically (Fitbit doesnt have it) 5) Notifications always work - Call/SMS/Email/Calendar/Apps 6) Control music on my phone, perfect when you don't/can't want to pull the phone (driving/running/walking) 7) Data sync - Apps sync with phone (Weather, Facebook, N10 (Connects to my Nest thermostat), Cortana feed, twitter and much more) 8) Voice commands - Talk to cortana through the band (Fitbit doesn't have) The only thing missing for me is swimming, maybe I'll get a garmin watch for that. The lesson learned is not all that is new and shiny is better (despite the hype).

Sean is so fat that he could not even take photos to show it off. Too bad, otherwise I would have read through the article. (btw Sean from what I've seen 2 years ago was above average in body type)

The magic words that make ignore the whole article (at least for me) were: "[...] you'll need to upgrade to a premium account...". There are some pretty good Youtube channels that can coach anyone looking for exercising, they're free.

Defintly an option, turn on excersice tracking on your device and put that youtube workout video you like. Done.

yeah but that's like $50 per year. If you're already wanting to do workouts and stuff, that money will be spent on this instead of some gym equipment.

There's still a lot to do with the free account. And the free version gives you workouts that are customized to you, as opposed to static YouTube videos that don't take into consideration the fact that your legs might be strong when your core is weak.

Is there an app that pays you for working out? I feel something like that would be more motivational to me than anything else, besides obviously having better health. But nobody worries about that until it suddenly hits you.

I would take this forward, tax benefits to whoever excercises and eat healthy (ignore food recomended by lobbysts).


Actually there are quite a few. I remember PACT. Nowadays with Crypto being the craze there is Sweatcoin. Here are a few more... https://www.frugalforless.com/apps-that-pay-you-to-exercise/

Interesting. There's a couple in there that may fit me. Thanks!

Good review, Sean. I've been using the app for a week now, and my background is going to the gym two times a week 1 hour each time. This app is great when I am away from my gym or as a compliment to my real training. However, if one is serious about getting in shape, I agree that you unfortunately need the subscription of monthly or yearly - at least for now :) One other thing: If you currently report a bug using the in-app method, be prepared for a lengthy e-mail conversion 😒
Windows Central Newsletter
Get the best of Windows Central in in your inbox, every day!
Thank you for signing up to Windows Central. You will receive a verification email shortly.
There was a problem. Please refresh the page and try again.