FB Pages Manager Pro is this week's myAppFree Deal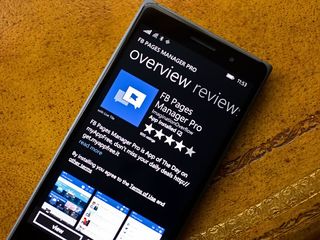 FB Pages Manager Pro is a feature rich Windows Phone app for managing Facebook Pages on the go. The app basically lets you manage your Facebook Pages as you would from your desktop browser just from the smaller screen of your Windows Phone.
FB Pages Manager Pro typically runs $1.99 in the Windows Phone Store but for the next twenty-four hours you can pick up FB Pages Manager Pro for free through the myAppFree Deal of the Week. As an added bonus, this deal will also give you access to the Windows 8 version free as well.
What will FB Pages Manager Pro do for you? The Windows Phone app will:
Allow you to post, delete and share your pages status
Upload photos to your pages
Send and receive messages from your pages
Comment on your posts or reply to a comment
Pages can also be pinned to your Windows Phone Start Screen and notifications are available to alert you of activity from your pages. Also, your Facebook theme can be used as the theme for FB Pages Manager Pro or you can use your Windows Phone theme.
Understandably, not everyone is a Facebook fan but if you do manage pages on the social network FB Pages Manager Pro makes a nice first impression and should come in handy. With the added bonus of the Windows Phone app being free (normally priced $1.99), you don't have much to lose in giving FB Pages Manager Pro a try.
The myAppFree deal will last for twenty-four hours and if you aren't seeing the FB Pages Manager Pro deal listed in the myAppFree Windows Phone app, it may take a while to show up with all the time zones coming into play. However, the deal is already live in the Windows Phone Store and if you take advantage of it, let us know what you think of FB Pages Manager Pro in the comments below.
Please Note that you will likely need to download/install the Windows Phone version of FB Pages Manager Pro before the Windows 8 version will be available for free.
myAppFree
Windows Central is proud to be partnering up with myAppFree to bring you savings on Windows Phone apps and games. myAppFree is a free Windows Phone app and service that highlights special deals for software on the Windows Phone Store. Make sure you download their app to keep track of all the specials they run weekly, as you'll never know what you may find.
Windows Central will continue to highlight select apps and games, such as FB Pages Manager Pro, from myAppFree on a weekly basis as a benefit to the Windows Central community.
Download myAppFree for Windows Phone (Free)
Windows Central Newsletter
Get the best of Windows Central in in your inbox, every day!
George is the Reviews Editor at Windows Central, concentrating on Windows 10 PC and Mobile apps. He's been a supporter of the platform since the days of Windows CE and uses his current Windows 10 Mobile phone daily to keep up with life and enjoy a game during down time.
I'm Fedup with Facebook and wonder if people still use it

No they don't.. Just a couple billion people

I use it, and so do all my friends and family.

God Bless YOU George for this message! Downloading now

I can't see pokes, and whenever i get a notification that someone has a birthday its says "having trouble fetching data"

If I understand this app correctly, it's not a Facebook App. It's a Facebook Page manager. It's not about your home page or profile or status. It's about Business pages and stuff like that. I have a feeling you're trying to use it for the wrong thing. Don't worry, I had to look at it twice to make sure.

I really needed this! Thanks so much developer for being so generous :).

It's already bad enough that FB split their messenger into a separate app. I don't need another one.

Great just when I made a new page

... I'm also unable to change my cover photo

I'm going to be honest here: no one cares. This is about Facebook Pages Manager, not "Orlando's problems with Facebook" ;)

Dan, why still Windows Phone Central?

They've got ways to offer feedback. Let them know! I've emailed the devs a few times myself, and have been pleased with its progress since I started using it in Windows Phone 7. Mind you, if Facebook's mobile experience is to be used, there's things they only want you to do from the desktop, not mobile, so there might be limits in place outside of their control.

I've been using this app for years, and feel like its been underpriced if anything. GRAB IT NOW!

Why in the hell is every post about anything Microsoft or developers are doing an open invitation to bitch and moan? Even when free shit is given away by the developers, it seems the same "whining bunch" always show up to bitch about it. SMDH. This is not the place it used to be. Now its not a lot different than the old MySpace. No wonder visits are dropping.

I hear ya, Jazmac. I hear ya. What's really bad is when they complain, "Why can't I see my email on OneDrive!?" Uh, because you're using the wrong app! I was reading comments on an article about Microsoft's new Windows Hello to debut with Windows 10 (on another site), and someone complained that they were afraid something like that would let someone use a photo of you to log in. The article stated very plainly that a photograph would not work, becuase it would do a 3D scan of your face and knew the difference between a photo and a real person. I had to shake my head at that person as well. I hate it when people read the headline and the first sentence, and then assume they know everything discussed in a lengthy article. Then they moan and whine about what they thought it was about.

I will say, it often impacts my day and creativity. Lately, even I don't give a damn on some days here because of all the complaining in comments. I have never been so disappointed in some of the regulars as I have been lately.

Like rhapdog said, I saw the post about Windows Hello and watched the video. I felt all types of excited for what Windows 10 would have in the OS alone. I mean, I'll install my own apps for what I do but to have Cortana standing by, OneDrive holding all my excess stuff, and I mean all of it, I got the Xbox Pi deal and man, I'm feeling pretty dang good. I slip into the comments to share with other fans of Windows X hoping share in some joy and I could not believe my eyes. EVEN GOT DAMN WINDOWS X IS SUPPOSED TO BE FREE and not even THAT is enough. I'm committed to the platform so I keep coming here but maybe its time Windows Central make the comments section a yearly paid service. They could come and read topics and stories all day long but they can't say shit. Fuck em, FUCK THEM!!! They don't deserve what you guys do here. Just come in and piss on the furniture and put graffiti on the walls is all they are good for. Topics are all written from a defensive posture now. All the damn time. Anybody reading the stories tell they story has a pensive texture to them. From games to OS's to apps, its a whiners bitchfest. Who in the hell wants to spend time writing in this environment? No fucking body. Make this area by membership then they could take it to the free forums where the mods there don't play that bullshit. /stepping down from rostrum.

Dude! You're going to get a lot of backlash over that one. haha! But, I have to agree with you. Personally, I don't like what the people here put Daniel, Richard, George, and the rest through. (If I omitted your name, sorry, trying to be short which is really hard for me.) You know, I couldn't say for sure, but I wouldn't be a bit surprised that $1 per year subscription to post to articles would prevent 99% or more of the complaining, because the complainers don't want to pay for anything. They want to gripe about the free stuff. It's part of their "entitlement" that is ingrained into them. I'd rather work for a living, and did so for a long number of years before retiring. Now I work hard taking care of my children. I wouldn't mind a bit paying $1 per year, especially if it got rid of all the garbage. Perhaps they could make "developers of Windows, Windows Phone, XBox, etc." have a free account somehow, as they aren't the ones bitching about what the devs do. Perhaps this is why tech journalist prefer to write stuff about what Apple is doing instead of Microsoft, because Apple fans will take whatever and be happy. Mostly because Apple fans can afford an iPhone, therefore must be actually working for a living. Maybe there is something to overcharging for a product afterall?

That is the word, ENTITLEMENT. Many feel like that. I hope they do something to control the BS. Developers see this stuff and say, man, I don't want my stuff in that morass.

Your comment and the ones that follow are awesome! Thanks!

Great that it is free for the day, sadly two weeks ago I paid for this app as is very useful for managing my business page. Oh well still a great app and free today. Still please I paid as it is good to support the devs.

Take advantage of it! It's a great app for Page managers.

Finally a good page app. Tnx for that. Make live so much easier.

This is really good for anyone on the edge about trying out

LOL, Yesterday I made a decision to purchase this app, cuz i have been running few business pages from recently, so i needed this app. It works PERFECTLY on my ATIV S i8750 (wp8.1.1). So I said to myself, Ok, once i am back from work, i am purchasing app. And when i got home from work, normally, first page i open for any news is Windows Central and I'm seeing this article. I was like "No way, LOL". Download it and i am so happy now. I called my friend to tell him about this since he is running few business FB pages and he was like "Nah, will wait till tomorrow, wanna support the dev by purchasing", and I was like: "F you man, you just made me look bad" LOL. However, this is a great strategy move from the devs of this app. This app is one of the most popular in WP Store, imagine the popularity that will gain now. Kudos to the devs, kudos to all WP devs too. You are our heroes! :) About the ones here bitching and moaning all the time: STOP DOING IT! You are not funny nor interesting, You just make yourself look dumb as F*ck

I really needed an app like this but didn't knew which one was good to manage the page for my bakery. This one fits all my needs. Thanks devs, myAppFree and WindowsCentral! Daniel, u rock also :)

Thank you ,Thank you ,Thank you ,

Thank you George for this amazing news! :)

MAN! i paid for it just a week ago. now it is free.

Bought this A while back- nice app.

It is not signing in even though I have installed two times, finally I uninstalled it... Bogus...
Windows Central Newsletter
Thank you for signing up to Windows Central. You will receive a verification email shortly.
There was a problem. Please refresh the page and try again.