Fhotoroom adds invert tilt shift and straightening in latest update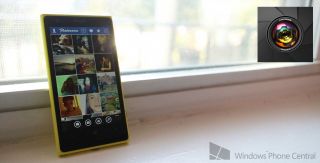 Fhotoroom, one of our favorite photo-editing apps for Windows Phone, just got an update to version 9.5. In addition to bug fixes, Fhotoroom adds 2 editing options. You can now play with Invert Tilt Shift and Straighten with your photos. Not sure what they're for? We have a video to show you how they look, so watch it after the break.
Fhotoroom lets you fix or tweak your photos using the editor. There are over 75 different filters to choose from which are all customizable via sliders. You can also give your photos a final touch with custom-designed frames.
The new Invert Tilt Shift option is available within the Tilt Shift setting. By default, the focused area is a rectangle. You can change that to a round shape on top. The reverse option is the one to the left. Instead of blurring the areas outside the shape, it blurs the area inside. This can be useful in blurring out license plates, people's faces or IMEI numbers printed on phone boxes.
The new Straighten option is included in the Editing setting. You can straighten images by rotating two fingers or by moving the slider at the bottom. Unfortunately, Fhotoroom adds black space at the corners. There should be an option to automatically crop the photo to remove extra space.
Even though we mostly use Fhotoroom for editing photos, it also has a pro camera within the app. What's really useful about their camera is that you can manually choose two different points for the exposure and focus. For example, you can focus on a table, while setting the exposure for the candle on top. In comparison, Nokia's Pro Camera uses one point to measure both values.
That's not all. Fhotoroom also has a very fast growing community. In addition to sharing your finished photos on their network, you can also share on Skydrive, Vkontakte, Flickr, Facebook, Instagram (via Instagraph) or Twitter all at once with a single click.
If you haven't tried it yet, Fhotoroom is definitely worth checking out. It is a free download at the Windows Phone store and is available for both Windows Phone 8 and Windows Phone 7.5 devices.
Windows Central Newsletter
Get the best of Windows Central in your inbox, every day!
Not sure what it is, but I find myself not using Fhotoroom as much as other apps like Nokia Creative Studio, Fantasia Painter and Fotor.

Fhotoroom for me, is my go to photo editing app on my phone. I love it. So many options.

So much better and full-featured than Instagram. One of my favoriter apps for filters.

Thank you Mark for the review, the black space on rotate only affect angles less than 5 degrees. Since we support photos that could be landscape or protrait it would be really bad to auto crop on the center, thus we leave that out. With app that can only handle square photos this might be fine but bad design for more flexible editors.

sorry larger than 5 degrees not smaller than.

I LIKE THIS APP CUZ OF THE BOOBIES!

Me too the chics rock unlike those ugly users on instagram

XD a lot of cute Finnish girls

Im watching the incredible hulk. . . Don't make me angry!!

Both. But I removed Nokia Creative Studio. Didn't found it so much useful. :|

Its one of my favourite too

Never tried this! Will give it a go

Yeti on furry available for download

Wpc guys ,pls think about weekend holidays no posts on weekends its very bad

"no posts"? I count 20 posted on Saturday & Sunday in my time-zone. Around 9 posts if you're in the US.

WPcentral weaknesses... Weekends

You copied video direction from THE VERGE :D

with camera tech advancing, do we really need DSLRs anymore

if all your pictures are selfies or simply for social networks, sure and Nokia phones excel in this respect. However, if you print or you like real quality photos, the answer is no. I do not see National Geographic magazine or wedding photography done with a cell phone. If your a parent, you will have to decide how important pictures of your kids are to you and if a cell phone is good enough. Cell phones are and will eventually kill off all compact cameras. A camera, any camera is a tool. DSLRs will always be around when the photograph is something you want to keep or hang on your wall.

One photographer from National geographic did use the Lumia 1020... Do a quick google for it...