FIFA 15 Ultimate Team with Xbox support dribbles onto Windows Phone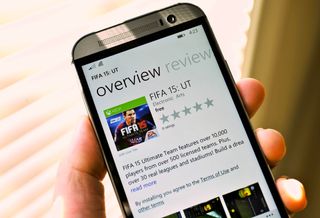 FIFA 15 Ultimate Team is the latest game for Windows Phone with Xbox Live support. You get over 10,000 players from over 500 licenses football teams. Look forward to over 30 real leagues and stadiums in this new mobile game! English Premier League, La Liga, German Bundesliga and others are all now on your Windows Phone for free.
Here's what you get with FIFA 15 Ultimate Team for Windows Phone:
BUILD YOUR ULTIMATE TEAM: Earn, trade, and collect superstars like Lionel Messi and Eden Hazard to create your own fantasy team. Choose your play style, formation, kits, and more.
QUICK SIMULATION MODE: Put your management skills to the test with new Quick Simulations. Set up your squad, start the match, and watch it unfold. Make smart subs, tactical tweaks, and gauge team effort along the way. Your match results depend entirely on your ability to manage player skills and chemistry – taking authenticity to the next level.
REAL WORLD MATCH UPS: Play your favorite team's next fixture, plus 3 other major match-ups happening around the world – every week!
TAKE CONTROL: Use classic controls, now with the "through pass" feature – or opt for new "Casual Controls" with fewer buttons. You can even double tap the joystick to enable tactical dribbling for closer control of the ball. Plus, if you have an external controller – don't miss the chance to use it on the pitch for the first time.
FIFA 15 Ultimate Team is a free game for Windows Phone from EA. There are in-app purchases, so be aware of that. Download clocks in 781 MB, so make sure you're connected to some Wi-Fi before attempting to download. Sadly, there's no 512 MB support.
Thanks for the tip Moodi Darkness!
#icareitisthemainreasonigotawindowsphone

You got a Windows phone for little achievements?

And the camera, and because I have bad experiences with android.
Apple is a rip off, never considered them.

I got a Windows Phone for Xbox achievements. You going to mock me too? Don't be judgmental. No one likes patronizing, condescending ignoramuses.

It's better than writing 1st

Haha, that's something I'd say (#thisisnottwitter) hahahahaha.
#SocialNetworkingRotsBrains.
#GetALife
#kTHX

Hashtags work on more than just Twitter, but that wasn't his point. He was directing you to the online social movement known as #SaveXboxWP--also known as the reason this article exists for you to come here and comment on. #SaveXboxWP has been rocking it since November 2013 and our labor is paying off: this marks the 6th Xbox game on WP in the past 6 weeks. Get on board. Details here.

MS it's on fire today right? =)

After which only Ashes will be left

Yah dude seems like it.. Cyan update for DP users...xbone launch in India and FIFA 15 with Xbox support. MS sure made my day.

Good that we're getting this at roughly the same time as iOS and Android.

And 512 MB RAM comments in 3...2...1...

WTF!!!!!!!! i want this game a lot... not col... for what they say WP 8.1 is better to use the RAM memory, to don't help us with the good games?....

If you want REALLY good games you need good memory

The OS uses memory too. 512 devices are not meant to be hardcore gaming devices. Casual simple games, sure. There's a lot going on in a game like this and it takes up memory. I have a Lumia 520 and did not expect this to work. I am waiting for more manufacturers to release good devices before I pay the big bucks. My brother has the Lumia 925 and it's awesome, but we can expect some more interesting stuff coming out as wp gains more popularity and Microsoft adds features.

Well, the developers can strip down some graphics and VFX like how Asphalt 8 is built for L520. The developers take time to "optimize" the game for lower end devices. And at this rate, we won't be getting these optimized versions. What if I told you that there is a GtA SA mod that runs on Lumia 520 with stripped down graphics?

Lazy developers, Lazy Developers everywhere.

Once again, EA shows the slobs at Gameloft that it's not hard to keep Xbox Live games on WP. Kudos to EA.

Also updating them too which is the main thing........

EA updates their games rather frequently. Tetris Blitz has got a bunch of updates for example. So it's not the Xbox process anymore.

Oh no they don't DJCBS... Maybe that's the only Gameloft game you've played but there's plenty that are still buggy and laggy with only 1 or 2 content updates released in a years time. Like Total Conquest for example, it has only received like 2 content updates since launch and it's still almost unbearably laggy on my 930 but not once have to put any effort into offering decent performance. It's rather ridiculous when you look at a game like asphalt 8 which looks and runs great on my 930 and then you compare it to Total Conquest which has n64 graphics and runs like your trying to play battlefield on an n64.

He said that Gameloft (the makers of Total Conquest) don't update their games regularly and this has nothing to do with the Xbox Live integration because EA always updates their games (e.g. Tetris Blitz has been updated like 30 times already in the past year).

But doesn't it take a week as I noticed that in The Sims Freeplay??
Cuz whenever a new update was launched on iPhone,after a week the update was available for WP.

And people still plays the crappy gameloft's games... F*ck them

And still no real racing 3 in WP from ea :p

Its not the full game dude.. Its only ultimate team.. Which ea also provide on demo.. So enjoy..

FIFA 15 with Xbox Live for WP, I guess?

I was just about to tip you with the link of it , shit , you are faster than me

Not complaining about that512mb ram not supported, but do you think they could optimize it to work for them

Installing on my android device it as its not supported for my L625.. Man desperately for Lumia 735 or 830 to hit India stores

Not 512mb ram supported?why?

Because they don't have enough ram.

OffTopic: Does anyone know this? https://onedrive.live.com/?cid=31420c7144f9fc1c&id=31420C7144F9FC1C%2113...

Inprivate mode for internet explorer. Its a private browsing mode where your browsing history and other related information are not saved and deleted on closing IE.

Where can I activate inprivate with internet explorer?

In internet explorer, click on the tabs button/icon then hit the 3 dots menu then select new inprivate tab option..then you are good to go

Lots of Xbox games lately...Nice!!!!! :-)

Yep. You're welcome. #SaveXboxWP. Join the movement here.

I dont urdestand if can use previuos level of Fifa 14 and unlock game modes...but im downloading. Love Fifa hate PES.

I think it's because the poor performance by the server lately

I think its better not install on my 525!

Same on 525 don't know why

Crashed on 1520. Damn it EA, one time I actually liked you. And you still had to screw that up too.

This is awesome of EA but where are the other sports titles from them other than FIFA every year?

EA once again doing an awesome job with Xbox on WP, really good support.
Great to see some Xbox games in the recent weeks, #SaveXboxWP all day!

Ive been waiting for this game for soo long and now its finally here!! Im dowloading it right now and im going to start playing. Its soo awesome and im soo happy!!

Is it good? Or is it crashing?

Wow. An app on WP from EA. Who died?

Hell one more awesome non 512 MB... You know what? They should develop a freaking awesome game that runs only on 512 MB Phones... Just to make them jelly, like they always make us... =') Just saying

Lol, people here saying that game is crashing on high end devices like 930, 1520 etc, I'm afraid wheather to download it on my Lumia 525!

Please man we need 512Mb RAM support.. I have nokia lumia 625.. Bought this phone because windows phone don't need much ram.. So please provide us games with 512 MB ram support...

Why no universal app???!!

are there any good football games that will run on 512 mb devices?

Yes real football ⚽ but it costs 160₹

yeah.. but its little old now and I didn't really like playing the trial to be honest. Oh well.. I guess I can just hope and pray that EA releases it for 512 mb phones soon. :)

I guess it's time for the 512 MB WP gamers to switch to 1GB, because most of the good games don't support 512MB. Whenever i see those strikethrough'd 512MB banner, i feel sad as a gamer. Btw, i use L520.. :D

M having lumia 1520 bt their is some probs with games in tht most of the game do not come in windows phone bt when u have it games crash every time or by some way u cant play it i install fifa 15 bt game crashes every time nd also install spider man unlimited it also have problem m nt able to play game more than a weak nd m having huge screan bt it is waste because it does not have mx player in it nd all other players r nt gud vlc player is always coming soon vlc player is coming in windows phone is just a fake news

Windows phone always says android is bugy one bt i must say android is lot more beter than windows phone acording to my experiance windows phone is bugy one not the android phone

Is it related to my Xbox FUT? Or is it a completely different game?

Does anyone know if the ultimate team I build on this game will sync over to my Xbox 360 ultimate team when I get the game at the end of this week; or are they two seperate clubs?

Pls make it for 512 ram... We havent any football

Where is the "bribe" button?

Spiderman no 512 ram and FIFA also no 512 ram.

Could't find it here in Romania by searching from phone app. I had to access it from the link that you have posted and send it to phone from pc version of the store. I've got the link in an e-mail. Now I'm installing it

In app purchase. Costs how many rupees??

I don't get it, I've gained achievements... Anyway I like game but its filled with issues. Lag, namely, but also it drains the battery like a bitch and has sensitivity issues, unresponsive controls that any person who plays FIFA on consoles will moan about. I like it though, happy I got Wilshere in my first pack.

You can play demo Fifa 15 , but you need product key . I find out a register key and playgame without key . Download source game on Origin , patch key and run when you log in game . Key in here : http://fullbestgame.blogspot.com/2014/09/full-game-fifa-15.html

Crashing on my Lumia 930 too

UPDATE: Seems to just crash when WiFi is turned on. You can turn it off and start the game and once connected to servers to can turn WiFi back on.

How is it Xbox Live support when I needed to login with my Facebook account and it'ss not using my Xbox Live account? And I can't see anywhere about Xbox live achievements.. I'm confused...

Downloading FIFA 15 UT On my pc from windows store.. Bit of confused can we play on pc with keyboard or gamepad. As I don't have touch screen man...

It says we can use external controller, but i have moga and it doesnt work. Anyone knows if it os possible to use it?

The game crashes every time between matches. I haven't been able to play a single complete match on my Lumia 1520 till now.

Can we buy fifa points though the windows Phone store?

Why is it not available in INDIA now for download

Why is the item not available in the store.. I have lumia 535 and m satisfying myself with Dream League Soccer...
Windows Central Newsletter
Thank you for signing up to Windows Central. You will receive a verification email shortly.
There was a problem. Please refresh the page and try again.