FIFA Companion for Windows Phone updated for FIFA 17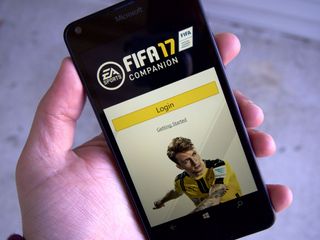 EA Sports has released an update for its FIFA Companion app for Windows Phone, adding support for the upcoming PC and console pro soccer game FIFA 17.
As with previous versions, the updates FIFA Companion is designed to give FIFA 17 gamers a way to manage their teams and clubs on their phone. Here's what news in the updated app:
Here's a look at what's new with the FIFA Companion app:
The app does require an owner have an EA account, a copy of FIFA 17 and a subscription to FIFA Ultimate Team Club. The game itself is due for release on Tuesday, September 27 on the PC, Xbox One, Xbox 360, PlayStation 4 and PlayStation 3.
Windows Central Newsletter
Get the best of Windows Central in your inbox, every day!
I hope they will continue supporting the Windows Phone. Everyone of us have some unique ideas for Windows Mobile, but I don't know why Microsoft don't want to implement it.

Is this a Windows Phone 8.1 app or Windows 10 UWP?

Following the Windows Store link, it says Windows Phone 8.1 and Win10. So, it is clearly not an UWP app.

In this case it's probably right BUT you can publish an 8.1 package and a Windows 10 UWP package under the same app identity and the user will receive the version relevant to them. You can go further and post specific packages for ARM/X86/X64 too. So the requirements could say Windows 8, Windows 8.1, Windows 10 and you might get a completely different app. In this case it is an 8.1 package by the looks of it, but just wanted to make that point.

Holy crap... An EA game supporting a Windows Phone app?

EA might not make plenty of games for Windows Phone anymore, but they are good at supporting their existing apps/games. The Sim Freeplay for example, a 2014 WP8 game still getting frequent updates. And they will release FIFA Mobile game for W10M too, alongside Android and iOS this fall.

Yeah, I guess an update isn't really the same thing as a new app.

That's good news, and we're very grateful for the support.

For the little it costs ea to keep supporting this app they more than get it back from the in app purchases.
They would be fools not too.

Why fifa 15 is removed from the store?