'Find on Page' returns to Internet Explorer in Windows Phone 8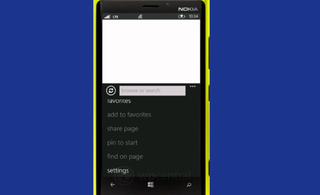 The highly missed 'Find on Page' feature which was present in Internet Explorer 8 on Windows Phone but subsequently removed in the Mango update, is making a return in Apollo if a demonstration from the Lumia 920 announcement is anything to go by. The ability to locate text loaded on the webpage was a useful tool that plays an important role in finding information on a cluttered website.
Microsoft -for whatever reason- decided this feature had no place in the Windows Phone Mango update that included IE9 and removed it from the mobile browser. The company then received countless complaints from Windows Phone owners questioning why the feature was removed. We were eagerly awaiting Tango to see if the menu entry in IE would be restored, but alas it was never to be.
Looking at the Lumia 920 presentation from last week, one can clearly see 'Find on Page' listed in the above photo. Good news all around as it seems this will be one long lost family member that will be returned home. The full list of improvements in Windows Phone 8 is yet to be revealed, but it's positive to see Microsoft continuing to not only add new features, but also improving and in strange cases reintroducing established functionality.
Details are non-existent for the time being, and we're unsure as to whether or not this will be included in Windows Phone 7.8, but there's always hope.
Thanks, Jamal F, for the heads up!
Windows Central Newsletter
Get the best of Windows Central in in your inbox, every day!
Rich Edmonds was formerly a Senior Editor of PC hardware at Windows Central, covering everything related to PC components and NAS. He's been involved in technology for more than a decade and knows a thing or two about the magic inside a PC chassis. You can follow him on Twitter at @RichEdmonds.
If we find it in wp7.8 then it'll be interesting

Looking yummy. Still loves the return of the tab button most, I use my phone and IE a lot, praying it may return to 7.8 also since I love my Titan and gonna keep it.

They will probably brag about this being a big 'feature' in 7.8

For the life of me I couldn't find a hint of this 'small' feature when using my friend's iPhone 4 the other day.

I really hope I was 'holding it wrong' or something, because I had to find a specific word in a page of text, and I ended up doing it manually. PITA.

I don't see "forward" listed like in nodo...wish they'd bring that back. Also I remember it being easier in nodo to create favorites. Address bar at the bottom was key though.

Speaking of features removed... I liked it better when the search button was application specific. If the developer wants to code up that functionality, then pressing the search button should work on that app. Otherwise, it brings up the system search. You could also do a long press on the search button to always bring up the system search.

They had it right to begin with then screwed it up, IMO.

Have to disagree, but the search button should be consistent in its application. If apps want a search function, they should add it internally.

I think context sensitive search is better. How often are you launching the search app from within another app? I NEVER did in the 8 months I used my DVP. It should be context sensitive and if the app doesn't make use of it, have it do nothing. Long press should always open the Bing app.

I use the Bing search quite often when using other apps, so this would drive me crazy. They should just leave it the way it is.

I have a feeling the search will be similar to windows 8 which is a combination of system and context search. If I remember correctly, one of the APIs will allow for similar search charm feature in WP8

I've known this since the Windows Phone Summit demo...

Still two of the confounding changes in WP7.5. No idea who they polled, but the sample they used was severely flawed.

What about us Mango users as it's just a software change?

Maybe you'll get it if you ask real nice on UserVoice.

This feature was easy enough to do on windows phone. All it took was a JavaScript method setup like a favorite.

Forward is available the same way. If people want me to post the code I will.

I sent WPCentral a tip on this back when it got leaked over a month ago. It's been in the screenshots the whole time. Just sayin' I saw it first.

To get forward to work create a new favorite and call it "! Forward" without the quotes so it shows top of list. For the address add the following JavaScript: javascript:history.forward()

Thank you for adding the forward booklet.
Did you say you got another one to find on page? That one would be awesome :)

The find on page is too long to post here, but if anyone wants to email me at leedavidjohnson(at)Gmail.com I would be happy to send you the code.

Thank you, Microsoft! I don't use this as often as others, but it was sorely missed.

Lol I joined the WP platform from Android after the mango update so I don't miss what I never had but this is a nice feature to have in WP8. By the way, I don't hate Android. I just happen to love WP more.

And I thought I was the only one who was excited about this when I saw it during Joevs demonstration.

Damn, I never knew this used to be a feature! I'm a late adopter of WP7 and I've always thought "How the hell could they overlook such an important feature?!" Knowing that they intentionally removed it makes it so much worse. I won't be able to upgrade to WP8 anytime soon, so I sure as hell hope this comes to 7.8. And a Forward button too! I hate when I accidentally hit Back and I have to hunt down the link again...same goes for IE on Xbox.
Windows Central Newsletter
Thank you for signing up to Windows Central. You will receive a verification email shortly.
There was a problem. Please refresh the page and try again.