Firmware updates for Surface RT and Pro available as part of Patch Tuesday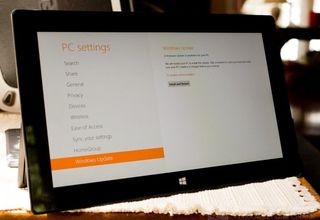 If you have yourself a Surface RT or Surface Pro you're going to be getting some updates today. The second Tuesday of each month is when Microsoft releases security patches on what is known as Patch Tuesday. Today is that day and with those security patches you'll also be getting some firmware updates for your Surface RT and Pro. Let's check it out.
The update for both Surface RT and Pro are for ones running Windows 8 and not the 8.1 Preview. So what's in store for folks on Windows 8?
Surface RT / Windows 8
A Unified Extensible Firmware Interface (UEFI) firmware update that optimizes the audio experience at low volumes and removes a perceived pulsing in audio volume for some content
An update to system drivers that enhance stability and reliability
Surface Pro / Windows 8
A UEFI and System Aggregator (SAM) firmware update that enhances system stability, reliability, reduces power consumption, and improves touch latency with the touchpad on the Surface Type Cover and Surface Touch Cover
But don't worry, if you're running the Windows 8.1 Preview there are some updates ready for you as well. Checking out our Surface Pro with the Windows 8.1 Preview we noticed some updates waiting as well. Here's what you get.
Surface Pro / Windows 8.1 Preview
Cumulative Security Update for Internet Explorer 11 for Windows 8.1 Preview (KB2862772)
Update for Internet Explorer Flash Player for Windows 8.1 Preview (KB2871676) – This update resolves Flash video quickly lightens and darkens during playback. This causes a flickering effect.
Update for Windows 8.1 Preview (KB2875111) – This update fixes for adaptive streaming and Digital Rights Management (DRM) playback features for Internet Explorer 11 Preview in the OS.
Update for Windows 8.1 Preview (KB2875636) – Fixes for adaptive streaming and DRM playback features in the operating system.
Before this update anytime we'd try and play videos through YouTube in Internet Explorer we would have a flickering effect on our Surface Pro. Now that issue has been resolved in the latest update.
Source: TechNet (opens in new tab) Via: ZDNET, PureInfoTech
Windows Central Newsletter
Get the best of Windows Central in in your inbox, every day!
Ahhh, finally, the end to that flickering issue is here! That was the only thing forcing me to use Chrome every time I wanted to see something on YouTube.

I experience the flicker issue using netflix in my surface RT

I get it all the time, Netflix, games, XBox music... glad they're finally nailing it down.

Finally a fix for the audio bug! That has been driving me crazy.

And using a Samsung tablet as pixture? Okay...

We fixed it just for you, Mr. Sunday.

Well, I would say it's time for monthly updates for major Wiondows products, kinda like clockwork.

What about the WiFi issue on the RT? I have to run the troubleshooter every day when I get to work to get to to connect by resetting the WiFi adapter.

I had this issue all the time also after going to 8.1. I did a system refresh and haven't had the issue since.

I know. I could really care less about the video and audio issues, as they're not as annoying as the Wi-Fi randomly dropping every 20 minutes, requiring a manual restart of the Windows Wireless service.

They need to fix the life cam hd-5000 drivers because it does not work on Skype on win 8.1...

I hope they come with the update for the pen driver soon (Pro).

You know you can go to wacom.com for a driver right? If you need help, reply

I did NOT know that.
Do you have a link?
When I installed the original 8.1 Preview, it screwed my pen and I have not been able to use it since. M$ has said it would be fixed in the final release.

Go to the wacom website, middle left of the screen, you should see product support
Then click drivers on the right
On tablet model, find "Tablet PC" at the bottom
and the one you want to download is the "TABLET PC – Enhanced Tablet Driver 7.1.1-12"
I do not know if this will work with windows 8.1 but most likely it should since its pretty much the same os

One interesting note that I'm curious if anyone else is seeing... I'm running 8.1 on the Surface Pro and NOT receiving the firmware update offering.

On another note, in my own tests, the IE/Flash updates seem to fix the "flickering" issue with Flash videos! :)

I'm on RT 8.1, got the update today. Hoping it will address the rare flicker during Netflix but most helpful it has fixed my lockscreen which had fixated on a single picture and no matter what settings were changed it had no effect.

But, does SharePoint look funny on your browser? ;)

Thanks for letting me know WPCentral, updating my Surface RT right away!

Greetzz.

Wish it would fix the volume issue on RT running 8.1 also.

If by volume issue you mean the pulsing audio then that's fixed by the firmware update.

Been having an issue with my Pro for a month or more now with Metro IE10. For some reason, the whole program keeps becoming unresponsive to mouse scrolling and all of the links within the page I am currently on is disabled. Also, the bottom and top bars do not work .The only way to fix it is to close the app and reopen. At which point it only works for about 2 minutes then it does it again. Not sure what it going on? Anyone else have this issue. Makes IE Metro unusable. I was loving it before this started happening. THe ultimate browsing experience on the Surface!

I have been having the exact same issue.

Thanks to all you early 1st Gen adopters. My 2nd Gen Surface should be 'Road Worthy' and well deserving of my $350. winning :)

We're the Lewis and Clarks of the Microsoft tablet space, it's a lonely, ridiculed, nearly app-less path we clear for the rest of you :)

You'r welcome but I've got to take my surface on trips including 2 cross-country flights and a long train ride to Canada. Its been well woth it being an early adpoter.

Reduces power consumption...did you notice an increase in battery life?

Hope, it will fix the audio issue that suddenly goes silent at times or loud screeching sound for no reason.

It does, that's what the firmware update fixes. I'm waiting for the UART driver fix which reduces battery life on the RT if Bluetooth is off on the 8.1 preview.

Still waiting for them to drop a GT card in the pro...hurry before I buy a laptop Microsoft!

I love how people install a preview version which is in beta stage so it will have bugs and problems, and then they complain about it and "hope for a fix" to this and that and that, like if this was a final version. Hellooo its a preview, if you didnt want to get bugs and error, im sure it wasnt hard to wait for final release of 8.1
I dont know why some people installed 8.1 and then "hope/wish for a fix" like if it was promised those bugs and problems would be solved during preview state.

my answer to your problems? go back to 8.0 and end.

Those updates you mention for 8.1 on the Pro are also on 8.1 on the RT. They're not actually firmware updates, just standard Windows updates.

Did anyone else have the Surface RT battery life issue after installing the 8.1 Preview? I did, but then I turned on Bluetooth. Do we know if this fixes that bug (and I can turn BT back off)?

Nice. Time to bust my Pro out of the bag.

Never had the YouTube flickering issue on my Surface Pro. Won't mind a little better battery life though. Minor thing and possibly non-trivial to implement, I do wish firmware updates would take note of whether I have Bluetooth turned on/off, and set it to that state at the end of the update process.

"Update for Internet Explorer Flash Player for Windows 8.1 Preview (KB2871676) – This update resolves Flash video quickly lightens and darkens during playback. This causes a flickering effect." This is the bigest update for me by far I was constently annoyed by the flickering!

Its cool how i can get 6.5 hrs on my Surface Pro now on low power mode. of course this doesnt apply to playing games, just surfing and reading
Windows Central Newsletter
Thank you for signing up to Windows Central. You will receive a verification email shortly.
There was a problem. Please refresh the page and try again.