First Canadian Microsoft Store opens at Yorkdale Mall, Toronto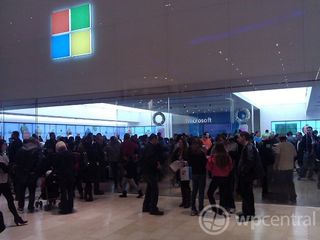 The first Microsoft Store in Canada has opened at Yorkdale Mall, Toronto. The brick and mortar store will provide Microsoft with the capacity to accommodate consumers inside a specially crafted experience to ensure everyone gets the most out of what the company has to offer - whether it be Windows 8, Windows Phone 8, cloud services, Office, Xbox and more.
We've previously covered Microsoft opening a number of permanent and temporary holiday stores across the US to further push its new Surface Windows RT tablet, which launched in October. Unfortunately for anyone who resides outside the states, there's still no word on a Microsoft Store opening up on foreign lands. We're still expecting to see this change in the future.
The Microsoft Store at Yorkdale Mall in Toronto is a permanent establishment and as one can see from the photos we've received from a reader who attended the opening ceremony, it received a positive reception from consumers with large numbers turning up.
Opening up its doors on the Friday morning just passed, Microsoft held a concert in the parking area with Grammy Award winning rock band Train. First 200 attendees in the queue for the store opening found themselves receiving red carpet treatment and meeting the band after its performance. We're told that no celebrities were present in-store when it opened, so all interest shown in the photos are for Microsoft's product line.
As well as Microsoft products, ASUS and Samsung Windows RT tablets were also present as well as a number of netbooks and hybrids running Windows 8 Pro. As we've witnessed ourselves by visiting a Microsoft Store, the Surface tablet really is the highlighted act of the show. It's good to see excitement for Microsoft as a company, and with the high interest in its stores we hope Microsoft continues to expand to reach out to other markets.
Be sure to check out more shots below.
Thanks, Rob, for the tip and photos!
Windows Central Newsletter
Get the best of Windows Central in in your inbox, every day!
Rich Edmonds was formerly a Senior Editor of PC hardware at Windows Central, covering everything related to PC components and NAS. He's been involved in technology for more than a decade and knows a thing or two about the magic inside a PC chassis. You can follow him on Twitter at @RichEdmonds.
I didn't see any Samsung rt tablets.

Samsung's offerings were near the front of the store... And as for celebrity at the opening Wayne Gretzky was present at 6pm to play a little Kinect.

Sure it's open, but try to find in the Yorkdale Shopping Centre venue on http://www.bing.com/maps.

If you're referring to the interactive mall map it hasn't been updated to include the new section that just opened up.

Interesting . . . when I search for it on Bing Maps, nothing. When I search for it on Google Maps, it's the first thing that pops up for me on autosuggest, and it finds it no problem.
The Google Maps version of it is pretty vanilla, whereas the Bing Maps version (when you finally find it) is much more interesting, and contains a store map of the mall.
Maybe Bing search will catch up one day, but it's not there yet.

Is this how I spend my Sunday? I'm only about an hour west, haha. Tempting!
Will I be able to actually use a functional 920? None of the stores around here have working demos.

Yes, there are functional 920's and HTC's, probably Samsung too but I wasn't looking for it.

Can you let us know if they are selling the 920 in any other colors other than black.

It's still through Rogers, so there's still only black.

No they are not, that's what I was hoping for.

Are you serious...they are not following the US Microsoft stores and offering all colours of all phones?!
Wow, MS Canada sucks completely...not only is their marketing for windows phone completely non-existent up here (and for WP7 as well), they are just inept...

The problem isn't Microsoft, but rather with Rogers. They're the ones who decided to go with black only, and the ones who aren't advertising. They're also the ones claiming exclusivity and giving people a hard time if they want to buy a phone without a contract. Microsoft isn't going to go over Rogers's head and start selling all of the colours and off-contract. Pissing off your exclusive carrier is a terrible way to sell phones. Microsoft needs Rogers, Rogers doesn't need Microsoft. I'm not excusing the problem, I'm just saying blame the people responsible--Rogers.

You would think that Rogers would at least have red...sigh

I think the difference is that AT&T has more colours, so it may seem like it, while with Rogers...
The phones were functional and they did have Rogers reps instore at least at opening.

BaconStrips &
BaconStrips &
BaconStrips &
BaconStrips &
BaconStrips &...

Bad "joke" is bad, and you should feel bad

Oh but I don't...
Whacha know about cookin' hater???

Nothing, because this is a tech news site :P You've posted the same comment a few times before already, and no one cared then either. You don't see anyone else spouting obscure, irrelevant, meme's whenever certain countries are mentioned.

Actually, it was only one time before this one... You sound smart but obviously you don't have your facts straight. Also, if nobody cares, then don't comment on it. Simple as that...
But you are right! I know it's a little immature but I like a little humor now and then. Maybe I haven't seen anybody else spouting "obscure, irrelevant, meme's" when certain countries are mentioned, but I have seen others doing it randomly on any random subject.

It was twice before (I'd already checked) so this is the third time :P I probably wouldn't have noticed / commented if your comment wasn't so large and spammy looking haha. I don't mind humour... I'm sure a lot of people wouldn't get the 'BaconStrips' reference though, so it comes across as bizarre. Anyway, it's all good - I didn't intend to be a comment-nazi!

Can't wait to get surface Pro 8 tablet.

Makes sense that Microsoft would chose the most Americanized Canadian city for their first store opening.

"Americanized" ...not sure how to take that...
Toronto is very similar to Chicago I guess you could say...We are just like Americans from the north east or California...exception would be Alberta which is our Texas and Quebec which is...well...I'll leave Quebec alone...LOL
Many have said the maps should be "re-drawn" with the United States of Canada as one part and Jesusland as the other...

http://en.wikipedia.org/wiki/Jesusland_map

So Alberta = Texas because we vote conservative, sell oil and have the lowest tax rate in the country.
What a thought provoking way of looking at it!

I like low taxes. I don't like oil, but use plenty of it. Maybe Texas/Alberta is the place for me! Will they kill me if they find out I don't believe in god?

That first pic after the article!
OMG, that's me (dark hoodie that says JACK) and my girlfriend (she has striped shirt) at the cashout buying our new HTC 8X's!!!

Haha now your pic goes around the World :D greetz from germany xD

I've managed to avoid the pictures, and didn't get a chance to send in mine to tips (though they're only taken on a Focus, so the quality would be average at best :P)

I'm going to my microsoft store today in Houston

I was very surprised by how packed it was, good for Microsoft!

I was at Best Buy today and it, too, was packed. You'd think it was black Friday or something. Anyway, there were hordes of people getting laptops and other PC peripherals and only little girls playing in the iPad section.

I just happened to be going to Delaware and made it to there opening I loved it its pretty much like toys r us for any techie im hoping MD gets one by next year I think the stores could be a big hit by having more events like for Xbox games and teaching people how to use windows 8

This Canadian store is actually Microsoft's first ever permanent international store - a historic occasion so go hug a beaver

Just to be clear, these pictures are not from the opening ceremony that happened Friday and had Gretzky. These were taken yesterday around 5:30pm with no celebs so it's genuine interest. Great to see. Also, the Apple Store which is elsewhere in the mall is moving two doors down.

The new Apple store will apparently be the largest in North America

Weren't they selling Surfaces RT ?

Yes they were, while I was there quite a few were sold.

Thanks for answering Rob. I'm pleased to know. Paul Acevedo would know why I'm asking.

I was there yesterday, it's an awesome store and had a very large turnout. I was blown away by how nice the surface tablets are (and unlike some reviews it was very fast and fluid), but I was very disappointed that they don't sell phones without carrier plans and their selection of non-surface PCs was fairly limitied. Also, it's funny that Apple is moving their store from the other side of the mall to a bigger one right next to Microsoft's.

I was there on friday. The store was a "zoo" of the greatest proportion! MS had a ton of surface tabs to play with and the staff was very knowledgeable (it was my first hands on, and it made me wish I had the money on hand to grab one of these beautiful tablets)
Its true that the 920s only came in black which sucks. I think for a proper launch at your flagship store all colours should be available on opening day. I can see why MS doesnt want to piss ROGERS off but damn.. give the people what they want! and how much impact can that one store have, I mean people are STILL going to have to sign up with ROGERS right? win. win.
Anyway,

I don't understand the pissing off Rogers part. If they are selling phones on contract then why would Rogers care what color it is. Microsoft should stock all colors.

... what the hell happened there.. sorry.. ANYWAY, I loved seeing the interest in the MS offerings, and overhearing people mumble.. holy, this is way better than my ipad! Keep up the good work guys, unfortunately I went for a 920 but without the colur palette I was expecting, I didnt pick up anything. I'll wait until they announce that they are available I guess.

well I finally got my 920 at the Eaton Centre location today. they had the 8X and 920 on display. I have to say the 8X is beautifully georgeous and the screen is just awesome to look at. Still went with the 920 though. I gotta say at first pickup this thing is a tank. the weight is significantly noticable. So I need it unlocked any ideas?

No s***, the 8X is the most beautiful phone I've ever seen, too bad I can't have one without Nokia Drive.

Looking at Blowfish Unlocks but I'm going to try my luck with Rogers tomorrow.
Windows Central Newsletter
Thank you for signing up to Windows Central. You will receive a verification email shortly.
There was a problem. Please refresh the page and try again.