First impressions: Pro Evolution Soccer 2015 for Xbox One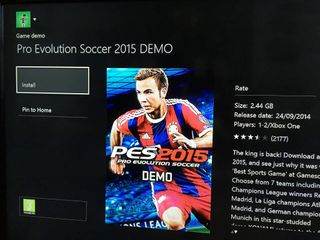 In FIFA 15 we've already seen one of the big football/soccer (depending where you are) titles of the year and now it's almost time for another. Pro Evolution Soccer 2015 (PES 2015) will be launching next week cross platform but Xbox One owners can load up the demo right now and take a look. So that's exactly what we did.
A couple of notes first on the video and this post. We've only played the demo version available in the Xbox One Store, and as such details may be different in the final release. The video below was captured from the Xbox One Game DVR which limits the footage to 720p.
If you've played both FIFA and PES before, then you'll immediately notice the difference in gameplay, not just limited to the difference in controls. That continues for PES 2015. It has a much more 'pick up and play' feel about it. Once you've mastered the controls PES 2015 is a delight to play. It's fast paced and seems to strike a good balance between realism and fantasy. It's still possible to pull off some ridiculous moves with minimal effort on your part and deliver some sublime long balls into the box.
Graphically PES 2015 has grown up for the new generation console. Crowds are animated, players faces look like, well, the players' faces, and there is perfect hair galore. If you know what your favorite players look like, you'll have no trouble recognizing them in the game. The recreations of facial features and details are sublime.
Perhaps the best thing about PES 2015 though, is that it's just all out fun to play. The demo doesn't hint at any of the long-tail game modes, but it does hook you in and make you want to play another match. And another. And another. FIFA 15 might have the edge on the overall football experience, but it can become hard going after a while. While that is perhaps trying to be too realistic by making it tougher to pull off ridiculous passes and screaming goals, PES 2015 doesn't forget that it's actually a game and strikes a great balance between a realistic experience and a good time playing it.
We'll reserve overall judgment for now, but based on the demo alone we're excited for PES 2015. It's the first Pro Evo title to arrive on Xbox One, and it looks like it's doing it in some style.
The game launches on November 11 in the U.S. (November 13 in Europe) and can be pre-ordered now at Amazon for $59.99. It'll also be coming to Xbox 360, too, for $39.99. We'll update as and when an Xbox Store link goes live, but if you fancy trying it out yourself the demo is still live for you to download.
Windows Central Newsletter
Get the best of Windows Central in your inbox, every day!
Managing Editor - Tech, Reviews
Richard Devine is a Managing Editor at Windows Central with over a decade of experience. A former Project Manager and long-term tech addict, he joined Mobile Nations in 2011 and has been found on Android Central and iMore as well as Windows Central. Currently, you'll find him steering the site's coverage of all manner of PC hardware and reviews. Find him on Mastodon at mstdn.social/@richdevine
Have really enjoyed the demo, most likely will pick this up. Have a great clip of a Messi goal.

Don't worry about video being 720p, PES2015 is not a 1080p game on Xbox One... Yes, weird but it is not Full HD.

Already had questions about the video, though, hence the disclaimer. Just in case :)

Interesting...for me Pes 2015 feels more realistic than Fifa 15 this year. And use Type2 for Fifa like controls. The way Ai switches strategies for difficult situations is very life like unlike Fifa. And PES is not easy it is harder to master, at least in demo my win vs lose ratio if FIFA was more like 4-1, in pes 3-2. Same controls, same teams. Average score in FiFa 2-0, average in Pes 0-0/1-0.

FIFA all the way , pes is better now comparing with the last year , but it still far behind from Fifa

I prefer Fifa. Is that game in the video in easy? Because that looks easy. The way the defending playyers run sideways/backwards looks a little funky, maybe it's just that I am watching the video in a small screen.

720p while PS4 version is 1080p? just like MGS...no way Konami, that´s not professional. I´m not buying that crap...

Rent theatre to play football :)

I pass. I play the demo and i think the game is bad or avarege buy FIFA pes is good in ps2 and Xbox original after that became avarege game. FIFA for me is a lot better.

I want it as realistic as possible. FIFA is better at this than PES. But on FIFA 15 they seems to try to reduce this by having some crazy move. i.e the unrealistic long range shot, I can even score from almost the half way line.

Just my opinion, but I think PES has much more realistic gameplay than FIFA. I've only used FIFA prior to this years PES and been ok with it. I've always disliked the player AI in FIFA, but I thought it was supposed to improve with the greater power on the next-gen consoles. Sadly, even though EA has talked about improving the AI--it really hasn't happened. FIFA isn't horrible--they do some things ok. But in terms of the gameplay PES just looks and plays so much better in my eyes.

This is simple PES has come back to being the best, if you say FIFA 15 is better you obviously don't know about PES and its roots so better stick to FIFa but if you are one of those who used to love PRO EVOLUTION ....this is it, they've made it , so much more realistic than FIFA but wait if you wanna score easily and often... you won't find it that easy with Pes as it is REALISTIC like real football with real moves and shtt...

Ps: I have been playing FIFA for many years and I have to say that I got use to it but there was always something missing and found it with the new PES 2015

Reading the comments is bringing back Madden vs. NFL 2K flashbacks. :-)

And current nba 2k vs live.

Well, I'm not sure that NBA Live is generally competition for NBA 2K. Madden vs. NFL 2K was much closer and much more hotly debated. :)

I played the demo, hated it, went back to fifa 15. PES only has one stadium, which is a fake stadium, and less teams and realistic gameplay. It's the truth...

After having only bought FIFA games for a long time, I'm going to buy PES this year for the first time. It's way more realistic to me than FIFA this year. FIFA 15 on the next-gen systems is very disappointing. The player AI is laughable on FIFA. This year EA improved both dribbing and offensive player agility so much this year that it's WAY too easy to dribble through defender after defender--even on the highest two levels vs the CPU. EA removes features and modes every single year and continues to charge top $ even with offering less. They don't beta test the game very well and users have to hope for updates for all the glitches that quickly become apparent. PES isn't perfect by any means, but it looks so much more like the football games I watch every weekend. The other disapponting thing about PES is that it doesn't have all the licensing agreements that FIFA has, but to me the gameplay is so much better than FIFA that I'll live with that. Unless FIFA greatly improves gameplay and player AI in FIFA '16, it will be the first time in about 10 years that I don't buy it, so I'm glad PES has re-emerged as a true competitor for EA.