First look at the new Marriott Hotels app for Windows Phone due next week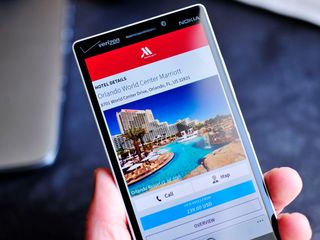 Despite some apps disappearing from the Windows Phone, in recent weeks we have seen more official ones arriving. We can now add Marriott International to that list.
The large hotel chain is in the late testing stages of their Windows Phone app, and it should be in the Store by May 11.
According to our tipster, the app experience is so far superb:
Besides Marriott, Windows Phone and Windows 8.1 users also have the excellent Hotel Tonight and Hilton HHonors for booking rooms for their vacations.
We will keep an eye out for the Marriott Hotel app to go live, but it should not be much longer.
Thanks, Derrick H., for the info!
Get the Windows Central Newsletter
All the latest news, reviews, and guides for Windows and Xbox diehards.
Daniel Rubino is the Editor-in-chief of Windows Central, head reviewer, podcast co-host, and analyst. He has been covering Microsoft since 2007 when this site was called WMExperts (and later Windows Phone Central). His interests include Windows, laptops, next-gen computing, and for some reason, watches. Before all this tech stuff, he worked on a Ph.D. in linguistics, watched people sleep (for medical purposes!), and ran the projectors at movie theaters because it was fun.
Fantastic. I will stay with brands that allow me choice. Marriott is my preferred brand!

It pains me to see people picking banks, hotels and airlines based on what mobile OS/ecosystems they support with their apps. It should be the other way around. My bank doesn't have a Windows app. I'm not going to switch banks and touch my financial life because of a stupid smartphone (yes, STUPID smartphone). I will stick with my bank. There is a good chance I won't see an app for it in Windows Phone. I'll DEAL with it.

It pains me to see people ridicule others for personal choices

Well it is stupid. Posted via the Windows Phone Central App for Android

Lol, I sold cars for a while and you'd be surprised at the people that would and wouldn't buy a certain car because it doesn't work with their phone... But on the flip side you shouldn't be married to any one brand. You send your business to places that suit you at that time.

It's the principal banks are a business and a big part of business is customer service I feel like when they refuse to make a app available to me based on my choice of OS then there giving me bad customer service I shouldn't have to switch from a os I like to the OS they tell me I have to use there the ones that need to cater to there customers needs and If they wont f#ck em and that goes for snapchat and every other company who try to force people to buy a android or iPhone. Google really pissed me of I was a loyal google fan for years but perfered WP over Io or android but google dont care how loyal i was and how loyal alot of WP user were and refuse to release there apps for WP claiming small marketshare. Well guess what It wont make a difference to you but since you wont show us loyal google fans the same loyalty that we should you just because we didn't get one of your approved OS's then FU to i cancled my google account and switched to all of Microsoft's services at least they know how to treat there customers.

I hear you, but if that is what someone wants to do, that is their prerogative. I prefer Windows Phone, and I use Chase. I have too many automatic payments, etc. setup to make it worthwhile to switch banks. I was not happy about them dropping support, but the hope is that is temporary. If you learn anything about being a Windows Phone user/fan it is patience, but I think the patience will pay off. Bottom line, I am not switching OSes. Luckily Chase has a decent enough mobile website that I can do what I need to do. I don't have to deposit manual checks too often. so not having that functionality, although a nice to have, I can live without. For something that I don't do very often like searching for a hotel, I am going to be more likely to use a company that does support Windows with an app.

Well for me if a company avoids WP because they can't justify the costs, it gives me the impression of being cheap. That in turn means they'll try to rip me off in other ways. I've never seen an exception to this yet.

Hope it's not a Web wrapper

Right. That's what they have now (assuming "Marriott International" is really them). Looking forward to the replacement.

Awesome! been waiting for this... now if only AA would come back then my travel needs would be met

This made my day. If AA comes back, at least my week would be made....

You still go to the meetings?

It looks like they may have actually followed the design guidelines. I hate how Verizon basically said "to hell with the design guidelines"

I downloaded that recently. Was so pleased to see it.

It's updated quite frequently too.
Great app, but its still not as good as their iOS version.

Wow that's great..recently only their hotel started in Cochin, India near lulu mall largest mall in Asia..hope I can check in ❤

Largest mall in asia having the crappiest name ever. Lulu mall? Lol.

Looks nice, it will help on business travel. Wonder if they ported over an iphone/Android app using Microsoft's new code compiling voodoo. (I know there's an official name for it, but I'm being lazy.)

Doesn't look like an Android or iOS app. Plus those tools aren't actually officially available yet.

Cods compiling voodoo.. LOL

Since the developer conference, are we seeing an increase of app support?

The conference sure did give assurance that Microsoft is pretty much clear in its vision which wasn't there earlier.

Yes. After 3 years they magically push out apps within a week

I'm going to be in a Marriot hotel May 14th, so here's hoping it's ready on time

In the mean time, you can use their current app - which is just a web wrapper.

Sweet! My complaint to Marriott worked lol

Also been waiting for this. I could be using it this week while traveling cross country. Instead I have to go their website every time. But it will be cool to have

They have a web wrapper app on the store now.

That is what I am talking about. Been waiting for this one. Now I just need southwest airlines to step up. Thanks for listening Marriott!!!

there is also an app for SPG: Starwood Hotels and Resorts though that seems to be a webwrapper but works otherwise

Now as soon as I hit the Mega Millions jackpot I can use this app to book a suit at the Ritz. Hopfully I don't win before the 11th, I'd hate to hav to pay full price.

I'm a Marriott snob and am so glad this REAL app is in the works. I would have loved to have been part of the test group.

Yes...every time I stay at a Marriott, they have a points offer for using their app to check in, so it has been limited to iOS up to this point. Very happy about this.

Doesn't necessarily mean the deal will apply to their WP app. I know Hiltons doesn't.

Excellent! I travel a lot and I stay at Marriotts often. So, this will make things easier for me. Thnak you, Marriot and Hilton ('cause they also have an app that I do use).

With every new app announcement I would love it if you would let us know if it's Universal App or not. This is so important for every app that arrives now.

Well it's not our yet, so...

Awesome! Now if we could just get some airline apps like Southwest and JetBlue. Also this just happened: http://wmpoweruser.com/expedia-2-0-for-windows-phone-launches/

Great to see a quality app coming to us. I now routinely ensure that I make a point of requesting a bit of Windows Phone love if I am asked to complete surveys. I also give love to the decent apps. RBS and Nat West keep adding and improving their banking apps. The Rightmove app is real nice too.

I, an employee of the Hilton brand, was already pleased to see the HHonors app available. Having Marriott's app coming in is very welcome. I hope Starwood, IHG and Wyndham follow suit in this. Also I'd like these hotels to adopt nfc and enable phones to be used as a key.

On a side note, I really want the airlines to come back to the platform. These kind of apps go together making things easier for frequent travelers.

Agreed. Would love to see the American Airlines app come back.

This makes me happy! Marriott is the best hotel chain and I live in them more than my house.

Sooooo... is this going to be a "universal app"? If not, then does that mean that this app will go offline from the Windows store again when the decide to make it a universal app?

I'm so psyched! I spend 60-70 nights in Marriott each year. The webapp on windows phone was crap.

Wow. This is great news. Keep' 'em coming.

The app is now availble. Just installed it. Looks the same as the IOS app to me. http://www.windowsphone.com/en-us/store/app/marriott-international/5b8e5...