First look - Sygic GPS Navigation now a Windows 10 universal app in open beta!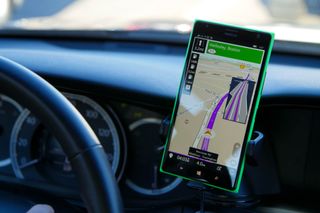 What's cooler than a free navigation app for Windows Phone? One that works everywhere and that's what just happened with Sygic. Sygic GPS Navigation is coming out in the next week, but you can get your hands on the open beta.
Sygic GPS Navigation now works with Windows 10 Mobile and Windows 10 desktop for your PC, Surface and laptop too. As always, Sygic is free with offline maps powered by TomTom. Of course, there is always a small catch, and that is if you want advanced features like live traffic and Head-Up Display (HUD) you'll have to grab those add-ons through the store within the app.
We've playing with Sygic for the last few days and are coming away impressed. Check out our hands-on video to see it all in action on the Lumia 1520 and Surface Pro 4.
The animation for the Sygic maps is very smooth and the ability to do searches, pin location to your Start screen and even use Cortana make it worthwhile. Probably my favorite feature is the necessary lane-assist ability that guides you into the right lane before your exit or turn. We just used it to navigate to the Microsoft Store, and it got us around some tricky spots with ease.
For those on phones with low memory, you should be able to download and install the maps to your SD card for offline usage. Worldwide maps are available for the following countries:
Algeria, Andorra, Angola, Argentina, Australia, Austria, Azerbaijan, Bahrain, Belgium, Benin, Botswana, Brazil, Brunei, Bulgaria, Burkina Faso, Cameroon, Canada, Canary Islands, Colombia, Croatia, Czech Republic, Cyprus, Democratic Republic of Congo, Denmark, Egypt, Estonia, Finland, France, Gabon, Germany, Ghana, Gibraltar, Greece, Hong Kong, Hungary, Chile, Indonesia, Iran, Iraq, Ireland, Italy,Israel, India, Kenya, Kuwait, Latvia, Lesotho, Liechtenstein, Lithuania, Luxembourg, Macau, Malawi, Malaysia, Mali, Malta, Mauritania, Mauritius, Mayotte, Mexico, Monaco, Morocco, Mozambique, Namibia, Netherlands, New Zealand, Niger, Nigeria, Norway, Oman, Pakistan, Philippines, Poland, Portugal, Qatar, Republic of Congo, Reunion, Romania, Russia, San Marino, Saudi Arabia, Senegal, Serbia, Singapore, Slovakia, Slovenia, South Africa, Spain, Swaziland, Sweden, Switzerland, Taiwan, Tanzania, Thailand, Togo, Tunisia, Turkey, Uganda, Ukraine, United Arab Emirates, United Kingdom, Uruguay, USA, Vatican, Vietnam, Venezuela, Zambia, Zimbabwe
Other features include:
High-quality TomTom maps stored on the device
Works with GPS only, the internet is not needed
Turn-by-Turn voice guided navigation
Millions of free pre-installed POIs
Free map updates & Free POI database updates
Free updates of Fixed speed cameras
Head-up Display (HUD) available as in-app purchase
Spoken Street Names to focus on the road
Three Alternative Routes to choose from
Easy Drag & Drop route editing
Waypoints for places you want to visit
Avoid Toll Roads on your route
Dynamic Lane Guidance for safe lane changes
Junction View to highlights highway exists
Warnings for exceeded Speed Limit
Warnings for fixed speed cams
Police trap warnings from other drivers
3D Cities & Landscape for easy orientation
Pedestrian Navigation to walk and explore
Graphics optimized for tablet & HD displays
Car Audio Integration – Bluetooth or cable
Overall, Sygic is a fun app to use, and it's great to see the universal app model being supported. Expect the final version out sometime next week, but for now grab the beta and give it a spin on your phone or tablet and let us know what you think!
Download Sygic Windows 10 universal app (opens in new tab)
Windows Central Newsletter
Get the best of Windows Central in your inbox, every day!
Daniel Rubino is the Editor-in-chief of Windows Central, head reviewer, podcast co-host, and analyst. He has been covering Microsoft since 2007 when this site was called WMExperts (and later Windows Phone Central). His interests include Windows, laptops, next-gen computing, and for some reason, watches. Before all this tech stuff, he worked on a Ph.D. in linguistics, watched people sleep (for medical purposes!), and ran the projectors at movie theaters because it was fun.
Do you know if Chile is there?

Nice. I remember this app on Android when I was looking for a free GPS app qhich can store maps online. So awesome that Windows Phone can download maps for offline use.

Even built in maps app for windows phone can download maps for offline, where have you been?

He said ANDROID. Read before jumping in :P

He did not - So awesome that Windows Phone can download maps for offline use. Read before jumping :p

David said it like Windows Phone can now finally download maps for offline use.

MapFactor and now Sygic. Amazing! I hope Here does this as well.

I use this on my 930 in the UK and very happy with it. Nice to see it's going universal :)

Nice. Recognized it because It's actually one of Range Rovers incontrol apps (their version of carplay). $80.00 through the apple store. Nice to it's free for Windows Phone.

$19.99 for traffic info? I'll stick with good old MS Maps...traffic info is fairly up to date, and quite free.

Yeah in the US it uses TomTom traffic which is good but free and good is better!

Yay, they listened to my suggestion!! Now my surface pro cam be better used in my truck!

Not without a GPS module...

USB and bluetooth GPS modules are available and affordable.

it's just pity you have to use those old bluetooth gps locators with the expensive computers like sp4 in 2015, it's all microsoft's fault not building an lte version. people have been complaining about it since the original surface pro, they just don't listen.

I've got a nice magnetic one :)

If only Waze came back to life on Windows. At least we are getting the alternatives. If Microsoft can implement traffic based navigation and rerouting, I can finally drop Waze.

I'd like to concur but my experience with Waze traffic information is not consistent. With hundreds of Waze users scouring around at the same time, I am expecting a better consistency. Waze is also unreliable to be used in cities you are not familiar with. Having the maps edited by users also mean it may be wrongly configured. When I went out to another city, I got myself stuck multiple times getting directed through alleyway. Sticking to TomTom, Garmin or Sygic when discovering new places is the best bet for me. I still use Waze only for my commute, to scan the routes and decide which is the one with least traffic. Even then, I did the decision myself and not by using Waze navigation. It's not reliable enough.

Here in Israel (the "birthplace" of Waze), Waze is considered and mostly is almost 100% reliable. It's the default and mostly ultimate choice of a navigation app here.
Personally I've had numerous occasions where I thought I knew better than Waze, based on my personal knowledge of the area I live in, and was dumbstruck of how Waze's traffic information was dead on accurate...
On other occasions, new roads which were just opened minutes ago, were already mapped and recognized as a valid rout by Waze.
So, I guess Waze's accuracy just depends on the country you live in and in the commitment of the local Waze community...

Totally agree, thought i knew better than Waze and found myself stuck in traffice...Waze to go for me..

I like the social aspect of waze. share live info on where friends are and share traffic data with friends. It's someting the other apps could explore more as a value-add to the functionality of navigation. The achilles heel is the dependancy of an internet connection. The 2 biggest handicaps for me me with waze are 1. no offline maps (yes cache, but not offline downloads). 2. waze is dependent on 3G or wifi connection to happen (like google maps).

This UWP version of Sygic does have user input of accidents, police, closures, etc in the routing mode. Plus TomTom maps in US which are good.

I've only used Here Drive... is this better?

Watching the video a big difference is Lane Assist. One of the reasons I prefer Navigon over Here Drive. But Navigon costs money and Sygic looks to be free like Here Drive and W10 Maps. Still have to test Sygic to have a complete opinion. Most probably Navigon will stay my favorite with multiple route options. Also the Windows 10 Maps with build in voice navigation is greatly improved over Here Drive.

I like the UI for Sygic very well but find its routes aren't always the absolute fastest. Think MS maps may route better but Sygic is pretty and will definitely get you there. They also need to update their search function like the iPhone and Android version recently have.

It's slow and needs to be updated for the U.S.. I don't know about other countries. It's nice looking though.

I have used here and it's impressive for free, but, if you want more then this app is perfect. I tried it and bought the traffic etc. I could not go back to Here now. Depends on your needs but you can download and give it a try.

Here Drive is good. I use it as my daily driver.

Here maps have been my favorite....but I will check it out

It's really a good app. I paid the $19.99 feature used it on my M8 for Windows. Now I'm using it on my S6 edge. I never had any issues with it. It Lso has many more features than here app. Which is why I started using it. Give it a try you may find that you'll enjoy it. Posted via the Windows Central App for Android

Agreed. It's a good one and they update relatively frequently!

I'm stuck on the registration page I've registered now I'm stuck Posted via the WPC App for Android!

Thanks. I have HERE Drive+ / Maps.

Alternatives are useful, your post, not so much.

Nor was yours. Its no different than anyone else saying they prefer another gps app better

I recently tried Sygic out, but the walking directions are terrible. I wanted to see if it could help me find a better route to bike to/from work. After it insisted (several times) that the best route involved going through buildings, hopping fences, and tresspassing across private property, I decidred Sygic just wasn't for me. I live near Palo Alto, there are plenty of sidewalks all over the place. Why it insisted I could only get to work via tresspassing and fence hopping, I'll never know.

It assumed everyone can fly like a crow.

I don't get the head up display feature. Anybody know what that's all about?

A Heads Up Display (HUD) is basically designed to produce a light-weight version of a navigation app, that is displayed on the windshield. The idea is that by projecting just what you need to navigate (i.e. speed limits and when/where to turn) onto the windshield, it minimizes distractions and ensures you're looking up at the road (hence the "heads up" part), instead of down at your phone. Here's a Kickstarter for a OS & App agnostic HUD solution. https://www.kickstarter.com/projects/361842686/hudway-glass-keeps-your-eyes-on-the-road-while-dri?ref=category_popular

Based on the picture it looks like a simple attachement on the phone. So it projects from the screen? I had no idea phones were capable of doing that. The article you linked to indicates they have apps for iOS and Android. So do we need an app specifically designed for this attachment? I guess what I'm wondering is, if I download this Sygic GPS app, what else do I need to project a head up display in my car? And where do I get it? EDIT: Never mind. By scrolling further down I see they list a bunch of app with which their product will work.

They also only list the iOS and Android version of those apps, but it will work with any app which offers a HUD mode (like Sygic). You can also lookup HUD on Amazon and find some other solutions currently available.

Yeah and for my car at least with the Sygic heads up display I need to turn the display to maximal brightness and keep my phone charging. I find it useful on long trips where I don't need to stare at a map.

What's better this one or here maps??

This one I think has a more simple and elegant UI but MS has better routing and search (but Sygic supposed to update search soon).

I have used both and bought Sygic due to the additional functions. The UI is better too. Either will do for occasional use and the great thing is that you can download both and compare for free.

See further down for pro/cons for Here Drive/Sygic.

Will our purchases from 8 carry over?

Yes. Sign in your account on the app.

I think the two biggest advantages of sygic over the other GPSapps is the lane change and the smooth graphs. No other GPS app compared in smoothness to sygic. I'm not entirely sure as testing is difficult but I think another graphics does mean a greater drain on your battery life and possible heating issues in long use cases. Outside the US maps are expensive (experience for windows phone 8.1) as are the other extras. Outside US for windows phone 8 offline downloads with voice navigation free for a few countries. Only 7 day trial free. After that one country free offline but you pay for turn by turn voice. I also heard from my sources that map updates are not that great in frequency asked reliability of time updates. Sygic has not had a long talk record on windows platform (say compared to here or navigon), so proud of long term wil still have to be seen. Nice thing though is that it is good to see another app supported cross platform now and also a UWP app! Though I'm curious what people would user the tablet/pc app for (since MS already has a good maps app). What is the value of the tablet/pc app over just windows 10 mobile.

I wanted something more than Here so tried the Sygic free trial and loved it so paid after the trial. I use it quite a lot in the UK and am very happy with the quality and service, as well as the updates. No issues after nearly a year.

brand
Here maps
Tom Tom + Sygic maps
Navteq
Teleatlas, Google streetview, Navteq? offline maps
yes
yes global maps
yes
yes data size (example the netherlands-benelux)
246,9 Mb-563,3 Mb
99,80 Mb-177,9 Mb Free app and maps
yes
yes (7 days free trial) price
free
free trial, price 40 euro for global maps after that (price increased after deal) voice
yes (male-female)
yes (female) HUD
no
yes customizability
traffic, 3D, 2D, North up, POIs on map
traffic, 3D, 2D, lane assist, junction assist, current street, informationn pane (left-middle-right) traffic info
yes
yes route alternative
yes (indirectly: quickest, shortest, fastest)
yes (directly: shows you three route alternatives befor navigation starts) lane assist
No (only does zoom at junctions and turns)
yes pedestrian navigation
no
no bicycle navigation
no
no public transport navigation
no
no adress bar data input
city-street-number (random order possible, no punctuations necessary)
city-postcode,street,number (fixed order) access to contacts
No
No access to adresses offline
yes
yes acces of POIs offline
No
Yes (within a 25 km radius of current gps coordinates) portrait/landscape support
yes
yes instant rerouting when drving wrong direction
yes
yes map updates
yes
yes day/night maps
yes
yes smooth navigation animations
no
yes navigation voice under lockscreen
yes
no This is what I've experienced with both gps navigation apps on windows phone 8.1. on my lumia 1520.

Okay, wow, the windows central table function rendering is broken! I don't know how to fix this. Anyone?

Nevermind formatting, thanks for the thorough comparison. Any ideea of battery consumption comparative between the two? If all is equal, voice under lock is a winner for Here, on long trips

Good question. I've been trying to find some time to really do a good battery life test. I don't really know how to do a good benchmarking test that doesn't take a lot of preparation and time. Any suggestions?

Preliminary battery life test: Device: lumia 1520. Apps: Here Drive+ Version 4.5.204.1. Sygic Version 15.4.7. Conditions: GPS on, Wifi off, Cellular on, 3G off. Test Here Drive+ between 10.30 and 11.30. Test Sygic between 17.20 and 18.20. Date 1-11-2015. Weather: foggy. Roads (rough estimates: 60% highway (100 km/hr max cruise control), 20% town/city, 20% secondary roads. Generally flat roads. Country: the Netherlands. Distance: 78 km. Time: between 55-62 minutes. Traffic: No heavy traffic. Here Drive +: 97%->80%= 17% Sygic: 100%->84% = 16% Notes: Here Drive+: voice navigation on. 3D maps. clean and simple looking interface. Quickest route on. thin line for navigation route (blue). Huge font size for countdown to next turn, roundabout. turn seems on que with real turnn of the car. Sygic: voice navigation disabled (past trial version). 3D maps. clean and rich and immersive looking interface. Rich and warm colors. Thick line for navigation route (purple). Smooth animations of arrow on route and scrolling of maps during navigation. The purple line sometimes stutterd a bit (shorts bursts of an element of the purple navigation line disappearing and reappearing right in front the arrow. Sometimes the map flashed once every couple of minutes (looked like a map reload/calibration. Flash doesn't take long only a small fraction of a second. I used car dash app by Rob Irving to start navigation of both apps (destination preprogrammed in car dash app). Start up and start navigation from this app was smooth for both apps.

Gorgeous comparison! Thanks for doing that!

@Wavehuis Thanks for comparison. I see also: HERE maps >>> 246,9 Mb (Netherlands) - 563,3 Mb (Beneluxs) Sygic nav. >>> 99,80 Mb (Netherlands) - 177,9 Mb (Beneluxs) I would say HERE maps are more detailed ... correct me if I'm wrong.

Good question. I'm not really sure what the reason for the difference is. My first would be yes,, the Here maps are more detailed in some way that Sygic maps. A good question for Here to answer;) My first thought would be that Here maps would have more zoom levels than Sygic. When I use apps like Outdoor Navigation or Navicomputer apps is could save you a lot of memory space by being selective on which zoom levels you download. But it is only an asumption I am putting forward here. That means that Sygic maps could be more "efficient" with the map memory. After all TomTom has been around longer tha Here, so they have had years and mountains of user data to perfect the software. Here is relatively new in the maps game.

Comparison with Sygic is better made versus HERE drive instead of maps IMHO due to the purposes of the apps. That said, HERE maps can do both pedestrian and public transportation navigation.

-Valid point -On the website yes. But not in the windows (phone) apps. Here made a seperate app for public transport called Here Transit. But Here maps does not support pedestrian or public transport navigation.

Sygic has access to contacts, just type contact name into searchfield address bar data input allows you to enter anything (poi name, city, street...). just press return or wait one second if result list is empty

I want to update my table in the comments section, but I apparently can't do that. I can only refer and recommend your comment up. Thanks.

Here does support pedestrian navigation and offline point of interests !

Feature
Sygic
Here Drive Offline POI
Yes
Yes Contacts adresses access
Yes
No

I don't think that the pedestrian navigation is "representative" of an effective pedestrian naviagation. I tried A to B's in a couple of coutries. What stands out is 1. highways are equated out of the route navigation 2. the shortest route is calculated. On the surface this may be okay as a a preliminary form of navigation for people on foot. I tried a couple of routes in the Netherlands, Germany and Switserland. There's a limit that a pedestrian navigation can only span 50 km max at a time. Not a deal breaker, but if you want to plan a poplular walk like the Santiago the compostella route you're out of luck. But there does seem a hirarchy that major secondary roads will be calculated into the route first. This might be an efficient route planning. But we all know that if we really wanted to walk, we would likely take the smallest secondary roads and not be bothered by toxic fumes and traffic noises and dangers. I know some more safer, but effective and efficient walk in my local area for a more "pleasant walk". I think Here maps generally does a reasonable job in cities. But once outside the city limits I would consider the paths I tried out oddly enough better suited as cycle navigation routes rather than pedestrian naviation routes. But I think the algorhythms could still be vastly improved by using more factors of "scenic" and "effective" arguments for walking alternatives for more realistic effective route results. The current routes "don't look very inviting" when you read the results of the route in here maps. I do feel they're on the right track though. Hopefully windows maps will follow suit.

Thank you for the comparison. Voice in background is a big one for me but will try this app.

App is free, buy map is not. what is the point? I am stick with HERE

False. You didn't read the article correctly.

The maps may be free, but you have to pay for voice guidance and turn by turn navigation after 7 days according to their website.

And that makes the free version pretty useless.

I love Sygic on my Android tablet. Great to now have it on my phone. However, when you search the Windows Store for "sygic" there seems to be other non-official apps listed in addition to the legit one. Why can't they now keep the store clean!!!

Good question Jeff. You could try sending MS an email about it like I did but its like the store is unmanned so nothing changes.

Universal is new for Windows Phone but Sygic itself isn't new for the platform. I've had it at least since February of this year on my Windows Phone. I'm glad to see they are still with the platform and getting stronger.

Sure, which is why we link to our previous coverage in the article. I reviewed their earlier app. Old news.

I saw that one. That was how I discovered Sygic.

What I like about this post is that the universal aspect is added to the experience of this app. I am curious to know in the coming weeks/months how users will use the desktop version in conjunction with the app version. Because microsoft already supports quite a good set of features with the maps app, even "unique" features such as public transport navigation. Not all (tablet)pcs support built in gps. The closest match is 3G. But will this mean a pardigm shift in how (tablet)pcs will be used. Will phones with built in gps and navigation software become redundant in favor of a larger screen in your vehicle. Or will users use it as a powertool for example for advanced route planning where you will use your pc to plan preconceived routes and this will be synced to your phones app. Does this mean the features for your phone can be scaled down to only show POIs and get rid of all the rest of your setting (development of a symbiotic relationship between desktop and phone app). Or will UWP trend continue with one set of experiences for all device types? I think what Sygic did is real interesting because it makes you think about how the concept of UWP apps will be used and designed. Will UWP be useful for all types of apps, or are developers nudged into overdevelopping under the UWP umbrella? I recently had a discussion with a post commenter on photos apps. I was thinking the added value of UWP would be to have a basic camera app for the camera phone, but then have a companion UWP app for your (tablet/pc) for editing your photos later. The phone and pc app would be linked via the cloud to sync photos but the feature set would be different per device. I think that could be a valuable business proposition for some categories of apps to get the best balance of workflow and productivity between the phone and desktop app. Flexibility is likely the best of both worlds, but in the real world I truly wonder for some app categories what incentive there is for the end user to strike the right balance and use both categories equally and not leave one collecting dust over the other app and get a sense of an app store full of apps for which only 50% will be used effectively at best perhaps.

Good questions all. I think these devs have great ideas for their baby, Sygic. If you ever sent them email as I have, you'll know they are very interested in your concerns and ideas.

My frame of mind is currently that developers have provided us with UWP on a silver platter. I am passionate to know what the users think. I think developers would also like to know the aswer to my questions. So rather than ask for a hypothetical answer from a developer it would be nce to know from the user what they think about the current practical implementations of UWP for pc and phone and how you will use it on a daily basis and in what way it did or did not meet your expectations.

Does it work with traditional bluetooth GPS receiver (via COM port with classic NMEA protocol)? If no then i'll stay with Garmin Mobile PC.

On my car it gives voice directions on the media channel and just speaks over the music if playing.

No, not the bluetooth car audio system. I'm talking about bluetooth GPS receiver. Mine is G-sat BT-359 (go google it). This little device has been with me since my phone was HTC Touch pro (the good old Windows mobile 6.5). My win10 tablet does not have GPS and it's really really difficult to find a windows tablet with GPS in my country as Microsoft does not sell surface in indonesia, hence we are stuck with crappy tablet alternatives.

I'm not sure - sorry! Email them at wpsupport@sygic.com. They are very responsive.

Now all we need is more Windows tablets with GPS.

In my Lumia 630 flv player app is free but why then its paid in lumia640

I don't think Sygic uses TomTom maps for all countries. I think Croatia is Navteq (HERE). I think!

Yes. Navteq is mentioned in Copyright info, but it's unclear what for.

Could be. Digging around the Internets I've also found that Sygic might also be using Navteq maps to a degree (the maps also found in Here maps). Could be a back-end licensing deal, but hardly noticeable on the front end.

Why is South Korea and Japan always missing, same thing with Windows Phone.

You are right. How strange. It seems to be an issue with here maps and sygic maps. Even the windows 10 maps app doesn't support Japan and the Korea's. I wonder if this a reflection of the politicoeconomic relationship with the US? The odd thing is windows 10 does support language packs for Korean and Japanese.

Is it possibe to create your own poi's and share them to others? With here.com i have many poi's registered. My wife uses the same here account so register in one place and using in multiple devices.

And don't forget the most complete Navigation solution from Navigon. Navigon http://www.windowscentral.com/windows-phone-navigation-app-smack-down-na...

Yes but hasn't been updated except bug issues for years with the UI and search suffering. Still, Navigon is a good app.

i dont understand how the HUD works? is it otherwise free? there's some sort of 9 day trial i can see in the corner. what happens once that has run out?

What happens with HUD is that is displays a basic dashboard UI on the screen showing info like direction (arrows), speed, distance to destination, clock on a dark background. This dashboard is projected and mirrored horizontally on the screen. So when you look at your screen all data is show in reverse (you have to read from right to left). But when you leave the screen on and leave your phone on the dashboard, the reflection of the screen on your front window will show you the dashboard with the data in the correct order (you can read from left to right). So its like a glare of the screen you can see from the inside of your front car windows. Ambulances have something similar where they stick ambulance on the front boot in reverse ecnalubam. When you look in your rear mirror you can read "ambulance". Physics of light reflection on a reflective surface. As far as I know (for europe) there is no free trial for HUD (might not be the case for the US). If there is a free trial, the HUD will work normally within that time frame. After the free trial the HUD button will be greyed out and fail to work, unless you pay. You only have to pay once to purchase. You are purchasing a feature for the lifetime of your device.

Does that mean, when I change my Windows phone, I have to buy the whole thing again? Is it not bound to the account?

I'm expecting that the purchase will be linked to your account. So if you update you current phone to windows 10 mobile or get another windows 8.1 or windows 10 mobile device, logged into your account will mean you don't have to repurchase it.

It is bound to your account.

No. You don't. Which is one reason I like these devs.As minhat says, its account based. Once you own it, its yours regardless of platform.

Also no Bolivia or Paraguay. And falkland Islands? And no Suriname. Not sure if its part of the maps of the Netherlands. Here maps does support Peru, Bolivia, Paraguay and Suriname.

Looks pretty good. Don't have W10M yet but I'll definitely try this one out. Here Drive isn't cutting it for me anymore.

Sygic maps not valid on myplace (:,here maps still the best

@masgoendoel En your beautiful place is ??? Apologies for my curiosity.

A couple things I noticed with this version 1) on my 929/ICON the speed limit sign and incident report thingy (like Waze - woo hoo!) are cut off and 2) if I am on bluetooth and get a text and answer with Cortana sometimes the traffic is lost or frozen (physically closing the app and restarting solves this).

Serously! As much as I like Maps, on my Windows 10 Mobile, I thought I would try this out. Insalled maps for my state and the app shut down. Re-opened only to find that "Get Accurate turn - by - turn vlice instructions in Lifetime Premium.". I don't think so. Oh wait and 24.95 (Europe) was 50% off?

the new apps work, however it doesnt see my usb gps dongle, is there a file i can change the settings for the com port of gps inside sygic, if so where is the editable file located, i searched but couldnt find

i have to say to pushing Universal App for Windows 10 is good decision for MS, now i got lots of official and non-official apps for my old lumia 920 and 830 now. As a developer myself, i can totally see that. developers may ignor windows phone, but it is hard for them to ignore windows PC/tablet, and since you are developing an app, why not to just make it universal .

Not tried myself, but looking at the video is looks to be a lot smoother than the official TomTom app (that I paid £50 for) on my iPhone 6Plus. Interesting how they've used the TomTom map, thought that would be limited to TomTom only. Would like to see how the maps work, as TomTom offer different versions depending on the country you wish to navigate.

Could you do a comparison of all the different gps apps like sygic, here drive + and microsoft maps?

How did you get gps location to work with the Surface Pro 4? It has no GPS?

Tried to test it on my newly upgaded (Windows 10) phone. It installs, then insists on "Gstarte" downloading a map + App dat and voice.At this point it just hangs with "Downloading" state until finally timing out. If anyone knows how to reslove this I would appreciate it!

Map download started working for a whille. Long enough for me to commit and pay for Premium services. Sadly map download has broken again, looks like I wasted my money.

Sorry "Gstarte"should read "Get started" (I must get a new keyboard).

I bought Sygic UWP - 10 months before, and after I changed my Lumia Device must buy this app again.
I wrote several requests to support but don`t receive
answer till today.
And not any help from Microsoft too.

I guess things have changed when I bought Sygic. When I had a phone stolen from me, I reinstalled Sygic onto the new phone, and did not have to buy a new license.