First Microsoft Store within Best Buy to open tomorrow in Los Angeles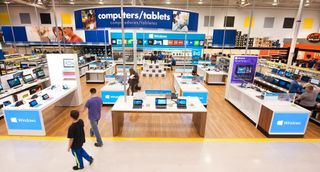 If you weren't already aware, it was announced back in early June that Microsoft would be opening Windows Stores within Best Buy locations. The new movement will reach 500 Best Buy locations across the United States and 100 other locations in Canada. You will begin to see the launch yourself throughout August and September of this year.
The first Windows Store at Best Buy will be opening tomorrow, August 7th, at the West Los Angeles Best Buy Store. The first 200 customers who demo Windows 8 devices at the store will receive a wristband for a chance to meet Clint Mathis and Mauricio Cienfuegos (I don't watch sports, don't ask me who they are) along with two tickets to an upcoming LA Galaxy game and a signed soccer ball.
In addition, Major League Soccer will be on hand to hang out and show users how to live a healthier lifestyle using Windows 8 apps including Daily Workouts, Fitbit, Endomondo, MyPlate, BallStrike and MLS MatchDay. If you are lucky, you will even be able to take place in soccer drills in the parking lot.
For more information on the event, check Best Buy's West LA website by clicking here (opens in new tab).
What do you think about Microsoft's plan to move into Best Buy stores?
Source: Windows Blog
I'll be there that's 10 minutes from my house. I'm going to walk around showing off my Yellow 1020 taking pics. :-)

Make sure to send us some awesome pics of the opening!

At my best buy store it seems that Samsung galaxy took over :/

Pssshhh. Its 30 minutes away. Nothing in WLA is 10 min away. Everything is at least 30 min drive, even your neighbor lol...

Cool. Is there a site showing what Best Buy stores are getting the MS stores?

Yes there is.. Its www.dezznutz.com lol❕❕

That was actually funny. Rude but funny.

When will they finally hit the Charlotte, NC area? Also, please MS, turn our kiosk into a full fledge MS store inside South Park mall.

The Bestbuy in Alpharetta,GA has had theirs open since mid July. :/

Small world. I live/work right by there!

Really small world. I came here to say the same thing. But maybe this Best Buy is ahead of the official schedule.

Huh? The North Scottsdale Best Buy MS store has been open for a while. I guess they thought LA would be a better spot to make a scene.

Actually I was working a couple of nightshifts over in Tempe Marketplace so we can get the Microsoft area set up. It should be complete by the end of this week.

The North Nashville, TN/Rivergate store is open. Looks great!

Funny, my Best Buy has had it's Microsoft store open for some time. Guess they just want the "grand openeing" to be in LA.

Meh, I only cross 110 if it is something truly awesome. West side is the aggrivating side... lol.

No kidding with all that traffic. Moved out to south bay and loving the more laid back pace of living.

I sometimes wish I didn't live smack dab in the middle of West L.A., however it has its perks sometimes.

Very true. Dining and a variety of art based options available. I miss Rhino Records. Maybe they can double deck pico, overland, centinela, etc. That might alleviate some traffic!

My main issue is Venice. Too many people use Venice!

My old Alma mater, VHS! Yeah, Venice is bad. Even what used to be a smaller street, Palms is turning into quite the clogged artery itself. Is that bacon avocado burger place still there on Venice and Sepulveda? Forgot the name. Howard's?

My local BB's MS store has been opened for a couple of weeks now too.

Smart Move opening Inside Best Buy

My local BB, from which I purchased the Surface Pro just yesterday, has this setup already. It looks really nice. The sales guy said some outside vendor is doing this at all the stores, one at a time. He assumed they were contracted out from M$. And for the first time, there is a small kiosk featuring the Pro and RT right inside the front door, which was refreshing to see. Prior to that the Surface tablets were in the very back of the store, at the end of the isle and lonely.

What is "M$"? Are you using some ignorant slang for Microsoft? It's not cute... Is the "s" button on your keyboard broken? If you want to abbreviate, please don't say "M$" don't even say "MS." It's MSFT.

+1 for the M$ comment but given Microsoft use the MS term a whole heap and that MSFT is the stock market ticker code i think you may want to let people say MS.

That's an OPINION, and YOUR opinion. I've purchased and used many Microsoft products and services since 1996, and am a shareholder. I'll shorthand Micro$oft any way I want to.

In Topeka ks there is a Microsoft store already inside

Hmm some people are saying their Best Buy already has a store open. I'll check mine and see if it's open yet. If it's not I hope it opens soon!

I've been to 3 of these already.

We have one already up here in the bay area (Oakland/Emeryville) store almost didn't leave its very nice bigger then the Samsung and apple spots combined

Nice! I am so gonna check it out.

Any way to tell which best buys in my area have MSFT store?

Go to them? Take the family and make a trip out of it. Don't forget to take pictures.

In Buffalo, NY, there is already a large Microsoft Windows designated area at Best Buy.

I was in the Best Buy store in Roseville CA last weekend and they had one.

Well I was actually working a couple of nightshifts setting these up. So far they look awesome! Tempe AZ one should be complete this week.

I'll be there! I'm local in L.A ! About time!

I was just in best buy at Seattle Northgate and they had a M$FT section set up and it was quite nice.

Augusta Georgia one has been open quite a while too... But the reps were still telling people they prefer iPad to surface.

My store is getting this later this month

Ahhh I know where that's at, right by the 405 and 10. Cool beans :D

The LA store is NOT the first Best Buy to open a Microsoft Store inside. I'm in Minnesota and for the past 6 weeks we have already had two of these. Maple Grove, MN Best Buy and Minnetonka, MN stores have had these full Microsoft stores since late June. Perhaps it's because Minnesota is the HQ of Best Buy and they were the pilot stores. Though I felt like I should correct the statement that the LA store was the "First" one....

Yea we have had it here in las Vegas for a few weeks now so I'm pretty sure this is not the first...unless your talking about in LA.

Yeah, this is not new lol 2 Best Buys in my area have already been "open"

That's excellent. I live in NJ. With 2 MS Stores in the state and I've never been to one cause they're too far from where I live.

Even good ol' Billings, Montana has it MSFT store up and running already.

Okemos, MI has their Microsoft Store up and running too.
I was impressed with how big it was compared to the now 'very tiny' Apple table and the dwarfed Samsung Galaxy hub that they have too...

Meh, I rather Microsoft spent more money building their own store. The top 100 populated cities in the US, should have a Microsoft store though. Besides, MSFT store within Best Buy is just tacky IMO. I can't believe Microsoft stooped this low..

Samsung and Apple did the exact same thing. By leasing out square footage to these companies, Best Buy generates more revenue from each store, thus helping them stay solvent a little while longer. Each store area employs their own people and are responsible for their own displays, setups, and devices. Pretty good idea by Best Buy and allows MSFT to more quickly expose Windows 8 devices without having to build an entire store...

I think MS should have done this sooner (well, they should have developed their mobile and tablet strategies faster, then integrated them with the desktop and xbox faster, and THEN opened mini-stores in Best Buy). With Apple and Samsung already having a dedicated in-store presence MS doesn't really have a choice. I hope Xbox is included here (in addition to the gaming section).

There are already open in best buy stores. I saw one Emeryville and another in Sherman Oaks.

Already opened here in Annapolis, md

Both of these things will happen.
Windows and Best Buy will go down together.
People will walk into the Windows store and the rep will say, "If you really want great products (did I mention cheap), why dont you step over here to the Samsung Galaxy store".

I don't get it.
Isn't the Best Buy computer section already essentially a 'Microsoft Store'?
What's the point? Still, Best Buy isa quickly fading retailer, a la Circuit City. I don't think they'll be around in under two years time.

Are they gonna sell surfaces too?

Stop supporting best buy people. Lets just use it as a showroom and buy your techs online. Its time these corporate big box be taken down

My local Best Buy has had one open for about a month now...

There's a big one here in Fort Smith, Arkansas too. More like a Windows store.
It's practically the Windows PC section, including Surface, with expanded floor space. It looks sharp.
Windows Central Newsletter
Get the best of Windows Central in in your inbox, every day!
Thank you for signing up to Windows Central. You will receive a verification email shortly.
There was a problem. Please refresh the page and try again.