Microsoft and Best Buy announce new Windows Stores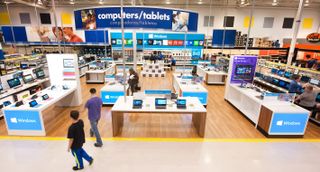 Microsoft and US retail chain Best Buy have both announced today a strategic partnership to create a new Windows Store. The set-up stalls will be featured within 500 Best Buy brick and mortar stores across the US and in more than 100 stores located in Canada. The stores will range in size from 1,500 and 2,200 square foot and will include Windows-based tablets and PCs, as well as Windows Phones, Microsoft Office, Xbox and more.
The plan is to have an innovative space highlighting numerous Windows scenarios across displayed hardware. A standalone area will be dedicated to the Surface tablets offered by the software giant. Tami Reller, chief marketing officer and chief financial officer of the Windows Division at Microsoft, had the following to comment on the announcement:
The alliance between the two companies will add more than 1,200 Best Buy Microsoft-trained sales associates to help create an engaging customer experience with products on display. This is a huge move for Microsoft to show support outside its own stores that are dotted across the country. While this further focuses on US consumers, we'd like to see the company push n other markets too, including the likes of the UK.
Instead of popping into Best Buy and browsing through a typical line-up of laptops and other devices, consumers will be able to check unique products from Microsoft with sales associates to run through exactly what's possible with each form factor. The Windows Stores at Best Buy will run out from late June through September. Be sure to head on over to the Best Buy website (opens in new tab) to read more into the new promotion.
Source: Best Buy // image credit: Craig Lassig
Rich Edmonds is Senior Editor of PC hardware at Windows Central, covering everything related to PC components and NAS. He's been involved in technology for more than a decade and knows a thing or two about the magic inside a PC chassis. You can follow him over on Twitter at @RichEdmonds.
Its official MS is full speed ahead

Damn i though I had the first comment lol.

Hey, is that Pocahontas in the commercial?

It might be "Pocahontas One".

Love it, keep it coming Microsoft.

Now we're talking! Gives me more reasons to visit Best Buy.

Yes, but I "hope" they can get knowledgeable people working that section that can really explain the nuances of the Windows family of products.

Nicely done, tired of walking into best buy and seeing apple apple apple

Now its Samsung Samsung Samsung.

Ms needs to give incentives to employees to sell their products.

Hope the Best Buy in my area gets one.

It looks like Microsoft is on a really good way here ! good job !

They are building one of these spaces in my local Best Buy. Unfortunately, it is a Samsung space, not Microsoft. Hopefully MS is next.

Yeah here all the 7 Best Buys I visited for work have a Samsung display area. My company was even hired to set up some if these displays.

How about a WP app? Once there, now removed. I hope this works better than the once lackluster app.

Dafuq is wrong with Microsoft .. So many good ads in 2 days :P

I hope my local Best Buy gets a Windows Store. I'll definately be in there testing the Microsoft-trained sales staff on thier Windows knowledge and loyatly. It will be interesting to see how many try to redirect me to an Apple or Android decice when they should be promoting Microsoft. Hopefully none.

Exciting news for us up here in Canada!

I'm impressed. This could be huge for Microsoft. Imagine the average consumer walking into a best buy and being introduced to the high level of interaction inherent between a Windows Laptop/Desktop, Windows Tablet, and Windows Phone. This will go a long way towards educating consumers on the strength of Windows Phone and Tablets, maybe more than any commercial could. Good move, Microsoft.
Now, if only they would fix all the annoying holes in Windows Phone 8, and then put in place better integration between the different screens, including xbox/X1.

Totally agree, excellent move by Microsoft. Can't wait to walk into a Best Buy and test drive a Windows Phone, Surface, and xbox1, at the same time. Microsoft needs to script an integration story for all 3 though, something that clearly demonstrate the upside of owning Smartphone, Tablet, and Game Console from them as opposed to different pieces from different manufacturers.

This should be a permanent move, not just one that runs for the summer. Would love to see permenant Microsoft stores in BestBuy (and FutureShop) stores.

I'm sure it is permanent.

From the article above: "The Windows Stores at Best Buy will run out from late June through September."

Maybe he meant "roll out".

Upon further inspection of the source article you are correct. Best Buy said it will roll out from June until late September. Lots of confusing typos in the articles as of late :( EIther way, if it is permanent then I am happy

Now let's how those best buy employees are properly trained.

+1, an entire area where best buy employees can ignore MS products, yea.

I would almost be tempted to volunteer at Best Buy Microsoft store just to make sure that the masses get educated.

Hope we get one here in good ole Greenville, SC.

About time! Best buy is turning into a swap meet for the tech giants..just buy space and sell you shit people before they run out of room!

Ahh.. I see a lil competition coming. I work for Samsung in the Best Buy in my area, and ppl love it. Hopefully MSFT can bring it!

Glad they're deploying these "mini" stores, but wished they did this yrs ago.

Sounds good. And now pls open up a MS store in my country :-)

A lot of effort and collaboration for only a few months. Should be permanent.

This is much needed. When I bought my Lumia 920 from futureshop ( owned by best buy), the guy working there was like don't you wanna buy something like Samsung or iPhone. He couldn't even say the name properly, called it Lumina 920 lol. Some of them really discourage you to go for windows phone, don't know how much the situation has changed now, I got mine last December. Although when I got my surface pro the guy at best buy didn't say anything negative about it and gave me a more unbiased description of the product.

Good point. I am a sales rep that goes to Best Buys and other retailers. Believe it or not I have been seeing more Windows phones OWNED, as in personal, by employees. One guy was like I have this shitty LG slider or whatever but I want a Nokia because its so bad ass. I showed him mine and he was aweing drooling over it (not physically drooling but as in liking it) lol. Nokia 810.

Love it! Microsoft is proving they are all in!

We have a samsung "store" in my local Best Buy. I was messing around with the Ativ tab over by the rest of the computers.. well trying to. It was unplugged, and didn't have a charge. Someone from the Samsung "store" stopped by and checked out the problem I was having... he got that one set up and running (to show me it wasn't broken), then walked me over to the Samsung "store" where they had all of their Samusng products on display. While I was looking around, I saw him stop a Best Buy employee and asked him to go fix the display.
The mini store looked great, and it was nice to be surrounded by working displays.. that well.. worked.
It worked, I bought a Galaxy S4..ahaha.. (Then later returned it for a 928)

Smart move a gx4 not fond of holding my finger in the air for three seconds to zoom. Pinch in less then one

Best buy just got $499 of my money... Xbox one wrapped under the tree for daddy on Christmas!!!

Its good to see this. Store associates and a couple of the managers have commented on this. They mentioned it will be more on the higher end of products that they will be show casing. Or so one if the managers told me. Prefer this over the Samsung/Apple area. Hopefully it looks good too.

Fantastic news!! Keep it going Microsoft!

Very nice!! Go go gadget Microsoft! ;) hehe

I'll believe it when I see it. The brain dead idiots they hire have their heads so far up Apple's arse, it wont matter what HQ says. They'll sabatoge it.

Awesome! I'm applying at Best Buy!

If you're going to be working for MS I will be stopping by for a discount :-P


Hope this comes to my best buy!!

This is big. MS is stepping up, challenging their competitors and creating jobs and helping Best Buy to stay relevant all at the same time. I can support that!

Nice! Is there a list of stores that'll have this?

I wonder if Best Buy's price matching policy will apply to the in-store Windows Store. So we can buy any W8 or WP8 producs with the Amazon price.

I hope they include customer/technical support at these stores. That'll give people a place they know they can go to for sure.

Microsoft. Thank you for helping struggling businesses like Nokia and Best Buy. This is a win win.

Not surprised by this move .. Microsoft owned shares in bestbuy

While this is cheaper than opening up your own stores, does it really make sense to pay all that money to be inside of a store that is essentially going out of business?

Surface sales are definitely going up now, not to mention the new Haswell machines. 8.1 can't get here soon enough...

This is awesome news :D the Samsung galaxy in store in best buy got me jealous and plus the best buy staff keeps terrible upkeep of the pcs. They are always dead, on the blue screen of death or just frozen. Hopefully Microsoft send in their own sales personnel

Next must be dedicated stores in key markets like UK, Germany, India ....as many as possible really

Hopefully Microsoft is smart enough to realize that they need to ensure that the Microsoft store is staffed by an actual Microsoft employee. Part of the problem at Best Buy (and the reason that I purchase computers at the actual Microsoft Retail Store or online) is that Best Buy does not know how to sell Windows. Typically they lack knowledge of the products, they set all of the computers to run a terrible Best Buy demonstration, the overall presentation is really poorly executed, and their selection is lacking. Actually, if my opinion of Microsoft products was simply based on my experience at Best Buy I would have no desire to buy Microsoft products at all.

Booooot Time!! And agreed with everyone stating that MS has to ensure trained or motivated Windows staff the ones dealing with customers and product.

Reminds me of Automan... "Cursor, you suppose you could res me up a Microsoft Store?"
http://youtu.be/jH5TDoOXKvU?t=8m47s

I've been to Best Buy recently and windows 8 laptops and ultrabooks were in very good supply.

I hate to complain, but what pisses me off is the fact that the stores are only going to be up from late June through September. Although I know this can change, especially if the stores do well, it seems to me like MS marketing stunts are always so "temporary".. I hope MS/BB see the value in these stores and keep them up and running for some time to come...

That's when they are opening in the stores. Not the time the stores are going to be in the Best Buy stores

No, its how long they will be open.. It says that they will RUN for this time period...

This is the greatest news ever!!!! Hell Yeahhhh!!!!! The full force of Microsoft is coming.

Hope my local Best Buy gets one as well. Even though I loathe Best Buy. At least I'll be able to try something before I order it from a company I don't hate.

I'd love to see Microsoft team up with Harvey Normans (or JB-HI) down in here in Australia and do the same thing.
There needs to be a bigger 'Windows' push (Globally)

Hope Microsoft will also open stores in other countries, like in Asia.

Can anyone find a list of the stores recieving these stores?

I'm as happy as the next guy, but I really don't see how this is really going to help Best Buy...people just don't go to Best Buy anymore. But I guess, people do go to Microsoft Store so...we'll see.

They really need this. Because sales people are not on WP side.

Stopped in at the best buy in the picture (Rochester MN). Pretty cool.. Much larger than the apple next to it and Samsung across the aisle.
Windows Central Newsletter
Get the best of Windows Central in in your inbox, every day!
Thank you for signing up to Windows Central. You will receive a verification email shortly.
There was a problem. Please refresh the page and try again.