Best Buy puts 50,000 hours toward training employees on Windows 8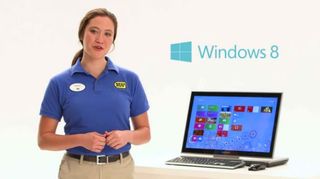 Mega-retailer Best Buy has invested some serious time into training employees at their brick and mortar stores about Microsoft's latest operating system, Windows 8. Speaking to Forbes, Best Buy's merchant vice president for computing, Jason Bonfig, said that they have dedicated over 50,000 hours to making sure certain blue-shirts, Geek Squad consultants and "Microsoft Advisors" all have a working knowledge of Windows 8, so they can help customers feel comfortable with what is surely a change in what they are used to seeing on a Windows computer.
Unfortunately for Best Buy, after heading to the store to see the product in person, they often go home empty-handed, only to buy it online at a cheaper price. In addition to what they hope will be a knowledgeable staff, Best Buy hopes to remedy that by offering things that online sellers, like Amazon, cannot.
The chain will carry exclusive Windows 8-based PCs. They will also offer buyers a 15-minute Geek Squad session which will cover the initial setup of the computer, email configuration, security software installation and general information rundown.
For those of us who have been to Best Buy and seen a "Let Geek Squad install it for you!" sticker plastered on the front of an Xbox game, this latest effort may not instill enough confidence to make us buy in-store, but at least they're trying. Hopefully, it will drive enough sales so the rest of us can go check out a device in person before we buy it online.
Windows Central Newsletter
Get the best of Windows Central in in your inbox, every day!
Well I work for Geek Squad UK (still owned by BB) and we're doing the same, plenty of training and time on WP8 and W8 to make sure we do the best for our clients :) Good to see our US Agents doing the same!

I'm afraid that even 50,000 hours won't be enough to help them ;)

You're right! That's just way too much time for something that can be learned in less than 5 minutes.

Given they have over 150,000 employees, even assuming only a large portion (75-80%) are retail employees, that's about an hour training per employee, at best. Whether that'll be enough to know anything of substance is debatable, but it should be enough to sell something... maybe.

I walked into a staples the other day and they are advertising the bejeebers out of W8. I was thoroughly impressed. I was listening to a guy who was genuinely offering someone a W8 tablet to someone because she said "I want to get a laptop, but everyone seems to be getting tablets these days." He also showed her some android tablets, but said that they werent as easy to use in place of a laptop as a W8 tab.


We don't have Best Buys where I live. But I am still in the old school camp when buying. If a store have reasonable prised stuff I need, I always take the in store experience everytime. You can go directly to the store and complain complains and instantly replace if needed, you can form a relationship to various stores and get discounts OR better support. Some stores I go to they never question me because I would try everything before returning a faulty device. Don't know, its a part of the experience to go to the store and go home exited with what you got.
Phones have been a exception for me from time to time because Expansys products have always been solid for me. When others have had issues I never had thouse with my Expansys phones, they tend to just work.

If Best Buy pushes this right, they could cash in on additional phone, tablet and PC sales given how they interact.

That's good, there is nothig worst than an ingnorant sales person or one that only know about Apple products.

Completely agree with you. People should look and think outside apple ...

Got my 920 at my local best buy and had a great experience, the employee ended up telling me that I'm going to make him want to buy a windows phone. Hope more excitement is generated for the #3 mobile OS

Obviously the store near me didn't get any training. Inept is the nicest way to put it. I went in there and it was filled with hipster dufus' trying to sell Apple products.
I was checking out a nice all-in-one with a touchscreen and they knew NOTHING about it.

I totally agree. I went to two different Best Buys here in So.Cal (San Gabriel Valley) area and the 5 people I talked to had very little if any knowledge of any of the products. I played stupid and asked about the tablet, how to move around and do things and what the difference between RT and Pro was and they weren't helpful at all. As for phones (the reason I was there in the first place) they left me wondering where all this training is being done because, they had little knowledge on Nokia or the HTC. In fact I had to point out they were displaying an HTC Win8 Phone where they were supposed to displaying a Nokia 920. When people saw that I knew more about the devices they started asking me questions, which I was happy to do. I wonder if I will get a commission on any sales? :)

Oh, I forget to mention there was Logitech rep (displaying their phone accessoris) and he knew a good bit about the Nokia phone not too much about their new tablet style mice and touchpad though.
PJ

Good to see Best Buy working hard at this. They really need to, if they intend to be around in a couple years.

"Hopefully, it will drive enough sales so the rest of us can go check out a device in person before we buy it online."
LOL. I'm laughing to keep from crying.
Can't say I buy more stuff at Best Buy than Amazon (because I don't) but they are good when you need something immediately and not two days from now. Genuinely hope BB stays in business. It's also not likeky that Amazon is going to open up brick n mortar "showrooms" although that would be awesome...

Their Geek Squad is a serious laughable joke … at least from my local Best Buy store.

The BB I work at has NO WP8 or 7 devices on the floor and only 6 Lumia 920s (Black) in the whole district. The Mobile reps talk down on WP. Good news? After SNAFUs with Apple promising X devices at launch and only providing a fraction of that (screwing up preorders) BB refuses to do pre-orders for Apple devices.

This is great to hear. Carriers are ramping up on training too. I really want one of those shirts at&t was wearing on launch day. I think it would be fun.

Hahah I don't need those idiot best buy tell me how windows 8 works I already know how use it. Besides this fools don't even know much of computers anyway

But either do most of the people who go to Best Buy to purchase a computer, so it's a perfect match. Went there two weeks before launch to look for a Win 7 leftover desktop. Wound up pre-ordering a Win 8 instead, primarially because they had it on display and I could play with it. Sometimes the touch and feel experience is needed.
Windows Central Newsletter
Thank you for signing up to Windows Central. You will receive a verification email shortly.
There was a problem. Please refresh the page and try again.