First PC Batman: Arkham Knight patch released, but more will be needed to fix its issues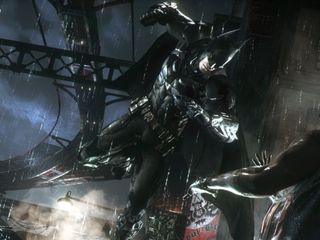 Publisher Warner Bros. Interactive made the unusual move of pulling the PC version of its open world action game Batman: Arkham Knight from being sold a few days after its release, after it became clear that it had several bugs and performance issues. Now the publisher and the game's primary developer Rocksteady have announced that the first patch for the PC version has been released, but it will take some time, and many more updates, before Batman Arkham Knight is up to full speed,
In a message posted on the game's Steam Community site, Warner Bros Interactive listed what's been fixed in this first patch:
Fixed a crash that was happening for some users when exiting the game
Fixed a bug which disabled rain effects and ambient occlusion. We are actively looking into fixing other bugs to improve this further
Corrected an issue that was causing Steam to re-download the game when verifying the integrity of the game cache through the Steam client
Fixed a bug that caused the game to crash when turning off Motion Blur in BmSystemSettings.ini. A future patch will enable this in the graphics settings menu
The publisher also offered a list of what they plan to offer in future patches:
Support for frame rates above 30FPS in the graphics settings menu
Fix for low resolution texture bug
Improve overall performance and framerate hitches
Add more options to the graphics settings menu
Improvements to hard drive streaming and hitches
Address full screen rendering bug on gaming laptop
Improvements to system memory and VRAM usage
NVIDIA SLI bug fixes
Enabling AMD Crossfire
NVIDIA and AMD updated drivers
The PC port of Batman: Arkham Knight was developed primarily by Iron Galaxy, which is also the main developer behind the Xbox One's Season Two of Killer Instinct. There's no word on when the PC version of Batman: Arkham Knight will be put on sale once again.
Source: Steam Community
Windows Central Newsletter
Get the best of Windows Central in in your inbox, every day!
Anyone bought this game yet..? Is it playable enough..?

Assuming you mean the PC version you might not get many wanting to sing its praises. The Xbox One version, however, is apparently pretty spectacular.

The Xbox One version is indeed spectacular but not perfect. I've played through about half of the campaign so far and have fallen through the ground into nothingness requiring me to restart a checkpoint 3 times. Twice in the Batmobile and once while walking around. It's far from being a deal breaker and pretty rare to say the least but still a tad bit worrisome. I don't know if anyone else has experienced something similar.

The game is awesome. The only version having issues it's the PC. I bought it for $20 for PC on release (got curios). I haven't had any problems with it except for occasional FPS drops. But that could be because of my weak CPU.
.
.
I'm not being biased here. I was just one of the lucky few to not get the problems that many encountered. The game is mostly a hot or miss right now. I'd suggest waiting a month or so.

Suppose if you're not trying to play it at 60+FPS you probably wouldn't be hitting the issues others are seeing?

I've got gtx titan x's in sli and can't get above 40 fps unless I turn everything off! Then it's fine, though why one would want to play like that or accept such a shoddy product is beyond me. It's playable, now, but I'm not finding it the graphical fidelity of the xbone and there is certainly something wrong with this port. I've had low memory crashes - the titans are 12 gb EACH and I have 32 gb of ddr4 ram!!! Lol I dunno. This was released too early. Simples.

As far as I know. Doing SLI is worst than using one mid-end GPU (like my R9 280x)

No, doing sli mid range cards is worse than doing one single powerful card. For instance doing doing 1 titan x instead of 2 980's is better. 2 titan x cards is better then 1 though :D.

True. Generally. But when the drivers are there it's cool: Take gta v and witcher 3. No issues. At all.

This has to be seriously embarassing. I've worked for game publishers and when a product does bad in testing, you try like hell to avoid releasing it. Do a bad launch and it can kill a product almost overnight. I'm still trying to fathom how this even got out of the door with this level of bad hype surrounding it. It's similar to the AC black hole modeling stuff. It's unfathomable, particularly for an industry fighting to survive in a micro-transacted farmville age of horrors (I realize not the same league, but the threat is just as real if you ask people about DLC, LOL).

Agreed. I think someone at wb just pushed for a release - if there was a choice I'm sure the game would be delayed.

Could you possibly speak to my wife about how dual Titans are really needed for gaming? She's not taking my word for it....or even a pair of 980ti

I just ordered them. And a diamond necklace from Fraser hart - she didn't mind lol
.
Though, in all seriousness, I don't just game so the grunt is needed ;)

I'm using a GTX 980Ti and it runs great at a full 60 fps on ultra

Lucky! I've got a 980ti test machine and I'm pulling sub 40. It's not as high specced as my main rig but still. What. On. Earth. :/

Twin Titans!. Man, I've met someone who spends more on gadgets than me :)

It's a hobby. I like nice things ;)

I have not made any configuration to the game's INI file to unlock the 30 FPS cap. I fear that it might truly break the game for me. Plus, I'm sure that my PC wouldn't be able to run the game higher than or at 60 FPS. Hence why I haven't done anything like that.
.
.
For reference here are my specs also.
i3 4360 3.7 Ghz
.
8 GB RAM
.
Club 3D R9 280x (3 Gb VRAM) RoyalQueen
.
Windows 8.1
.

Copy and paste the ini file into another folder named "ini backup" so if anything goes wrong you'll be able to just go back to what you were like before messing with anything.
.
Follow guides (like pcgamer) and you can't really go wrong! You have a great rig so try locking the fps to 45 or something - just to start out. Just make sure you're running the latest catylyst driver from AMD. Mess around. At worst you need to do a reinstall (not even that if you create a restore point)... That's the power and beauty of the pc gaming scene! Unleash the beast!

I'm not too scared of breaking the game much or having to reinstall. I'm actually more scared of losing progress. But, I guess I'll give this a shot.

I can't even open the game. It is saying stopped responding. I can run witcher 3 in ultra

Is that steam? Try verifying the install files.

Doing this will delete the game's files, in this case. It's another well known bug.

common practice for pc gaming nowadays is waiting even if the game gets released a year after console versions

True - though it can be done well: Gta v, witcher 3, wolfenstein new order... Others... It can be done!

Well, GTA 5 was released almost two years after the Xbox 360/ Playstation 3 release.

The port took to this year to be perfect. And it pretty much was.

I have about like 8 hours on the game already. The game is playable for me. The only time when it gets kind of bad (FPS wise) is when I'm outsidein the Batmobile. But when I'm inside a building or walking/running the game runs fine. Have not had a single crash yet too. I guess I'm just really lucky.

There is also a hotfix driver available from NVIDIA 343.38. https://forums.geforce.com/default/topic/849203/geforce-drivers/announci...

353.30 is the latest. The one specifically for Arkham Knight.

They should have waited I will never preorder a title from them again. Posted via the Windows Central App for Android

Just completed this game. Including all the Riddler trophies. On Xbox One mind you. Had a few frame rate drops when chasing down the APC's and it did crash a couple of times but nothing too serious. Great game! Really hope they can sort it out soon for the PC guys.
Windows Central Newsletter
Thank you for signing up to Windows Central. You will receive a verification email shortly.
There was a problem. Please refresh the page and try again.