Fitbit app updated with new tools for tracking your sleep cycle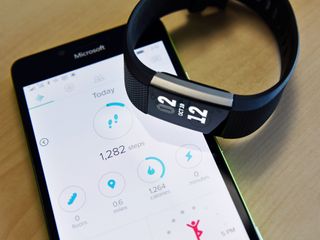 The official Fitbit app for Windows and Windows 10 PC and Mobile has picked up some handy new features for tracking your sleep cycle. First announced earlier in March, Sleep Stages and Sleep Insights are now available in teh Windows app, helping you to track your sleep with more detail and accuracy.
To recap from Fitbit's original announcement, Sleep Stages is a feature that improves on Fitbit's current sleep tracking by taking more factors into account. Instead of leveraging accelerometer data only, Sleep Stages leans on machine learning algorithms and heart rate variability to give you a deeper, more accurate look into your night. The readout is represented in the Sleep Stages section of the app with graphs showing time in light sleep, deep sleep, REM sleep and awake minutes.
Sleep Insights, on the other hands, seeks to take all of your Fitbit data into account to help you spot trends affecting your sleep. Diet and exercise patterns, for example, might lead Fitbit to make suggestions on how you can change up what you eat when, or when you exercise, yo improve your sleep.
Sleep Stages should work with the new Alta HR, Blaze and Charge 2. Sleep Insights is intended to work with all trackers except the Zip. Both features are now available in the latest update to the Windows 10 app.
Dan Thorp-Lancaster is the Editor in Chief for Windows Central. He began working with Windows Central as a news writer in 2014 and is obsessed with tech of all sorts. You can follow Dan on Twitter @DthorpL and Instagram @heyitsdtl. Got a hot tip? Send it to daniel.thorp-lancaster@futurenet.com.
Nice! Seems I might get a Fitbit with their continued support of the platform.

I just picked up a blaze to replace my band 2. So far I enjoy it. Excited for notifications, but in general I am pleased with the product.

same thing here! Can't wait for Fitbit to bring notifications to everyone :)

Same, band 2s must be dieing off now and Fitbit is the best alternative. Still miss a lot of features the band had though 😊

Here's to hoping that when GATT support becomes available, Fitbit (and others, like Garmin) will quickly release updates that support notifications like the Band...

From what I understand, Fitbit has been testing GATT and notifications with the insider builds as they requested some beta testers a few months back

Unless I'm doing it wrong, the notifications test amounts to an icon a level down into the app that sends a test notification to the server. Nothing comes out on my Charge HR.

Some testers already have that functionality, but at present it's mot working on my devices, no idea why

Waiting for Garmin. They had an update yesterday (no changelog) but no sign of notifications.

Are Notifications active yet? I'd happily buy another Fitbit but only once I know I can get notifications and more importantly that they are reliable

currently still in beta but they'll come when Creator's Update is officially launched for mobile. Can't wait for it! :)

Tipped this earlier! Love the new sleep analysis. It's probably better than the band now!

I'm finding this extremely inaccurate. I'm watching TV and I'm asleep! I go to bed and fall asleep and apparently I wake up at least 6 times (but only once in reality). Erratic reading and odd sleeping patterns with very little "deep sleep" when I've sleep well with no disturbed sleep. When I wake up at 7am apparently I'm still asleep when I'm having a cuppa - get up at 7.30 ...I'm still asleep at 8am ... really! Very inconsistent and unreliable. I know when I fall asleep. I know I get up to go to the loo. I know if I'm awake and unable to sleep for an hour or two. I know when I wake up around 7am - my Fitbit Charge 2 doesn't !

They also released 'Relax' functionality - guided breathing sessions

I am excited to give this a try regularly. I get worked up and stressed out too often.

Should I expect this to work with my previously recorded sleeps? Because I still see my usual Asleep / Restless / Awake trackings for all of my past sleeps.

It didn't for me. My detailed data started last night and previous sleeps have basic data.

Alright, thanks :) I should go to sleep earlier today then, lol ;)

I noticed that yesterday I got notification if a text message and it shoed the phone number and scrolled the message. Unexpectedly.

Jeez... were you in a hurry to publish this? Several simple spelling errors. "yo improve"? haha... "teh"?? Anyway, cool.. I'm waiting for notification support. Dont care much about anything else until that happens.
Then I want built-in GPS and water proofing in a charge 2 style. Thats the ultimate for me.

Water proofing is definitely needed, but don't see the point of GPS, will just waste baterry life, and Fitbit Carge 2 already supports connected GPS anyway. If they ever consider a build-in one the user must be able to turn it off to conserve power. Love the fact I can last a week on a single charge; and would never invest in a wearable that needs daily charging like most 'smart' watches.

Just over here waiting for the update 🙄 🤔.
Love how Fitbit is still supporting windows phones!!! 😃

And still no notifications support... Instead of clinging to GATT, get your act together Fitbit and do a custom stack. Fail.

MS is already working on GATT so why should Fitbit bother? I'm all in for standard soultions.

This is Microsofts fault for not supporting GATT, not Fitbits. Wonder how long it will take them to finish testing it and launch.

using band2 until notification support!

The only thing that I wish Fitbit improved is the waterproofness of thair devices; just fact that the Charge 2 is not waterproof, just for simple things like washing it under the tap from sweat, etc. is rather annoying.

Got update on Sunday but no new sleeping infos. The heart rate on the charge 2 is a desaster and most of the time it shows wrong values. 10-30 too high.

Nice, perfect timing. Had to ship my Band 2 back to Microsoft :( and they're totally lagging with keeping me posted, but it seems like they're not replacing units anymore, so I'm on the lookout for a Fitbit replacement.

A poet and you didn't know it 😊 its been ok with me but yeah slightly different analysis to the band
Windows Central Newsletter
Get the best of Windows Central in in your inbox, every day!
Thank you for signing up to Windows Central. You will receive a verification email shortly.
There was a problem. Please refresh the page and try again.