Fitbit's latest features help you get a handle on your sleep cycle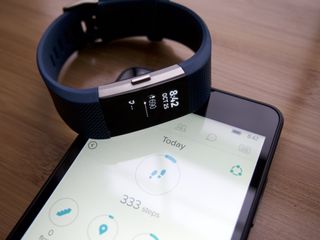 Along with adding a new activity tracker, the Alta HR, to its lineup today, Fitbit has announced some exciting new sleep tracking tools for its full range of trackers. Called Sleep Stages and Sleep Insights, the two new features are ultimately meant to make your sleep tracking more accurate, more detailed and more useful.
First up is Sleep Stages, which is meant to improve upon Fitbit's current sleep tracking by taking more factors into account. Rather than just relying on accelerometer data and machine learning algorithms, Sleep Stages also takes heart rate variability into account to help determine not only how long you slept, but how long you spent in each stage of sleep. The result is a readout that can give you a deep look at time spent in light sleep, deep sleep, REM sleep, and awake minutes throughout the night.
As for Sleep Insights, this new feature takes all of your Fitbit data into account to help find trends that might be affecting your sleep. Think things like diet and exercise patterns. Fitbit will then offer up suggestions on how to improve sleep based on that data. For example, Fitbit might notice that you tend to sleep better on nights after a run.
Sleep Stages will work with the new Alta HR, Blaze and Charge 2, while Sleep Insights should work with all trackers except the Zip. Both features are set to roll out in late March and will be available across all of Fitbit's apps, including Windows 10.
Download Fitbit for Windows 10 (opens in new tab)
Get the Windows Central Newsletter
All the latest news, reviews, and guides for Windows and Xbox diehards.
Dan Thorp-Lancaster is the former Editor-in-Chief of Windows Central. He began working with Windows Central, Android Central, and iMore as a news writer in 2014 and is obsessed with tech of all sorts. You can follow Dan on Twitter @DthorpL and Instagram @heyitsdtl.
The Band2 was so far ahead of the pack. Sadly after 5 replacements they paid me off as inventory was done. I looked at FitBits and was so underwhelmed, I bought a Gear S3 and despite twice the price it seems gimmicky where as the Band just made sense...

I agree, I went with a fit bit, after my Band2 finally couldn't be replaced again. I am on my third FitBit now (replacements for defective units) and just keep finding it lacking.

I have the Blaze, and it does everything I'd want to to. Of course it does all the fitness tracking, but the color touch screen, music controls, and up coming notifications are all I'd want to have. Their extra bands are expensive, but Amazon has plenty of bands at an affordable price. I got a black steel band with clasp for $20, and it came with extra links, band springs, and the tool to add or remove links. If you're looking for the all in one watch similar to Apple Watch, then yes Fitbit has nothing for you...for now. I think they're looking to get into that market since they purchased Peble.

Got the blaze myself as well after I got a refund from MS since they couldn't source another Band 2.... which happened to land when the price dropped $50 AND best buy was having their Visa Checkout discount....So I paid around $130 for my blaze. With the leftover Band 2 money I got some glass screen protectors, a MUCH better charging base and a new frame. While I do miss the keyboard from the band 2 (worked wonders while in meetings) So far it's been good. Fitbit is now expecting the next insider fast build to include the bluetooth stack changes they need to get their notification beta going.

I got my Blaze with a Bed, Bath, and Beyond coupon. I think I paid $150 for it. I got a better charging stand too. Fitbit dropped the ball making their users pop out the main component just to charge it. I bought a black, steel band and frame on Amazon for $20. It's great for more formal occasions, and it came with extra links, band connector springs, and the tool to add/remove links. I want to test their notification system, but I can't be on the Fast Ring with my daily device. I'll be patient and wait for the Release Preview update.

I had the blaze, and it didn't give me any notifications outside of workouts. No texts or calls ever came through.

That's because the code isn't in Windows mobile yet. It will be in the Creators update this spring, but Fitbit is looking for testers to try out the notification feature with their beta app version and the latest fast ring version. I would join, but I need a stable build. Release Preview is as daring as I'll be.

After several Band 1 and Band 2 replacements(strap tears), and trying to find and like one of the fitbits, I finally went back to a wrist watch (Bulova) and a nice $20 digital scale in my bathroom...

I loved my band2, but the strap started to rip again, and since stock was low I was refunded me my purchase price. I got a Blaze becuse fature wise it was the closest...boy was I wrong.
- No notifications, the app is ok although not the greatest, I can't set alarms from the blaze, the interface is not inutive, having to remove the blaze completely from the wrist strap to charge it is stupd, the list goes on. It has some neat features, but i just miss my band and the way it jsut...worked and did want i wanted it to. Honestly if MS had just done a better job with advertising the Band like thy do the Surface more people would have known about it. The Band2 was superior in every way and the rumord band3 was even better. Alas microsoft takes a great product and kills it...

The biggest problems I had with the FitBit Charge was that you could only see a text notification once and their step tracking is woefully inacurrate since their first model.

I agree as well. I had a Band 2 for just under one year. I was so reluctant to give it up that final time for their payout. It had everything and more that one could ask of a fitness tracker. Such advancements have not been seen in other trackers, although we now seem to be seeing a trickle down of that tech into these newer trackers. I ended up going with the Charge 2 on sale. Looks like we might be seeing some of that sleep tracking that the Band 2 had.

I feel the same way,I bought a Fitbit Surge with the refund from my Band 2 and I must say I'm highly disappointed. I enjoy the long battery life but everything else is so far behind Band 2. I'm returning and looking into Garmin products.

I just got the Garmin Vivoactive HR and it does a lot, the Garmin Connect app and Win10M aren't working so well together. I haven't been able to get notification or the music controls to work. It might have something to do with in the Fast Ring as some users in the forums have reported that going back to Production made the wearables (Fitbit too) work better.

I went into the forums too. George Ponder uses a Garmin and he's been reporting on that quite a bit. Looks like Garmin updated the app a few months ago but notifications are still hit or miss depending on the device. When it comes to a wearable notifications are very important for me so I'm still doing my research

I get NO notifications with the L950. Garmin support is no help because they are saying that while Win10 is supported, they haven't tested the 950 specifically, so they have no troubleshooting help. I'm hoping that it's just an issue with the Fast Ring and that if/when I go to Production that I'll be getting the notifications. They DEFINITELY support it. I mean, Cortana is listed in the notification settings.

That's my main gripe and frustration over the last couple of years with this platform and hardware... things not working the way they're supposed to. So many nice features yet you cannot get them to work. I have a 950xl on production release,I bet they haven't tested that one either. I'll probably take a chance with either vivosmart or vivoactive. Their customer service seems willing to help, I'll return and look elsewhere if anything, although there's not too many options for W10mobile compatible wearables

Yes, FitBits are terrible - nice looking app and hardware, but nowhere close to Band. I've checked out the Garmin Vivoactive HR, but the wife hated the screen - it's very hard to read. I've replaced it with the Vivo HR+, so let's see how that goes. Nothing compares to the Band 2. So sad...

The white on black screen of the Fitbit Surge, besides being a little dull, was very easy to read in bright light conditions. Looks like Garmin figured out a way to have long battery life and a color screen. Kinda disappointed to hear It's hard to read...

I miss my Band 2 so much. I have the Fitbit Blaze after 6 replacements I got fed up. It was like replacing a Rolls Royce with a go kart

I was ready to buy the Band 2, until I read about all the defects and poor build quality, so went with the Fitbit Charge 2 and am perfectly happy with it so far, apart from the fact its not working on my Lumia 1020 because Microsoft failed to update it as promissed to Win10, but the Win10 PC app works just fine. Is it perfect.... No, the fitbit Charge 2 could definitely use a waterproof feature (my main gripe with it), and have the heart rate sensor better implemented so its more comfortable to wear for long periods, but the bottom line is, no other fitness tracker comes close in the features the Charge 2 offers and the software that comes with it; at least not in the sub $200 category.

Here are the dealbreakers with the Charge 2. 1) You only get one chance to read the incoming text. There's no reading it later. 2) Next time you're going to sit on your couch, desk or on your bed, note how many steps you've taken already. After sitting/laying around for about 15min, check your step counter. Lots of phantom steps. The Band 2 has some build quality issues, but it'll last if you're careful with it. No other fitness bands in the market compares to it and I'm hoping to find a deal on another Band 2 as a future replacement.

If you've purchased the band 2 first, then you would see what we are talking about. Good thing you didn't because outside of the actual band ripping, you have no idea what you're missing with the band 2. It's superior on so many levels It's crazy! The downfall is actually the wrist band. It's defective.

And the battery, eventually. I lost 2 to battery issues. The Band 2 is one of the few products I used that had so many return issues, and yet I was reluctant and sad every time there was an issue. It's gotta be the only product I know that had build issues so widespread, and yet still praised. And I completely agree with the praise.

You know, I like sleep tracking, but after my Band 2 died I got scarred with all this whole wearables thing. I'm not going to buy another one in the foreseeable future. At least not until MS comes up with one that makes a difference and works 100% well. The Band 2, asides from build quality, had a criminally underused potential.

Well this article, the comments actually, came at the right time. My Band 2 is nearly toast, as the band spontaneously broke about 2/3 of the way across on the battery strap. I'm not sure how the thing still charges and turns on, though now I know why the GPS stopped working a month ago. Only 9 months old.

My 2nd Band split 3 weeks after the warranty expired, and I can't find another wearable with similar features so I'll probably give the whole wearable sector a miss for the foreseeable future.

If you have a Microsoft Store near you they'll give you a refund for the purchase price, no questions asked, that unless, thru some miracle they still have stock and replace it

Thanks Niros, I'm in the UK and we have to send the Band.

I bought two Band 2s in anticipation of having to replace one. Needless to say, i haven't had to. I've learned that the rubber material needs to be cleaned often and lubricated to maintain its shelf life. I've also made sure theres more slack in the clasp. Many band users wore it very tight.

Lubricated with what sir?

Yes. Please tell us how you clean and lubricate - would be very helpful...

You can use any water saluble type of solution. I actually use olive oil mixed with water. I don't know what tests MSFT ran before pushing out the Band 2 but the material couldn't have been more terrible. Think of any rubber surface. After wear and tear with no upkeep, it's going to crack, and tear apart. If you're using this for your workouts, then you're going to sweat which when dries, leave salt residue. This only breaks the rubber material down even more. I always clean the band when I work out. I also make sure I'm not fastening the clasp too tight. I make sure I have some wiggle room. This will also ensure you're not stretching out the wrist band which again didn't have the best design. The last thing was something that the help desk recommended to me. Charge your band through a surface device if you have one, or another laptop or tablet. I use my surface 3. I don't know how much this helps my bands shelf life, but I've had the one I'm using now for about nine months with no problems. The last bit of information is try not to let your band run it's battery completely down.

Unfortunately, the cleaning tips did not seem to help with my Band 2's longevity. I always made sure to clean it, and I always had wiggle room when wearing it. This, and I had one of the new and improved lot numbers. Oh, well. My Band and I had a good nine months and a few thousand bike miles together. More time than a lot of other people got.

It seems like 9 months was the average lifespan...as that is exactly how long my Band 2 lasted for.

I'm definitely switching to Fitbit after the lacklustre Band 2, poor construction and features that just simply don't work.

I went from a Band 2 to Charge 2 and am content. The Charge 2 has some recognition issues when it comes to steps and movement, especially in a car. Drove cross country twice past few months and each time it recognized steps in the car while driving. Even took off one 10 hour session of driving and still it said I took 3,000 steps. Good for what it is, hope maybe one day Microsoft gets back in the game.

That's nice, but it looks like their servers are so busy that they will only successfully sync once every 2-3 days - the fitbit connects to my phone just fine (I see the data very briefly), but it times out connecting to the servers and then the data disappears. Same experience over multiple phones/tablets - Win Mobile times out fastest. Android tries longer and gives useful fail messages like 'cannot connect to fitbit.com' or 'cannot connect to sync service.' Makes it pretty much useless as the asleep/awake times are often not right, so I like to sync directly before and after sleeping to ensure it's correct. But I don't have 30 minutes when I go to sleep to repeatedly hit "sync" and wait for it to eventually work (or when I wake for that matter).

Love how Fitbit keeps updating their app on WP10. One of the few apps to really stick with windows. It's why I own a Fitbit.