Fitbit's new Alta HR tracks heart rate and sleep for a week
There's a new Fitbit coming, and it's got a week's worth of battery life, a stylish look, and a heart rate monitor.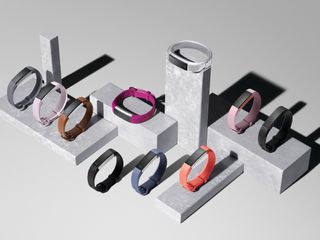 Eight months ago, Fitbit brought a small group of reporters to a swanky New York fitness club to show off its latest fitness trackers, the best-selling Charge 2 and waterproof Flex 2. Those sequels have been so successful that, despite disappointing sales results in its most recent quarter, Fitbit felt empowered to produce another iterative product, the Alta HR.
The company says that after calls for a sequel to the best-selling Charge HR, its most frequently requested product was the addition of heart rate monitoring to the fashion-forward Alta. That product is the $149.95 Alta HR, a complementary item in the company's expanding (bloated?) lineup to the identically-priced Charge 2.
Windows Central Fitbit page
While the Alta HR is physically identical to its cheaper and older counterpart, Fitbit has improved two things in the new tracker: it's added an always-on heart rate tracker (hence the name), and it's improved battery life to seven days from five, an achievement that the company said took some particularly noteworthy engineering, of which it is very proud. The tracker goes up for pre-sale March 6, with general availability in the U.S. and Canada in early April.
Along with the new tracker itself, the company is unveiling two new sleeping tools: Sleep Stages, and Sleep Insights. The former is coming to the Alta HR, Charge 2 and Blaze in a future software update, and "uses accelerometer data and heart rate variability (the moments between beats), plus Fitbit's proven algorithms to more accurately estimate how long you spend in light, deep and REM sleep stages, as well as time awake, each night," according to the company. This data is aimed to help Fitbit's users more accurately understand why they feel tired or groggy, and along with Sleep Insights, offer ways to improve it.
The latter, Sleep Insights, is coming to all of Fitbit's trackers, and it is meant to offer more useful data about one's nightly sleep, including the relationship between exercise, eating and sleep quality.
And like the original Alta, the Alta HR comes in special editions — Rose Gold and Gunmetal versions will ship for $179.95 — along with replaceable bands, from classic sport bands at $29.95 to $59.95 leather options and more formal metal clasps at $99.95. Thankfully, the bands are interchangeable with Fitbit's older Alta options, but the ones that ship by default with the Alta HR will have claps, since they need to adhere more tightly to the wrist for a better heart rate reading.
Get the Windows Central Newsletter
All the latest news, reviews, and guides for Windows and Xbox diehards.
That one on the top of the image seems similar to Band (most beautifull fit band!)

The band was great in features and design, but the build quality sucked, the ammount of times that thing broke down and had to be replaced was ridiculous.

It was a shame. I loved my Bands. They nailed the electronics and software, but the failure was in the rubber/plastic of the actual band.

I think problem is just in contruction, nothing else. And it is clear why is that -everyone else putting all electronic just into core, nothing in strap - in a band you have very very complex contrucion from 1 part of band to another 2 times over strap - but only because of that can be Band most beautifull fit band :)

For the price IMO its better to get the Charge 2 which has more features at the same price. The only thing that bugs me about all Fitbit products is that they are not waterproof, so you could use them in the pool or ocean, or when taking a shower in the gym.

Fitbit Alta (except HR), Charge2, Surge, and Blaze (possibly more) all claim to be rain, sweat, and shower proof. But you are correct that none of them should be used for swimming.

They are "water resistant" but not 'water proof'. Hope next version of Charge 2 will be water proof.

"rain, sweat, and shower proof" was a direct quote from their site. But yes, it shouldn't be fully immersed in water

Yeah, that might be the quote, but personally I would not risk a shower with it, unless it has an IP68 certification. Light Rain and Sweat, sure, but anything more is a risk IMO. I certainly would not wash it under tap water as I did with my Casio watch, but that was resistant to 50 meter depths. :D

Looks like Fitbit will be the replacement for my band 2. When that time comes. Right now it's still in perfect condition and I still think it's the best tracker out there. Still hoping for a band 3, however like so many other times msft gives up on the products. Zune, windows rt...who knows what's going on with mobile.

I have a 830. Will hold off upgrading until MSFT shows mobile some love.

Whatever happened to the Fitbit beta app for Windows??? Anyone heard anything?

So, I assume you are testing it then?

Band isn't the only one for poor construction. I had a Fitbit Surge and the rubber band developed a bubble then began to peal. They replaced it no problem but the second one started doing the same after the first month. From what I see online it's widespread across the range with the Charge and Charge HR too. They're not waterproof but supposed to be splashproof at least but soon as you go out in the rain with them the poor bonding gets compromised

Yeah, same thing with my Charge HR. The good thing about the Alta (probably the other new models too) is the band is removable and replaceable (via a simple mechanism). Replacement bands for the Charge HR are not officially available, so I either have to thrown mine out or buy a knock-off band online (I am currently doing the latter)

I haven't had the Alta a year and Fitbit has had to replace my bands twice

****, that doesn't bode well. I bought an Alta as a present 2 months ago. I was hoping they'd fixed all that nonsense. At least it's just the band and not the whole unit?

Explains the price reductions in the OG Alta recently....

My Alta last over a week with a full charge. 10-11 days.