Fitbit shows off the Charge HR and Surge Watch #CES2015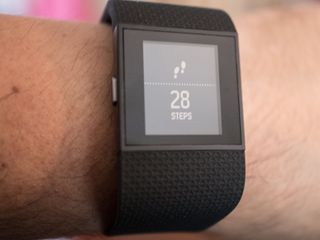 You can't get too far in a conversation about fitness trackers without talking about Fitbit. These tracking wearables have become the widest known brand in the category, and with good reason. This year at CES we're not seeing any new products from Fitbit, but instead we're seeing new ways Fitbit can be used and intent to make the new Charge HR band and Surge watch more broadly available to the public.
What sets the Fitbit Charge HR and Surge Watch apart from other Fitbit are the GPS chips contained within. These chips, along with some new sensors, allow Fitbit to create a category for more serious fitness folks. The Fitbit Surge also includes some basic phone notification support, for things like an incoming call or a text message. It creates a hard dividing line between people who want casual fitness tracking in a serious smartwatch, and those who would like a serious fitness tracker that plays nice with your phone.
Windows Central Newsletter
Get the best of Windows Central in your inbox, every day!
Russell is a tech nerd who chases the best of everything, from phones to game consoles to laptops and everything glowing or beeping. He's the Managing Editor of gaming content for Mobile Nations and can be found contributing to all of the Mobile Nations sites. Reach out on Twitter!
I've moved on and upgraded to the Microsoft Band.

Is that really an upgrade??

Had the band and now the surge, sorry it's surge hands down for me especially the fact i keep my insurance, healthvault, scale, and fitbit app all connected. The health app for the band, barely 2 day charge, and stiffness of the band made me return it in a wk

I went to buy the Charge HR and it was sold out locally so I bought the MS Band from my boss. A little over two weeks with the Band and I love it. I can't wait for Band 2.0. I have already let my wife know that I will be buying it as soon as it is released. I am not a fan of the rubber matte texture of the band though and I wish it had a curved screen. Other than that, it is a great 1 generation effort from Microsoft. 10 sensors for the win.

Less water resistance (compared to Fitbit Surge) and the form/stiffness turned me away from the MS Band. Otherwise, I think it is superior in almost every way. I do have high hopes for 2.0, however, and am looking forward to its release in the future.

Did Garmin displayed the new Vivoactive?

Except no Garmin connect for wp

I use Astro Fitness app that interfaces with Garmin connect. It is slow but ok.

So are any of these new wearables Microsoft Health compatible? Or has that platform flopped?

Source? If this is true, these damn reporters need to do their job and include that information in their articles.

This was addressed when the band came out.. Just look it up.

What are you talking about? Let me rephrase: Microsoft promised that the Band wouldn't be the only wearable that would be Microsoft Health compatible and that companies were open to use the platform on their own devices. As of now I have not heard of any other devices that utilize the Microsoft Health platform.

I wouldn't be surprised if Apple, or google, bought FitBit............
............
This could be a good opportunity for Microsoft... Just saying.

Last day I'll wear my Fitbit :)

If MS wants to change their image they better jump on some popular things like this.

I got a MS Band for Christmas. As much as I wanted to like it, it just failed. it was uncomfortable to wear and hurt my wrist. Not only that but it cannot sync with a windows PC, seriously? It can only sync with a phone, and not even all windows phones. I hope they address that for version 2 as I like the platform. I took it back and swapped it for a Fitbit surge, I can't even tell it's on my arm. It doesn't sync with my Icon either, but it does sync with my windows 8.1 pc's. Is it missing a lot of the cooler features of the Band yes, but they are features that I can live without in a fitness tracker.

The Surge was tempting but I got a Suunto Ambit3. A little pricy but WAY more functionality. Then again, they are geared towards two totally different demographics. Posted via the Windows Phone Central App for Android

​
I want a charge hr but their store says preorder and says shipping 8 -10 weeks. That's 2 and a half months. That's way too long to wait.

I thought only the Surge has GPS not both of these....

Yes, I believe that is correct and that the article is wrong. The Charge HR is essentially the Charge but with, you guessed it, HR (heart rate monitoring).

I was going to say the same thing. The Charge HR has GPS?

Not sure what you mean. There is a Fitbit app for Windows Phone. It requres Cyan so not all phones. Works great on my Lumia 920. I don't think they have background syncing worked out yet, but otherwise its very functinoal.

Awful display, LCD mono? Fitbit have gone backwards

Fitbit has never offered a color screen. Although it may be a technicality, I believe it is OLED mono, not LCD. I'm sure that mono helps increase battery life over a full color display.

As the Fitbit marketing lady said it's LCD with backlight. This is also the spec showing on FitBit's own website. It has a terrible display, especially the viewing angle (as many hands on reviewers have also stated). People who have used one running (there are a few) saw glancing at it while running in daylight is almost impossible. Not a great 'flagship' device - imo.

What sets them apart from the rest of the lineup is continuous heart rate monitoring (24/7), and automatic sleep detection. The Charge HR doesn't have GPS - that's a mistake...
Also, Charge HR has phone notifications (caller ID). They have a great WP app which is regularly updated... Latest update was yesterday :)

The Surge looks humongous. That's a deal breaker.