Fitbit Surge sees limited release for those who expressed early interest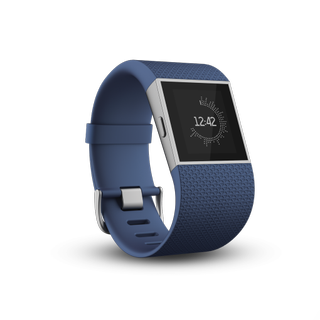 It looks like the first round of Fitbit Surge trackers are being offered up to a select few who signed up to receive notifications about the device's availability. We've gotten a tip from a reader who was able to order one of the wearables with a special promo code during an exclusive "limited release."
As a refresher, the $250 Fitbit Surge was announced back in October and sports a built-in GPS, a heart-rate monitor, and a touchscreen display that features music controls as well as call and text notifications.
Though this is good news for those who were quick to sign up for notifications on the wearable, it's important to remember that Fitbit is labeling this as a limited release. Back at the device's announcement, the official word was that it would launch in 2015, so don't expect wide availability. Still, it will be interesting to see the devices start to trickle out into the hands of the public.
You can see an example of the image contained in the email below. Let us know in the comments if you've received one as well.
Thanks to David for the tip!
Windows Central Newsletter
Get the best of Windows Central in your inbox, every day!
Dan Thorp-Lancaster is the former Editor-in-Chief of Windows Central. He began working with Windows Central, Android Central, and iMore as a news writer in 2014 and is obsessed with tech of all sorts. You can follow Dan on Twitter @DthorpL and Instagram @heyitsdtl.
I love my Band but very interested to see these. Now they support WP it's all good!

I read somewhere else that it wont support notifications on windows phone.

If you have a WP the MS band is a no-brainer to me. The integration and how it plays with WP is fantastic.

I'll miss my fitbit badges tho :(

If you can go to a microsoft store and try on the band I'd do that first. I bought the band when it first offered and I ended up returning mine. It was so uncomfortable to wear, wildly inaccurate pulse mesurements , and the use of plastic instead of a scratch resistant face made my descision to return it easy. I also hated the wristband clasp was very difficult to make adjustments imho. I'm going to look into the Surge to see if fills my needs.

Wish the band had this types of design.

According to Fitbits website, WP users will only get limited functionality out of the Surge. Hopefully that changes in time, but right now its a waste of money IMO to buy something that you don't get the full capabilities.

I'm waiting for Band 2. I suspect it will be a bit sleeker than the first one

Band 2 should have a worldwide release.

Yep. Look at the Surface. Gen 1 was a decent effort but lacking in many areas. Significant improvements in Gen 2 and perfection in Gen 3. I suppose the band will continue to evolve much the same but with it being as good as it is in Gen 1 I think they'll reach perfection in Gen 2.

I'm not sure perfection is the right word there. Excellent, maybe, but not perfection. Nothing is perfect, or there wouldn't be a need for the next big thing. I mean, think how sweet the surface pro 4 is gonna be :)

Nothing is perfect. Everything has some bugs or issues to be fixed.

I have a band, but got the Surge invite and ordered that. I like the band, but the surge has a 5 day battery (versus 1.5 on the band), auto sleep tracking, week-based alarm, and matches the HR monitor of the band. And honestly, the notifications on the band are annoying because the VIP filter is not good enough. My biggest dislike though is the band's battery life. I also believe that the Apple watch will be a flop if it launches with the suspected 1 day battery life. To me that makes the Apple watch DOA. The Band is usable, but annoying to charge all the time.

MS Band not being waterproof kills it for me. And also its battery life.

Yes, this is my number one complaint. After the flex, I need a waterproof device

Main reason why I'll probably get the surge, its Water-resistant to 5 ATM or 132 feet.

I agree, the band is cool, but the battery kills me, I signed up for the surge notification list but did not receive an email invite :( is the link unique? If not maybe you could post.. lol

The band will have good battery life if it had no color display though.

I have never had my band to die

Furthermore, I wear it daily... But I do take it off. I charge it irregularly and days in between. Same with my 1520.... I don't do daily workouts or interact with it for every single thing.i use it when I need it... I am no slave to it. The band was is is the only band that caught my attention. I bought it day one. I have been active and working out for years.. Never needed a device and records to make me successful. The band does all I need in the capacity it does... I will use it till it dies... I have a warranty and wish it was more water tolerant, but so far there has been no issue... Most of the time I don't even know it is on... That's the way it should be.

I've seen several reports that the "up to" 5 days battery is without the use of GPS and continuous HR functions enabled. With everything on all the time, I would not expect more than two full days of use.

The up to 7 days, not 5, is with HR enabled but not using GPS. They say you get 5 hours with GPS on. So each hour of GPS uses up ~1.4 days of battery life.

Actually the battery life for the Surge is listed as 7 days. (The Charge HR is listed as 5.)

I was able to order mine! Thought I was going to go with the band but it looks more like a proof of concept than a well thought out device. Not making the band with a scratch resistant display and poor battery life were big factors in my decision not to mention the overall design of the surge is simply better ergonomically.

For me, I wont play tennis with a device of such size on my wrist.

Yeh...returned my band and ordered this a few hours ago. I wasn't happy with the design of the Band. Lets hope this fits better and doesn't invite scratches.

The screen is supposed to be Gorrila Glass, so it shouldn't get scratched... Though on my Band the screen never got scratched, it was just the bezel around it that was too soft.

I have the band and it really isn't that good. It really needs some kind of update to be useful. Here are the problems: It's not waterproof. It's uncomfortable. You have to clear the notifications on the band and then again on your phone separately. Sleep tracking is manual. When tracking sleep notifications are disabled including alarms. Your alarm then goes off once you disable sleep mode which defeats the purpose. Battery is pretty bad if you actually track exercise. The app is pretty useless at this point, you can't even toggle through days of the week you can only see the week as a whole or the current day in detail. All in all not a great experience but I'm hopeful for upcoming updates.

Early adopters. Gotta love em. Why did you jump in so quick?

I was excited to have notifications and Windows Phone support. I didn't realize the implementation was going to be so bad.

Doesn't sound bad to me. That's the way it works. You might need to adjust to it then wait on software improvements over time. That is if you want to keep using Band.

If you use it you'll see how annoying it is. For instance if you are having a text conversation it does not clear the notifications on the band even though you are opening the text app on the phone to respond. Next time you look at the band it will say you have 12 messages but you've already responded to them. I'm sure it will be fixed over time though so I'll stick with it.

Wow, I see what you mean. That's got to be an ugly sight to be sure. I'm a little surprised they missed that. Is there no message limit thing on the Band you could set huh?

There is a lot of interest in the Band so I suspect software tweaks can't be far off.

You can see detail for individual days, going back as far as you want. Just tap on them in the list below today's graph.

Thanks I didn't realize that was there! It would be nice if there was a daily recap tile that showed sleep calories steps all in one like the Fitbit app.

I was very keen on this device, however I manage to buy the Microsoft band and i am loving it...

You can sell it easily as band is not available.. I am using my band to track my sleep and its great and for sure you will not want notifications while you are sleeping..

I give away my code, http://fitbit.cmail2.com/t/r-l-cdlkkjk-iihijijhq-y/ Enjoy it

I want me band 2 embedded under my skin

The push for fitness bands/Smartwatches is well weird. Most people, especially early adopters have been 'burnt' with 1st versions of tech - me included with the Samsung Gear. I would love another 'better' device, but as much as I love my new WP experience, I won't buy a Mark 1 product anymore. I'm a retired 'Early Adopter', or maybe just a little more common sense, the older I get.

This is FitBit's 5th year releasing a market leader, I'd hardly call it an early adopter device. They know what they're doing.

Never mentioned FitBit as an early adopter device directly. But correct me if I am wrong... this is their first device with GPS and a HRM sensor. Many other consumer devices such as smartphones have had GPS in them for a while now. As a Fitness device my FitBit One was great. I will wait to read reviews about the Surge before buying, but with GPS turned on, it seem the battery life is (according to rumours) only around 5 hours - so it's not really competing with 'true' fitness devices that will last around 20hrs - for events such as ultras, etc.

I was hoping they put on sale the Fitbit Charge HR, i prefer the Microsoft Band that Fitbit Surge. this is exclusive only for the US Market. I live in Spain, i check in his website and there is no news about this promo.

you are as me. Spain and same preferences

They did a limited release of the Charge HR as well. But people only got one of the two email links. (It is a US only pre-release.) They also said that a number of stores, in the US, will have Charge HR and Surge device on the shelves in the next few days. (But only in black, like the pre-release.) Target Best Buy Amazon Dick's Sporting Goods Kohl's The Sports Authority Wal-Mart Verizon Brookstone REI

Looks too much like a full blown watch, size wise. Will stick with my MS Band and wearing a proper mechanical watch.

I'm really disappointed that being a Windows Phone user severly limits finding a fitness/notification band that meets my needs. I'd like something small, with decent battery life. Notifications (calls, texts, email) are 1/2 the value I want/need, Microsoft Band is essentially the only choice, as notificaitons seems non-existent in everything else. I'm about to pack away my 925 and pull out my iPhone 5S . Bands that seem to meet my needs are the Garmin VivoSmart, and the non-existent Razor Nabu. Am I missing any others? I'll go play with the Band again, just concerned it's to big,clunky for what I want. I still want to wear a watch on one wrist, band on the other - maybe I need to give that up...

Does anyone else have a code they are not going to use? I was in the process of using the code above (at the confirm purchase screen) when power went out and wifi down. Tried using it again and someone else got it. Thanks.

I'm not sold on Fitbit. I've had it for a month now. 9000 steps per day? I think that is not accurate.

Ill trade my band for a working surge code

Doesn't sound like a good deal to me. lol. I suspect those Bands will be quite plentiful on Craigslist in a couple months.

Is 10 ATM from one of these companies too much to ask? That should really be the bench mark for what is trying to be a "sports watch". If they want one of these to be a daily driver it needs to be able to go swimming and nit just in shallow water where there's no waves.