The Fitbit Versa 2 is a great dumb-smartwatch with long battery life
The Fitbit Versa 2 is a great smartwatch if you want your smartwach to be a little dumber than all the rest.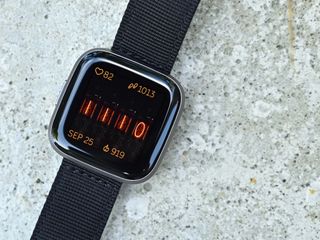 I'm a massive fan of dumb smartwatches. For the uninitiated, a dumb smartwatch is a smartwatch that isn't trying to replace your phone or do more than what you'd realistically want a wrist-based display to do. Devices like the Apple Watch and Android Wear, while excellent in their own right, are trying way too hard to do way too much for a device that sits on your wrist.
That's why I use Fitbit as my choice of wearable. Fitbit devices are interesting because they're primarily aimed at people who are into fitness, but I've found that you don't have to be into fitness to enjoy having a Fitbit. I've been a massive fan of the Fitbit Versa product line since it launched, because it treads on the border of smartwatch and fitness tracker, without going overboard on either side.
Now, the Fitbit Versa 2 is out, and I think it might be the best dumb smartwatch that has ever existed. It's important to stress that I don't consider a "dumb" smartwatch to be a bad thing, at all. In fact, it's the selling point. It's a device that's doing nothing more than what a wrist-based computer should be doing; tracking your steps, heart rate, sleep, while also fulfilling those smartwatch needs such as notification sync, the time/date, and music controls. It has all those things, and it does most of them relatively well.
Small improvements add up
Minor updates go a long way.

The Fitbit Versa 2 doesn't mess with a good thing but instead builds off it. A new larger AMOLED display, glass bezel, Gorilla Glass 3, and faster processor make for a rewarding experience. While the Versa 2 is still not a great app-watch, it's health information, fitness, excellent battery life, and $200 price sets it apart from the competition.
So in this review, I'm going to be talking about the Fitbit Versa from a smartwatch perspective, and not from a health perspective. If you want a full review of the Versa 2 that deep dives into the whole fitness aspect, make sure you give Daniel Rubino's review a read.
Fitbit Versa 2 specifications
Swipe to scroll horizontally
| Header Cell - Column 0 | Fitbit Versa 1 | Fitbit Versa 2 |
| --- | --- | --- |
| Product dimensions | 35 mm x 24 mm x 12 mm | 40 mm x 40 mm x 12 mm |
| Item weight | 38 grams (1.3 oz) | 38 grams (1.3 oz) |
| Battery Life | 4+ days | 5+ days |
| Screen | LCD | Color AMOLED |
| Display size | 1.34 inches (34 mm) | 1.4 inches (36 mm) |
| Screen protection | Corning Gorilla glass | Corning Gorilla glass 3 |
| Wireless interface | Bluetooth 4.0, Wi-Fi 802.11 b/g/n, NFC | Bluetooth 4.0, Wi-Fi 802.11 b/g/n, NFC |
| Input type | Touchscreen and 3 buttons | Touchscreen and 1 button |
| Casing material | Aluminum | Aluminum |
| Bezel Material | Aluminum | Glass |
| Strap material | Polyester | Silicone |
| Amazon Alexa connection | No | Yes |
| Swim proof (-50m) | Yes | Yes |
Versa 2 hardware
Let's kick things off with hardware. Coming from a Versa 1, the Versa 2 is an all-round pretty subtle upgrade over the first generation, but there are upgrades worthy of note here. To start, the device is a tiny bit thicker, but this is unnoticeable when on you're wrist. The device now has one button instead of three, which I'm okay with as it makes the external design look much cleaner, and Fitbit has removed its logo from the very front of the device to give it a cleaner look too.
The most significant improvement on the hardware side of things is the addition of a new OLED display. The biggest complaint I had with the first Versa was that its display was LCD, and Fitbit has now upgraded to an OLED with the Versa 2. This means text and images pop when displayed on a black background, as most of the Fitbit OS is. It should also improve battery life ever so slightly, as an OLED, in theory, uses less battery life when displaying black colors.
On the subject of battery, I've always loved the battery life of Fitbit devices. My Versa was able to last around five to six days on a single charge, and the Versa 2 can last around seven to eight. One of the big things about a smartwatch, to me, is how long they last on a single charge. Devices like the Apple Watch and Android Wear last, at most, three days, which just isn't good enough.
This is another advantage of being a "dumb" smartwatch instead of a full smartwatch; the battery life. Fitbit devices have excellent battery life, and the Versa 2 is no exception in this department. Since the OS isn't trying to do everything, the device sips on power unless you're using it for long a long exercise session.
Overall, the hardware is very nice. It feels and looks premium with the Versa 2. The glass has a subtle curve that fades nicely into the metal chassis, which is available in a variety of different colors. I think you'll find many people mistake it as an Apple Watch, which is a compliment. You've also still got the same interchangeable bands, with a broad market of cheap third-party bands available from sites like Amazon.
Versa 2 software
On the software side of things, Fitbit OS is an excellent middle-ground between fully-fledged smartwatch OS and scaled back firmware. It has a clean UI, and a fair few settings and features to enable and disable. Fitbit OS is lightweight, which also helps towards the incredible battery life you get with the Versa 2. It's here that makes or breaks a Fitbit for most, people because it's here where we really learn how capable of a smartwatch the Fitbit really is.
If you're someone who wants to be able to do everything and anything from your wrist, a Fitbit device is not for you. If you're someone who just needs it to tell the time, sync your notifications, and track steps, heart rate, and sleep, then Fitbit is the best device out there right now. All I really want from my Fitbit is to be able to see my phone's notifications, and be able to respond to them if needed. Everything else is a bonus.
The Versa 2 nails this operation, for the most part. Indeed, sometimes the Fitbit won't immediately sync notifications from your phone, but I've found this varies from phone to phone. On the Galaxy Note 10, it's never been an issue. While Fitbit OS does have on-device "apps," none of them are very good. I find them to be either slow, or incredibly light on usefulness. But that's okay, for me, because I don't particularly want to be using apps on my smartwatch anyway.
Fitbit has made a few changes to the OS over the first Versa; there's now a new control center that's accessible via the swipe-down notification center. It gives quick access to a few system functions such as brightness, the always-on display, and more. It also gives you quick access to either Alexa or Fitbit Pay, depending on which you've set as quick access on the single hardware button.
Conclusion
Overall, I think the Fitbit Versa 2 is the best smartwatch Fitbit has ever made. I also think it's the best dumb smartwatch on the market right now, with the right balance between battery life, simplicity, and software features. I don't feel like I'm missing out on anything the Apple Watch or Android Wear can do with the Fitbit Versa 2, because it nails the core experience very well.
It has a great notifications system, a large clock-faces marketplace that allows for infinite customization, a small app marketplace you probably won't use, and the best fitness tracking data in the business. If you're someone who needs an all-out smartwatch that can do everything and anything, the Fitbit Versa 2 is not for you. If you're like me and prefer your smartwatch to last longer at the expense of being able to do everything, the Fitbit Versa 2 is a great choice.
Small changes add up
Minor updates create for an even better fitness smartwatch.

The Fitbit Versa 2 brings a more refined and improved experience making it an excellent upgrade from the older Fitbits or those new to the Fitbit family. The $200 price is accessible, the display is excellent, and the battery life will run the week. There's simply no better health and fitness wearable on the market for those new to exercise to those with years of experience.
Get the Windows Central Newsletter
All the latest news, reviews, and guides for Windows and Xbox diehards.