Sign up now! Fitbit for Windows gets private beta for Bluetooth notifications, GATT Server testing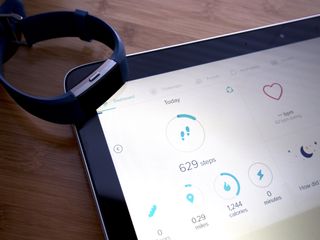 One of the bigger yet more subtle additions coming to the Windows 10 Creator's Update due in April is Bluetooth GATT Server support. If that sounds like developer jargon it is, but for consumers, the benefit will be apparent: smart devices will be able to support call and SMS notifications correctly.
One of the beneficiaries of Bluetooth GATT Server support is Fitbit who use the standard across their iOS, Android, and now Windows apps for call and SMS notifications to their popular fitness wearables. While some companies like Vector use custom notification stacks, many companies prefer to use industry standards for ease of development and app consistency.
We're excited to announce that Fitbit is now taking signups for private beta testing of the updated Fitbit app for Windows 10 PC and Mobile. The beta test is expected to start in the "coming weeks, " but users who meet the following criteria can sign up today:
Own a Windows 10 Mobile and Fitbit device
Be a participant of the Windows Insider program.
Be willing to provide your Microsoft Account Email.
You are willing to test app features in an alpha or beta state, on alpha/beta quality Windows OS builds.
You are willing to provide feedback and actively engage with devs to help us improve this feature to launch.
You understand the terms "flighting" and "whitelist," without using Google/Bing.
Likewise, the following people should not participate if you are unsure of the following:
What an alpha or beta test is.
What the Windows Insider program is.
What the "Fast Ring" is.
Whether your mobile device is supported.
The eventual goal of the program is to bring Call & SMS Notifications to Windows 10 at first, followed by support for Calendar, third party app notifications and Connected GPS support.
If interested go and read the full beta test description including details about signing up, if you can leave, how the test will work, what to expect and more.
We'll, of course, be doing some early hands-on with the new GATT support and notifications and Fitbit app as soon as it becomes available. For now, non-testers should expect a final release in time for the general available of the Creator's Update due in April.
For developers, you can read more about the forthcoming GATT Server support in the latest blog from Microsoft.
Windows Central Newsletter
Get the best of Windows Central in in your inbox, every day!
Daniel Rubino is the Editor-in-chief of Windows Central, head reviewer, podcast co-host, and analyst. He has been covering Microsoft since 2007 when this site was called WMExperts (and later Windows Phone Central). His interests include Windows, laptops, next-gen computing, and for some reason, watches. Before all this tech stuff, he worked on a Ph.D. in linguistics, watched people sleep (for medical purposes!), and ran the projectors at movie theaters because it was fun.
Now THIS sounds exciting! 👍

This just made my morning. My blaze is ready!!

From private alpha/beta test to finalized by April? Seems ambitious.

For a single feature that is standardized across iOS and Android already? Not really. Fitbit has had a Windows 10 app since before there was a public Windows 10.

Then I guess I'll be impressed if it actually happens

Might be time to ditch my Band 2

I don't think I have a choice. I had to do an exchange request today and they told me there is a limited supply of replacements. If the do not have one to ship, they will mail me a check for the msrp.

After my last Band 2 broke my local store was out of stock, so I got a gift card refund. Tried both the Garmin and the Charge 2 and returned both for being pretty lackluster.

The blaze is k. Mainly cause it has a color screen and has music controls, not sure if that works or not, but should with the beta? Also notifications are not than just a little icon.

That is disappointing. I think I am going to go with BSobotta's recommendation and try the Blaze. I really just want my band 2 replaced, but I'm not keeping my hopes up.

It is a real shame Microsoft screwed the quality control so badly on their Bands; originally wanted to get one but after so many fails and returns by people I just went with Fitbit.

Fitbit isn't exactly known for their build quality either. My wife has gone through 3 Charge HR's in a year. She just got the Charge 2. I give it 3 months, tops.

Don't ditch it on purpose. While the band is unreliable mechanically, the fitbit surge the MS store offers as a replacement (because there aren't many, if any band 2 replacements left) is inferior in every way to the band 2. Everyone i know that had one swapped out for a surge is dissappointed. It's really a lose lose situation. Your band is sure to break and what you get in return for it is less than you deserve.

So, any updated timeline? That single standarized feature seems to be taking a bit longer than expected... Time for an updated article?

Will only be released when creators update is released so probably will take a week or 3 imho...

Microsoft mentions on their blog (https://blogs.windows.com/buildingapps/2017/01/13/new-bluetooth-features-in-creators-update-gatt-server-bluetooth-le/) that they are working with "Fitbit, Garmin and other device manufacturers" on this.

Great. More devices comin' through!

What be on this like a flea to a dog if I had a Fitbit device. For all you who sign up, good luck and let's make windows better.

Assume that having a Fitbit is also a prerequisite. 😉

Of course, what can you test if you don't have Fitbit devices first? 😅 Unless if Fitbit gives us devices for free testing though 😁

Now to decide if I get a Fitbit with the $175 MSFT gave me for my Band2 or continue to wait until "Spring" for the hardware refresh and apply that money towards something cool...maybe even something with a SD 835 inside.

Fitbit without a gps isn't work it to me. I had the surge for running but kept having issues with foggy screen. Until fitbit refunded me for it. Then I bought the band 2, worked great but kept having random crashing and wouldn't turn on unless plugged in, battery was always 50-100%... After 5 bands, I think ms will refund me too.

Tell you what, if I could get a Band2 or 3 guaranteed to last at least a year, I'd give them back their refund. Even with the reliability issues, I loved my B2.

I'm still waiting for MS to decide if they're fixing my band 2 or refunding me... it's been 3 weeks and was told to wait 4 business days... so I'm calling back tuesday

I'm very lucky to have a Store within 10 min of my house. They've always just swapped it out for me...until they had to give the refund. Sorry to hear you're getting the run around!!

Going out to my mall today, hoping they still have replacements in stock (in Nov they said they had plenty). Sixth Band is just beginning to show signs of tear, so may as well get it swapped now. With this news, I'm hoping that's what MS waited for before starting up the Band 3 or other wearables again...

Good luck. It was before Xmas that they told me they wouldn't have anymore and gave me the refund. That may have just been my store location though.

I'm about to get a refund on my band 2 and was set on the vivo active hr but now wondering if there is a Fitbit that will be a better option. In this price bracket though I don't think there is anything that matches the band :'(

Nope, the surge does not even come close to the Band 2, unfortunately. (Personal experience here, although the fitbit app is nice.) Get the HR+ although the Garmin app does have annoying issues. The Surge is really dim and the GPS functionality is not very good.

That was fast... Cudos to fitbit for that :).

Vector is now Fitbit, so we shouldn't say "companies like Vector" anymore. Fitbit bought software rights and the technical team. Vector will only run the hardware warranty side till warranties expire.

Vector was a company though, so it is correct.

I'm talking with reference to how it is mentioned in this article. I'm saying we should start considering it a part of Fitbit now and not a separate company.

This is fantastic news. I've been looking forward to this for a long time.

Ah! So that's why connected GPS wouldn't work on my Blaze! I thought it was a problem with the app/device, not that it hadn't been implemented yet... Well, I already returned it, so... we'll see what the lineup looks like when the Creator's Update launches, I guess. Still kinda hoping for a Band 3 tho.

Not after the disaster of the band 2

Is Band 3 already canceled before its release last year?

The official statement from MS was that there would be no new releases in 2016. They didn't say that the line was canceled. There have been internal leaks saying that the team working on Band got disbanded after trying to move it to Win 10 IoT and failing, but we don't know if the product line if actually dead or if they're just doing some big redesign and needed to switch things around. So we may see a Band 3 in the spring hardware refresh, or some other successor wearable (Surface Watch?). I don't know how likely this is, but I'm going to be waiting anyway for GATT support, so... Might as well keep an eye peeled.

Very exciting waited long enough for this function , thanks To the Bluetooth team for their hard work in bringing this exciting feature

To be honest, after their Pebble and Vector acquisitions, I'm not sure I'm of a mind to buy a Fitbit product. Perhaps when they show that they'll continue the legacy of said companies (in a Windows context), instead of just getting rid of competition...

"in a Windows" context?? FitBit has a Windows app that gets updated. Fitbit is the first to jump on updating their Windows Mobile app to serve notification after Microsoft announced the GATT server into Windows. I think Fitbit has a pretty solid repuation for supporting Windows.

I'm using the app now and it feels like I'm already beta testing.

Such perfect timing. Loved my Band 1 & 2 but said goodbye to the Band 2 this XMAS after many strap failings and got a Fitbit Blaze. I miss my notifications so this is great!!!

Finaly!! Maybe now we have more options to choose a smartwatch instead of just using these as a fitness device...
GATT server sounds a bit dirty for flemish/dutch people here... :-)

Klein beetje! Sounds bit dirty nevertheless just ordered a Blaze 😊

We'll I'm on my 3rd band 2 and also would buy a band 3 if it came out, at least this will give a good option when this one dies !!

It's so awesome to see so much excitement for this feature still. It's been a long wait. Remeber to read the notes for the test and know that this is a real alpha/beta. It'll be rough to begin with. Stick with us, give us feedback and we'll we should have this working amazingly when the Creators Update launches.

I also saw another FitBit rep somewhere say that the rest of the app is production, so you can turn off this feature set and be off the alpha/beta. It's fairly low risk as far as alpha/beta goes, right??

You're going to be testing this on top of Windows Insider Fast Flights. So it's some risk from the Fitbit app, plus all the risk for being a Windows Insider. If you're comfortable with that. Jump in.

Oh...I live in the Windows Fast lane! :)
​When I get clearance for the beta, I'll run out to the Microsoft Store and get a Blaze. My original Microsoft Band is barely holding on!

Thank you for moving ahead with these features. However, I got rid of the Surge because it was too dim to see and the GPS functionality was all over the place. (Went on a 13 mile run that I have done before and it was not at all accurate.) The Blaze is a nice looking device but, without a built in functional gps, it would never do it for me.

I've waited more than a year for this. Too bad I'm probably not going to participate as build 15007 is too buggy. My 950XL rebooted randomly and froze at every chance it can. I had to restore and loose pretty much a day downloading and setting up my preferences.

Too bad you are on the development branch when you obviously shouldn't. Preview builds are buggy by definition. If you can't stand that, you should stay on production.

Unfortunately, its my daily driver. I refuse to use Android or iOS as my main cellphone.

As your daily driver, I strongly recommend getting out of the insider previews. Yes, they are fun to try out but, I gave up on them completely on my computers and Lumia 950 because I do not have the time for bug testing.

They've been pretty stable on my 950 and laptop and tablet...all running Fast Ring.

They've been pretty stable on my 950 and laptop and tablet...all running Fast Ring.

You missed something here. I suggest that you should stay on production build, not change platforms. The insider builds are clearly not for you. No offence, but if you are annoyed by bugs, you should stay on production. Let others do the beta testing.

Who's not annoyed by constant and random reboots while using or charging the phone? I've tested all the builds but this one makes the phone unusable.

Again. Stay on production.

Same happened a day after installing 15007 on my 950XL and also had constant restarting, a quick reset did the trick and everything working as it should again

I reset the phone twice and it seems it only got worst as I used the phone. I am however happy to have it running really well on my Xiaomi MiPad 2. Best build on a tablet so far. I miss those Windows 8 days when I had a Dell Venue 8 Pro.

I was hoping, something exciting would happen to Microsoft devices as well after Fitbit buying Pebble as well as recently Vector.

Imagine if MS now bought Fitbit...

They will then rule the world!

As much as I love Microsoft products and enjoy using them, lets get real. Chances are, they would buy them out, sit on it, fire all the people that were employed when they took over and then killed off all the product lines associated with Fitbit.

Submitted my info and waiting.

Too late. Already ditched mine because of no notifications.

Seems like a silly reason to ditch it. Could have just been patient?

Sent my Band 2 in for repair in December. I am so pissed at M$ right now about it. I still haven't received a replacement. I don't want a refund. I want my Band 2!!!!!!!! So which Fitbit comes close to a Band 2?

I use a Surge. That seems to be the one the Band 2 gets compared against.

Thanks. I don't like the look of it.

Blaze has color and better notifications.

I'm guessing Fitbit wouldn't have an issue getting testers on W10M. Practically everyone using our platform are testers!

I'd still like to see a Band 3: sign the petition? https://www.change.org/p/microsoft-do-not-cancel-the-microsoft-band FitBit - a real alternative....

I no longer use my Band 2 and have a Surge instead. I am signed up and ready.

Well, I also no longer have my Band 2 becuase they had no more to replace it with. :( I tried the Surge but, for the $250 it is, the screen is hard to read, the band will not last and the GPS functionality was absolutely terrible. (Out on a run and it was all over the place.) I now have a Garmin Vivoactive HR+ and although the app has some annoying issues, the watch itself is heads and tails better than the Surge. (Band 2 was the best, when it did not have hardware problems.) Hopefully, the Garmin will also get the GATT support in the near future as well.

Tried lots of other devices before , Fitbit Blaze is really giving me what I wanted , happy with the App and Device on my 950XL

The Blaze looked good to me too and it would have allowed me to use the store credit I received from my old Band 2. However, without built in GPS functionality, it did me no good because I do a lot of running. (No, I do not and will not keep my phone on me.)

I agree, I too leave my 950XL at home

I like how they burnt MS When will this be available for everyone? These features will become available to everyone with the launch of the Windows 10 Creators Update. Soon! (™)

This is awesome news. Signed up!

I'm extremely disappointed with my Surge, got it in June for birthday and since then I already had to get it replaced 3 times!!! Always same issue, delamination of the rubber, bubbles that start small and get huge, at the end it totally glues off the watch. I really can't believe such thing can happen with 150+ Euro product. 3 watches in 7 months....when warranty is over there is no way I will buy another Fitbit. Shame as it terms of function and app support for my Lumia 950 xl they are amazing!

Reason why I sold my Fitbit again, because the lack of support of all the features they are going to test now. So if this is working good, maybe I'll buy one again.

You sold your fitbit just because of notifications? Weird. Everything else works fine with Windows. Been loving my fitbit regardless.

Only on PC....NO mobile...ha ha ha!

What are you talking about. Oh wait, nevermind, I see who it was who posted this, carry on.

I spotted GATT support being due and hoped Fitbit would be ready for public release of the final OS update in their app...my Band2 is now out of warranty and my 4th one, I'd rather not have to change phone handset just to look at other options, the Blaze looks good if they can sort full notifications and not have it limited to certain apps like on my wife's Charge on her Android phone.

Well this is the main reason I left the platform. Unfortunately it's to late. I hope it comes as quickly as they say it will. I really missed that feature from my band 2, really didn't think it would be here so quickly.

Ok I was looking at the website, and didn't see anything about guided workouts. Do Fitbits have anything like that?

The Blaze supports "On-Screen Workouts" but it appears to be tied to FitStar, so it may be pay-walled - not certain, you might want to contact them.

Just got an alta because of that news !!!

Really nice to see fitbit jump on this so quickly though I guess it's because they have been waiting for it for a long time

The only thing that pisses me off about Fitbit is that they no longer support their Windows Phone 8.1 app, so if you have a new Charge 2 you can't even set it up on the Lumia 1020. Considering how many people Microsoft abandoned on WP8.1 when they broke their promise of Win10 upgrade, fitbit should have kept up the support for legacy devices for longer.

Ha! Set up my Fitbit an hour after this posted..great to see concrete steps.

Are Fitbit the only wearable company supporting GATT? Microsoft must see a lot of potential in a standard that appears to be relatively poorly supported.

Where has this gone? The page on the fitbit forum discussing this has gone.... https://community.fitbit.com/t5/Windows-10-App/Fitbit-for-Windows-Track-...
Windows Central Newsletter
Thank you for signing up to Windows Central. You will receive a verification email shortly.
There was a problem. Please refresh the page and try again.