Flightradar24 gets updated, becomes one of the coolest must-have apps for Windows Phone 8
Major flight tracking app for Windows Phone gets new feature before iOS/Android in a latest update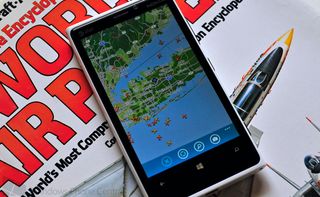 There are apps that people must-have in the sense they rely on them for a specific service, and then there are apps that are must-have by the fact they are just so cool. Flightradar24 falls into that latter category, as we can't imagine many scenarios where you 100% need this for daily life, but you still want it because it's just impressive.
Flightradar24 (www.flightradar24.com) is a service that tracks, in real-time, all the planes in the world (or at least a whole lot). It uses your location to hone in on your area, and you can pan and swoosh around, clicking on planes and pulling up their flight info. In and of itself, that's neat. But the app (which goes for $2.99) just received what looks to be a major update and it has blown us away for levels of 'awesome sauce'.
Head past the break to see our hands-on video of the app and mini-review...
Version 2.0 brings the two really amazing features: augmented reality and "cockpit view". The first one is simply tapping the camera button to enable AR and then using the phone's camera, you can pan and scan around the skies to ID plans in real-time that are flying around you.
The second new feature is a 'virtual cockpit view' of any flight that you select. We don't mean that it shows you the layout of the cockpit (zzzz…) but rather it re-creates what the pilot would actually see at that exact moment. It does this by using the flight info (altitude, speed, direction) and computes it using a 3D virtual map. Hear a plane flying overhead? Hop into the cockpit and virtually watch as it flies over.
We're not going to pull any punches: this is one of the coolest (although admittedly useless) things we've done with our Windows Phone.
If you won't feel like tracking random flight around you, you can of course just enter in a specific flight to track that one. Friends or family flying? Track their plane, hop into the cockpit and more with Flightradar24.
Flightradar24 even features in-app purchasing, whereby you can buy "model graphics" for $0.99. So instead of seeing a generic "plane" for each flight, the plane will reflect its actual make and model. It's kind of ridiculously great. Sure, totally useless, but we're already sold on this app so an extra $0.99 ain't going to break our bank.
The app is available on iOS, Android, Windows 8 (but not RT) and Windows Phone 8 but currently only Windows Phone 8 has the "cockpit view" feature. Clearly the developers are throwing their hat into the whole "develop for two systems at once" with Microsoft. Seeing as the Windows Phone 8 version is getting features first, we're kind of excited to be at the forefront of mobile technology.
So is it worth $2.99 (plus no trial)? For us, yes. This is like the virtual sky map apps, where you point your phone at space and see all the stars. Not exactly a priority app but it's damn fun to use. Flightradar24 is like that for us but more so since we're plane bluffs (and live not too far from JFK international airport).
And here's the thing: the app is done very well. Augmented reality? Check. Cockpit view? Check. In-app purchases? Check. Locksreen notifications (for social updates on the company). Check. The developers have embraced Windows Phone 8 to its fullest capability to bring a unique and fun app for you plane-watchers out there. But ultimately it's your money and you need to decide if you can part with $2.99.
Watch our video demonstration above to get an idea of how it all works and pick up Flightradar24 for Windows Phone 8 here in the Store ($2.99, no trial).
For Windows 8 users (non RT) you can that version here (opens in new tab) for $3.49 though it has yet to be updated to version 2.x.
Thanks, Amir, for the tip!
Windows Central Newsletter
Get the best of Windows Central in in your inbox, every day!
Daniel Rubino is the Editor-in-chief of Windows Central, head reviewer, podcast co-host, and analyst. He has been covering Microsoft since 2007 when this site was called WMExperts (and later Windows Phone Central). His interests include Windows, laptops, next-gen computing, and for some reason, watches. Before all this tech stuff, he worked on a Ph.D. in linguistics, watched people sleep (for medical purposes!), and ran the projectors at movie theaters because it was fun.
"Tracks all of the planes" That's pretty dangerous isn't it?...

Its publicly available data and most likely delayed by a few minutes.

Delayed by 5 min, using FAA data in the USA

I was thinking something similar. I admit it is a cool app with limited usefullness - I'd probably get it if I had WP8. But one of my first thoughts was, 'this seems like some sensitive info to be releasing to the public'. I know there are other programs that track flights but I think you usually have to put in the flight number first. This gives you all flights and numbers automatically. Also, not sure I would use 'brings it down' and 'plane' in the same sentence. Would have been cool to see AR in action though.

This info has been available online for a long time. FlightAware.com has had a live map like this that shows every airplane for a couple of years. Hasn't been a problem so far. Some airplanes are live (yellow in the app), some are 5 minutes late (orange in the app).

Will it ever work on 7.5/7.8 again?

Holy smokes Batman! Windows phone is coming into its own, where are the naysayers and Microsoft doomers? Lmao, I only hear crickets. I may just buy this app for the cool factor, to promote exclusive apps and exclusive features ftw!

Haha crickets chirpin real loud...xD

Bought it. Useful? Not really. But I've always wanted to know what the flights were coming in and out of sky harbor.

Yep. I did too. Mainly because I love airplanes.

This is simply awesome. Certain features could be viewed as useless but they are cool. Its eye candy for people who enjoy eye candy. It is also great that instead of charging $3.99 they included the in-app purchase option for those who like the differentiation.
This is the total commitment to developing for Windows Phone that can get the platform ahead of the others. I'm purchasing it both because I fly a lot but also to support developers who have provided such amazing commitment to the platform.

Shout out to Dan for showing the Ativ S a little love with the video!

Right On !! Very cool app, which i will purchase as soon as i get home from work, just for the 'cool' feature, and wooww for my favorite phone (which i also own) in the video !! Go wp8 and Go Samsung Ativ S !!

This could be type dangerous though.. But is a cool app indeed

I thought they would run Android, get malware and shut them down, you know our secret weapon lol

I just bought it for my L920. I even got the in app extras. Cool app. Can't wait to try out the AR part outside tomorrow.

You can probably use this to track your plane coming in from another location while you are waiting to board. Otherwise its just cool

Pretty cool just purchased. Worthwhile

I swear I honestly am still trying to understand the logic behind "waste 2.99€ on an App just because 'it's cool', for the App itself is not that useful".
Either I'm related to Scrooge McDuck (which I have a hard time believing given the fact that I buy my phones off contracts and I've bought a L920 when my L800 was perfectly fine) or consumerism is taking hold of you guys LOL

That all depends, Many people are interested in flying and what is going on in the sky above them. If it's what you like then it's one good app to have. If not then you don't buy it.

Well,one can spend a lot more money on equally useless things, right? LOL

Yay I am entertained. Great application for your inner captain.

excelent app for when I go to pick up friends and family to the airport, that way I know where is the plane and if it is delayed I find useful and support the developer for giving us such a cool app

Show supports to developers that are making exclusive apps for the platform.

Its pretty cool. I'll definitely look at what's around while I am at airports waiting to travel for work. Interesting!

Curiosity bit and I had to buy thus app and I'm glad I did, cockpit view is mad, btw the yellow planes are not delayed at all and guys bitching about typos? Seriously get a life cockbreath

Hope developer updates to allow pinning of particular flight.

THAT sounds like it could be handy...

Looks like the best App i won't ever need. Pretty impressive :)

Sounds cool. I'll probably bite to support the developer and to have a bit of wow factor on m'phone. They'd probably sell more if they added normal flight tracking.

The app is great, and yes normal flight tracking would be useful. They should create a separate app to track space junk, sell it to NASA for $50 mil and call it a day. :)

Space tracker would be awesome for satellites and such. Very good idea... Any developer want to start that up, though I doubt the tracking knowledge is available

Will this work on Lumia 620 ? Or does it require 1gb ram ?

Bought and used on my Lumia 920, great app. One question, it doesn't seem to save settings after I close the app? Is it just me?

It happened to me as well, but it seems able to save the setting for 2nd time.

Very polished app. Much better than anything else I was able to find similar.

MAKE IT AVAILABLE FOR ALL REGIONS DARN IT!

Have you tried going to Settings > Language+Region and changing your region in there to US or whichever region this is known to be available in, then rebooting the phone?

Do you guys get a commission for all these apps you make me buy?

That's sad. I wanted to see if it works here in Saudi Arabia before buying. I guess I'll pass :(

Flightradar is pretty fantastic. I remember once when i was living in northern Scotland i saw a plane flying high overhead outside my window. That is quite a rare sight as we are outside most flight lanes. Anyway, i logged on flightradar and within seconds worked out it was a klm flight from Amsterdam to Reykjavik.. Even found its altitude and aircraft type. Modern technology is damn amazing.. Best bit is, i found this all out whilst i could still see the plane out of my window.

It has crashed on my L920 about 3 times. Still a very cool app, but I wish it was more stable for $2.99, or is this only happening to me?

Sorry, I don't have any problems.

In the past two weeks ive had planes arrive late 4 times. Ive seen people stand at airport windows staring out with no clue when the plane would arrive. This would be handy to let people know how long before the plane lands and have them take a load off. Plus the wow factor would be great in showing off my phone.

Calm down - this information has been available on the webb and in Apps for many years. Besides, if you are a Terrorist this info is of limited use. I live under the approachs to Dulles and National and I could take down an airliner from my back porch with the correct hardware. You attack airplanes when they are low and slow and you don't need a smartphone to do it. What you do need is - fortunately - much harder to come by!

Putting that aside, this App is amazing for flight geeks lie me. As a Pilot I'm always scannign the skies to see what's going up and down as the approaches for three major and two smaller airports nearby. I love the cockpit view feature. Not very 'useful' but a stunning demonstration of entertaining technology! The rest of the App is very similar to the various previously available ones, except for the augmented reality and cockpit view - for which I happily shelled out my $2.99.

great App!

Will there be a Windows 8 RT, version in the future?
I find it odd that an iOS and Andriod version exists, but an RT version doesn't.

This has always been an awesome app even when I was using Android, but have to say this version wipes the floor with the Android version!

New features are absolutely amazing!!

Purchased straight away no need to even think about it!

WELL DONE DEVS :)

No rt? How come, isn't it just a recompile from the w8 version?

Going to be the first app I buy after upgrading.

would be cool if you could buy on windows 8 and be able to download on wp8 or vice versa.

I purchased the WP8 version of the app.. how do I get to the Virtual Cockpit view? I can't seem to find it.

Thanks.

You have to tap on flight details. Then tap on 3 dot below to find the cockpit view. Watch the demo video

This is great news. I wrote these guys when I was deciding to switch to WP and they told me they had no plans to release a wp8 app.

I bought it if for no other reason to support good developers to keep them going. It's pretty cool also

This is great for aviation enthusiasts. Maybe a discount for buying Win8 &WP8 together.

I travel and use Flightaware often, does this app allow you to setup your favorite airports and search for specific flights and save them for up coming trip to monitor? Or is it basically "hey, there's a plane, what is it?"

I've used FR24 since it came out one the web. This app has one outstanding feature. Track a plane for someone that you have to pick up from the airport!
The number of times I've saved myself the hassle of airport parking, is timing it just right, to pick up the PAX right out the front entrance/exit. Also, delayed flights can be easily double checked with landing estimates from the airport website.
Last week, used the FR24 website to track a pick up from OS. Noticed the plane landed earlier than posted, so made the trip just in time. Very handy. Especially when the first hour to park costs $8!

Does it use the built in maps? Does it use a lot of data? I'm starting to think that on a limited data plan with no Datasense in sight I need to think about this for every app, otherwise they are only useful at home (where i can use the website for free on a 23" screen)

The minute someone puts "tracks all planes" in an app some genius is quick to point out its potential use to terrorists. Stop being so paranoid and start appreciating app developers for all their creativity.

No trial, no purchase. Simple really.

I bought it, but I don't blame anyone for wanting a trial. We're not yet at the point where you can determine the true utility and usability of an App by watching YouTube. I hope the Devs are listening and make a trial version available.

It sounds like a cool idea. I'm buying it.

Did I need it? No... did I buy it? Yup! It is cool! Every so often I need a flight tracking app and it might as well be a super cool one. :)

I love the website and I loved the app for WP7 - but support was discontinued . This is the hottest flight tracking app in EU/Asia and in rest of the world. The yellow planes are real time data using ADS-B receivers. The orange one is provided by FAA and it 5min delayed. Rest of the world uses ADS-B (its mandatory) but in US the system is only available on aircraft used for international flights. Try using it by going to www.flightradar24.com - I guarantee if you love planes and if you travel a lot you will purchase this app!

The cockpit feature is slow

Well the specs sound impressive..but who the hell needs it?
Do you get money for advertising this app?

It's great!! This App is nice and you can't stop to use it! We talk about it here: http://www.mindthetrip.it/2014/01/03/flightradar24-lapp-che-trasforma-il... Bye Have a good trip! Stefano
Windows Central Newsletter
Thank you for signing up to Windows Central. You will receive a verification email shortly.
There was a problem. Please refresh the page and try again.