Fling Theory developers big on Windows Phone and Windows 8, ready for Xbox Live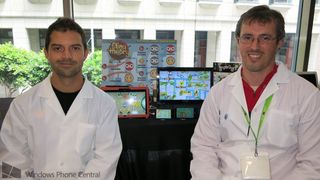 Most of the developers we spoke with at Casual Connect last week weren't there specifically to promote games for mobile Windows platforms. But one team came for just that reason; submitting their Windows Phone and Windows 8 game to the Indie Prize Showcase contest. The game: Fling Theory from Vancouver-based Coding Jar Studios.
You might remember Fling Theory as one of the six games that Microsoft and its partners launched during GDC back in March. It also happens to number among the first Unity releases for Windows Phone 8. Jodon Karlik, the studio president and Doug Insley, technical artist walked us through Fling Theory's gameplay, development process, and possible Xbox Live plans during our chat. Get all the details and see the video after the break!
A game you can throw yourself into
Fling Theory is a physics-based puzzle game that takes place on an incredibly small scale. Instead of flinging birds around, you'll play as a microscopic electron in a scientist's lab. The goal is always to get from one side of the test chamber to the other. Along the way you can collect stars in order to receive higher level ratings.
The puzzle element comes from the game's scientific themes. When controlling an electron with a positive charge, it will repel away from positively charged atoms. Other particles with the opposite charge will attract your electron. You'll have to use these magnetic fields of influence to get your electron where it needs to go without crashing. More complex levels even allow players to switch their charges back and forth in order to negotiate various hazards.
The free base game of Fling Theory contains 23 levels and takes two or three hours to complete. It's also supported by ads, which players can pay to disable. Coding Jar also sells an extra level pack as well as a bundle with both the level pack and disabled ads. On Windows Phone 8, the bundle costs $1.29. On Windows 8 it rings up for $1.99.
More than a fling
Coding Jar's two-man team are graduates of Microsoft and Nokia's AppCampus program. Applicants receive a financial award as well as training in mobile technology, design and usability, and marketing support. In return, Fling Theory launched as a timed exclusive on Windows platforms.
The team's experience with Microsoft has been extremely positive. In fact, they're likely to make Windows 8 the lead platform on their next game too. That game is too far off to talk about just yet.
As an Xbox Windows Phone fan, I had to ask Jodon whether he would be interested in releasing Fling Theory as an Xbox Live title. Coding Jar is actually quite interested in Xbox branding, but they say the ball is in Microsoft's court. That said, the developers have already discussed upgrades for a potential Xbox version such as adding online leaderboards, daily challenges, and speed run challenges.
Step into the test chamber
Let's hope Microsoft remembers Xbox Windows Phone again and picks Fling Theory up as an Xbox title. In the meantime, you can support this Windows Phone and Windows 8-friendly developer by downloading their game. If you like it, be sure to snag the level pack!
Fling Theory – Windows Phone 8 – 13 MB – Free – Store Link
Fling Theory – Windows 8 – 14 MB – Free – Store Link

(opens in new tab)
Windows Central Newsletter
Get the best of Windows Central in in your inbox, every day!
Paul Acevedo is the Games Editor at Windows Central. A lifelong gamer, he has written about videogames for over 15 years and reviewed over 350 games for our site. Follow him on Twitter @PaulRAcevedo. Don't hate. Appreciate!
Um, Paul, positively charged atoms would attract, and negatively charged atoms would repel.

Whoops, it's been too long since I took a science class. Fixed!

They really need to update the visual style of the game. I tried it on Windows 8 and it seemed like a fun game, but the graphics pushed me away.

Dear developer, publish in Indonesia please?

Why are they dressed like scientists?

They're cute lol. /end_stalk_mode

If they are ready for Xbox live, I'm ready to buy!

*same charges repel, opposites attract:-)

Fling Is very nice game, but Need Some code optimization.. It is not smooth and it is so far of 50fps (or constant 25) on Lumia 920, while the graphics is not so complicated..

The Lumia 920 is actually one of our test devices and I have not seen this issue. If we are able to reproduce the issue we will address it in the next update!

Hey,Great game guys !!
Keep up the good work!!

Once it comes with Xbox LIVE branding, I will happily throw my money at the studio.
Paul thank you for asking the developers their thoughts on it. I'm always curious as to why developers launch without it and miss out on revenue. Sure, they skip the pain in the ass certification process, but they also skip out on earnings and growth for the company - all just to avoid the hassle? They're only cheating themselves...

Unfortunately Microsoft decides which titles are Xbox branded and which are not. It is not up to us. You must have your app published by a recognized Xbox Live publisher and as an indie studio who self-publishes, that's not a possibility.

Now that's something that Microsoft need to change. Why make it such a pain in the ass for indie developers? Perhaps if they see an indie developer that's got a really good game that appears popular then they could become the publisher themselves and make it Xbox LIVE enabled?

Yeah, Microsoft used to do that. This year they pretty much stopped picking up games to release for Xbox WP.

Metal slug and crazy taxi ??? :'(

This is a story about Coding Jar, not SNK or Sega.
Windows Central Newsletter
Thank you for signing up to Windows Central. You will receive a verification email shortly.
There was a problem. Please refresh the page and try again.