Fly Delta app for Windows Phone gets a surprise update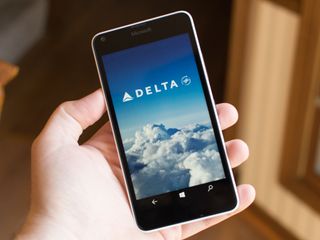 Several months ago, Delta Airlines indicated it had "no plans" to release any more updates for its Fly Delta app for Windows Phone. As it turns out, that same app just received a update in the Windows Phone Store. bringing it up to version 1.16.
The change log states the new version has updated its eBoarding Pass feature "to correctly display TSA Pre-check information". It also as a number of unnamed "bug fixes and performance improvements". Keep in mind that even with this new update, it's possible that Delta Airlines may not provide any further versions of the Windows Phone app.
Thanks to Chad for the tip!
Download Fly Delta from the Windows Phone Store (Free)
Get the Windows Central Newsletter
All the latest news, reviews, and guides for Windows and Xbox diehards.
Not only an update but even a changelog! Unbelievable...

Maybe all that time i spent tweeting delta during my last couple of trips paid off!

Maybe, I even had a TSA official looking into it.
The app is still ridiculously lacking in features. It even lists features in it's app description that don't exist.

Sounds like a copy and paste job.

Sponsored by Microsoft... Posted via the Windows Central App for Android

Wow. An update to add something they never should have omitted.
You still can't book flights.
Amazing that two apps (Fly Delta & Insteon) that I've complained the most about are in the news. At least the Delta app did address one complaint.

I don't live in US, but good news to hear

I am shocked. I still don't know if I'll use the boarding pass feature, as even a 10 minute delay would cause the BP to disappear. I wil try on my next business trip. Now I only wish Delta Studio would work on a Surface. How about a WIndows 10 Universal App that does Boarding passes, buying tickets, redeeming awards and delta studio! I will say that the Windows 10 Mobile notification center is the only thing worth keeping the FlyDelta app on my 640. I cna read the entire notification now.

GoGo and Delta have told me that they're working on support for Surface/Windows tablets.

Good to hear. Wish thye did more with WinPhone app too.

Yeah... good to hear. I think it's complete BS though.

It's amazing that a company -- I'm talking about Delta here -- would invest heavily in Windows phones and Surfaces for its crew and yet threaten to not support the same platform. This app has always been really crappy -- buggy sync issues, limited functionality, DUPLICATE NOTIFICATIONS. I hope that this update fixes this hunk o' junk.

I've been contacting Delta for the last year or so about not showing the TSA Precheck on boarding pass (this makes the app unusuable for me as I travel weekly). I would go online to have the boarding pass texted to my phone (which had the TSA precheck information printed). I'm checking for the update now in the store. Next on the list is to get the Delta Studio (inflight entertainment) working on Windows touchscreen devices (notebooks, tablets, etc.). They say, this is in the works. I didn't get any timeline for this to be completed.

Delta=Don't Ever Leave The Airport

This is app is so far behind the other platforms its embarrassing. I believe we will see a great universal Windows 10 app. Clearly MS and Delta are corporate partners and I predict it will be demonstrated in a new app.

That's the thinking I had when MS first announced partnership with Delta, but I was disappointed. I wouldn't hold my breath, really.

They probably fired the one developer that knows WP, and this update was just him cleaning up his project list.

This update is HUGE. Although the app is abysmal compared to Android and iOS versions, I remember having to fly Delta twice a week for a 7 month period, and having to either print my boarding pass at home or at the airport because the app didn't display TSA Pre.

Delta sucks and is overpriced. PanAm ftw

I have a question for you John Callaham: Why do you always go to the negative? Case in point: "Keep in mind that even with this new update, it's possible that Delta Airlines may not provide any further versions of the Windows Phone app." You could have just as easily written... "It's great to see Delta re-engaging on the Windows Mobile Platform". For you the sky is always overcast. SMH

Well it's not re-enaging if it's an update after several months and that is after indicating there won't be any future updates.

Misses the point entirely - *sigh*

Good point. It could have been written neutral or upbeat, but overcast was chosen.

Given that Delta has done little to their app and then pretty much gave it the kiss of death by saying they wouldn't update it anymore, I think a overcast outlook is fine. Just because they fixed the TSA pre-check bug doesn't mean that it's on par with iOS and Android. Why should we celebrate a simple bug fix when we're years behind the iOS or Android version?

While I agree with you, as most Windows Phone fans try to look on the brighter side. As soon as he would have said that, Delta would have taken their app out of the store and people in droves would be writing him wondering what's going on and he's left to defend something that was warranted a defense from their own statements. I don't think this post was anything more than a PSA for those interested.

Too little, too late for me. I was left stranded overnight at a connecting airport since Delta cancelled my flight in August of this year. The gate desk suggested people either line up or use the Delta app to reschedule. I pulled out my Delta app on my WP and there was no option. After 3-5 minutes I pulled out my wife's iPhone and her Delta app immediately placed us on a different flight. Only issue is that all of the remaining flights that evening were taken during the 3-5 minutes I wasted on my WP. We were booked for the next day! Pretty much pushed me to buy an iPhone. I haven't looked back. And sure, maybe it was Delta's fault for cancelling our flight or not having enough open seats on other flights, or maybe that's simply how flying goes and I'm spoiled but I do believe we could have made it home that evening if I had an iPhone and not a WP. Microsoft can try all they want to make Windows Mobile 10 better but if the above experience is what developers deliever on WP then I want no part.

You did not have the option of logging in to the Delta website and doing it there? I'm not disagreeing with your complaint either. Just wondering if you could have done it from the web.

I wondered the same thing. My understanding is that the 'auto re-book' feature is only in their Android or iOS app. The web interface seemed slow to realize that our flight was cancelled(I was using my Surface Pro 3 when the annoucment was made).

Agree with your last sentence. Here's hoping.

I've been using it to travel all day today. It's now a really great app.

What changes have you noticed?