FootLOL, a No Holds Barred game of football for Windows 10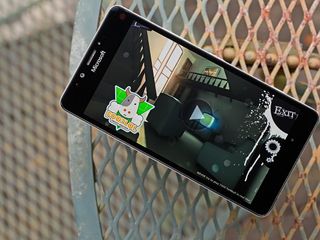 FootLOL is a Windows 10 football game with an entertaining twist. The game pits you against the computer or online against other FootLOL players in a series of short football (or soccer) matches. The twist is that you have an arsenal of weapons at your disposal to better the odds of winning.
These weapons include land mines, air strikes, herds of cattle, aliens and other whacky (and often explosive) items. Need to take out the goalie for a clear shot at the net? Toss a land mine on the field and blast that goalie out of the way. Just be careful because for all the tricks up your sleeve, the opponent has just as many.
FootLOL has three game modes, colorful and detailed graphics and challenging gameplay. There is an addictive draw to FootLOL, so keeping game time down may be difficult. The Windows 10 title is available for PC and Mobile, as well as Windows Phone 8.1 (including low-memory devices).
The opening menu for FootLOL is somewhat brief with options to choose your mode, access the game's settings and view the gaming credits. FootLOL's settings include options to set the sound levels and choose your language.
Gameplay with FootLOL includes three gaming modes that include Championship, Quick Match and Multiplayer. When you begin playing FootLOL, the Championship and Multiplayer modes are available. When you complete the fourth level in the Championship mode, the Quick Match mode is unlocked.
The Championship mode is a multi-level tournament where you compete against the computer, while the Quick Match is a collection of match styles that provide for shorter gaming sessions. Both of these modes begin gameplay on Earth and expands to other planets as you progress in the experience.
The Multiplayer mode is an online gaming experience where you can challenge random FootLOL players or set up a private game between you and a specific gamer.
Gameplay with FootLOL begins with the option to choose your team's country and appearance. Once you have all that sorted, you can jump into football matches and start blowing things up. There are tutorial pop-ups that help guide you through gameplay. While these pop-ups are informative, it would have been nice to have seen a dedicated help menu.
Each mode has a menu where you can choose your boosters (weapons), view your achievements, tweak your team's appearance and visit the store. If there are options available for the type of match available, these options are on this map as well. Match styles include:
Time Trial Match: Three-minute matches, some with specific scoring goals.
Cup for Two: An interesting half-field game where goals are side by side.
Breakaway: An un-timed match with specific scoring goals (win 3:2, lose 4:5, etc.)
Regardless of the game mode or match style, before the start of gameplay, you have the opportunity to spend skill points on boosts. You can let the game randomly distribute your skills point or set things up manually. The boosts range from land mines, air strikes, goo bombs, a stampede of cows, multiple balls in play and a lot more. You can choose up to three skills or boosts with the number of points determining how much of each item you can have. For example, with the 60 skill points you begin play with, you can choose 40 land mines and 20 player shields. Just be aware that while you are choosing your secret weapons, your opponent is doing the same.
The actual soccer game is played out automatically. Your role in the match is to use your skills or boosts to give your team an advantage. Any boosts available are displayed along the bottom of the gaming screen. Tap on the item you want to use and then on the field where you want the item deployed.
All of FootLOL's modes were fun to play with the only hang-up experienced being the Multiplayer mode. The game allows three minutes to find a random opponent and more times than not, my attempts at an online match failed. The player pool could be small, it might have been a bad time of day, the game could have a bug or nobody wanted to play with me. Whatever the reason, I'd like to see a more responsive random player match.
Win a match and you earn gaming dollars that can be used to increase your skill points, unlock uniforms and player styles and more. You also earn experience points that eventually unlocks more boosts. Gameplay starts out modest with only land mines and shields available and as you rise in experience, additional items such as fire bombs, air strikes and alien invasions become unlocked.
FootLOL may not test your skills at football but tests your skills at strategy and resource management. The scoring goals is a fun departure from the winner takes all concept and presents a unique set of challenges. There are times you sabotage your own team to prevent them from scoring too many points or derail your own goalie to let the opposing team reach their points total.
FootLOL is currently priced at $2.99 and the only downside to the title is the lack of a free trial version. The game is available for Windows 10 PC and Mobile, as well as Windows Phone 8.1. While I think the game is worth the price of admission, a trial version would likely increase the game's popularity by allowing gamers to try things out before taking the full plunge.
I can see FootLOL appeal to the football fans who enjoy the sport but have always wanted to blast your opponent with a row of cannons. I can also see FootLOL appealing to the non-football fans who like strategy games where you blow things up. Bottom-line, FootLOL is a fantastic Windows 10 gaming title to have on your device.
Download FootLOL for Windows 10 PC and Mobile
Get the Windows Central Newsletter
All the latest news, reviews, and guides for Windows and Xbox diehards.
George is the Reviews Editor at Windows Central, concentrating on Windows 10 PC and Mobile apps. He's been a supporter of the platform since the days of Windows CE and uses his current Windows 10 Mobile phone daily to keep up with life and enjoy a game during down time.