Former Nokia CEO and Microsoft exec Stephen Elop hired as technology head at Telstra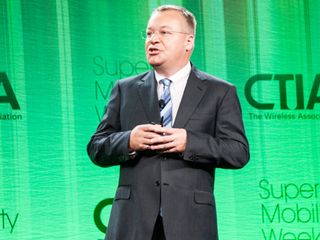 Several months after leaving Microsoft as its head of hardware, Stephen Elop has found a new gig. Elop, who was also the CEO of Nokia, has been hired by Australia-based telecommunications company Telstra for the newly created role of Group Executive Technology, Innovation and Strategy.
In a press release, (via Neowin), Telstra says that Elop will help it "become a world class technology company". Elop will officially start working at Telstra on April 4.
After working previously at executive positions at Adobe, Macromedia and Juniper Networks, Elop joined Microsoft in 2008 as the head of its business division. In 2010 he was selected as the CEO of Nokia and in 2011 announced that the company would support Windows Phone for its smartphones instead of Nokia's own Symbian OS. The result was the Lumia line of devices that was first released by Nokia in the fall of 2011.
In 2014, Microsoft acquired Nokia's Devices and Services division and Elop returned to the company as executive vice president of the Microsoft Devices Group. In June 2015, Elop departed Microsoft as part of the company's plans to cut back on its mobile phone efforts.
I'd take Elop's enthusiasm for WP any day over Nadella's almost apathetic attitude towards his own mobile platform.

Get over it. U are clueless mate.

Elop was the one who kept making budget phones. Satya actually asked him why he never made flagship models when he became CEO.

920, 1520 come to mind; two acclaimed Windows phones launched under his leadership

Lumia 1020 was actually the only phone he made that was ahead of all others in it's time.

Nokia made only budget phones because there was no money to buy parts for flagship.

There are too many Nokia fanboys here that blame Nokia's downfall on everyone but Nokia themselves so your comment will be ridiculed. I agree though, it felt like WP had some more focus when Elop was in charge.

The extra focus didn't seem to get them sale numbers. As stated in other articles, Microsoft doesn't want to produce all windows smartphones on the market. So they cut deep in the acquired Nokia division so that the eventual losses from phones will balance out in the new Devices division

Steve Elop is the only person in the world that has made some money out of WP with his juicy compensation, not Nokia or MS. MS is losing $36 on the average for each WP phone sold. When interviewed for the MS CEO job, he wanted to sell off Xbox as the solutions for MS' woes. Good luck, Telstra.

Sorry to break it to you but Nadella has a long-term plan, which is starting to unfold as well as make sense. If you simply try to understand their path through an innovative/creative business mindset as opposed to needed to get everything our way, you would not just understand how they are thinking ahead of the game but you would understand that for businesses long-term plans are essential in order to always be in or ahead of the game. Doing things just for the short term can delay their efforts tremendously and it would recreate the scenario we've been in since the day Ballmer laughed-off the iPhone. Nadella ultimate plan might not play out in the next few months or possibly even this year, but it will clearly start to unfold more and more and we will notice that, as we already have with beautiful devices such as HP Elite, Acer Primo, Viao ...its a long term plan so, eventually it will all unfold.

Well said. Goodbye Telstra. At least they may finally have a range of windows phones.

lol.. Elop the Trojan Horse!

This is ELOOOOOOOOP! *Spartan-Kick*

Yeah that's what I was saying xD

Another company for him to bankrupt? OK...

I actually do like Elop, the one guy who went all in on WP. On a side note, it's amazing how once you get to a certain level in the food chain, you can consistently get fired or underperform and yet still land consecutive, high paying executive positions. We should all be so fortunate

Yep, I agree. It really is fascinating.

Although I suppose it depends on your skills and if people are willing to give you a shot or have the betterment of company at interest as opposed to fearing for their own jobs. No one likes rapid progression of a person sadly. Found out the hard way lol.

We should all remember we will all stand before God on our judgement day. Seek Christ today while he may be found!

If you believe in Jesus as having paid for your sins, there is no judgement anyways, so what you're saying doesn't really affect anything.

Mind blown... Lol Posted via the Note 4/Nexus 7 (2013)/Lumia 1020/Lumia 2520

Dude, please keep your messed up beliefs to yourself. This is a tech site, not the local brainwashing centre (aka Church).

Come to the dark side. We have babes. And weed. Posted via the Windows Central App for Android

So Meyer is ok too then. Whew! I've been feeling so sorry for her.

Asking the important question. Is he using an iphone now?

No, he's using iPhone Pro. Same as Nadella ________________________
MSL640LTEDS | W10M

I don't wanna know this. I waanna hear the release of win 10 mobile. Hell yeah

Wait till Thursday Posted from windows central for windows 10 mobile

That company will bye2..get ready...hahaha

Off topic but twitter for windows phone update with new windows 10 UI. =)

Wow great notification from you, thanks :)

Nice! Posted from my Lumia 950XL

Where did u get ur info or are u just asking? Posted from windows central for windows 10 mobile

Wonder which phone he uses now Posted from my Lumia 950XL

My condolences to my aussies friends!!!

All good mate. Hopefully he will beef up mobile payments and telstras range of windows phones. Would be good if he did.

The same company I had to leave because they refused to stock the 950? Ha.

Too late. Moved to optus heh

Good luck with optus. Why did you just buy a handset outright and save $?

They announced this a few weeks ago "We know that a number of you have been keen for an update on when we'll be bringing the Microsoft Lumia 950 and Lumia 950XL to the Telstra mobile network. We're pleased to confirm that we will be launching the device in our stores in early April. We expect the Lumia 950 will arrive first. We'll confirm a date as soon as we have it locked in."

Exact situation for me. I went to Optus and got the 950xl with free Xbox! Posted from Windows Central for Windows 10 using Lumia 950XL

......'when he in India' Where have Asian cousins gone? No 'when in' comments for a while..

Elop' worked in US, Finland and now Australia. So, when in India?

You can have him when he's finished with Telstra, haha Posted from Windows Central for Windows 10

Shoulsn't take him more than 6 months to kill telstra, then, onto Delhi.

I like this guy and wish him well. Hope he has found a great place to showcase his talent and enthusiasm. Good luck sir.

He will f*ck up this company and sells it to Microsoft. Posted from Windows Central for Windows 10

Nokia was perfect until MSFT showed up. He ia amazing. It's MSFT who ruined Nokia, So DON'T blame him :-/

Maybe they *were* fine back in the days. Nokia was near dead before MSFT showed up, they were destroyed by Apple and Google.

That's nonsense. Nokia was smartphone market leader with almost 30% marketshare and 32 million smartphones sold every quarter until Elop and MSFT showed up. Sure they lost some marketshare to Apple and Google before but they were still the number one smartphone maker in the world. Then this happened: "During Elop's tenure, Nokia annual revenues fell 40% from EUR 41.7 billion per year to EUR 25.3 billion per year. Nokia profits fell 92% from EUR 2.4 billion per year to EUR 188 millions per year. Nokia handset sales fell 40% from 456 million units per year to 274 million units per year. Nokia share price which was at EUR 7.12 on the day Elop was hired, had fallen 81% to a bottom level of EUR 1.44 two years later, after which it began trading at EUR 4.14, up 36% on the day."

The writing was on the wall BEFORE Elop was brought in. Nokia's 'smartphones' as you call them were little more than clunky feature phones with disastrously bad UIs and low specs, a far cry from their dumbphone days. They sold huge numbers of dumbphones and very little else, and were a dinosaur, huge but with products that had little to no relevance in a world of iPhone by the time Elop was brought in.

Well, there goes Telstra. Posted via the Windows Central App for Android

How about - Well, there goes DJCBS and his cheap comments. Can you do that for us :)

Oh look, there goes Hoekie and his...nothing, really. There's never really any content in his comments ;)

So, just like yours then?

So in 3 years from now we will see the headline, "Microsoft aquires Telstra."

MS is planning some sort of data service isn't it? Well, this is it!

Poor Telstra just got a kiss of death :(

Now, who gonna buy Telstra ? God bless Telstra.

I hope Nokia is gonna buy Telstra, bind this guy with some kind of contract and torture him to death, lol

Murderer of Nokia hardware division :X

This article is not about Nadella.

Microsoft is going to buy Telstra! This is big news!

Breaking news, Microsoft acquires Tesla and lays off Elop... Posted from Windows Central on Windows 46 Interstellar Edition

And Elop looks for a new prey to lady his hand on for Microsoft. :P

It's The End Of Telstra As We Know It...It's The End...The End....END.

Keep it on the low but this is a move by all the owners of htc 8x telstra devices that were left out of W10. Strategy.

My condolences to Telstra.

I see how much everybody like him. Death of Telstra, Coming Soon™

Here in Australia, people hate Telstra a LOT more than it was ever possible to hate Elop.

Actually nobody cares about a former CEO's professional development - career.....

The next flop company. Posted via the Windows Central App by OnePlus One

Maybe now we can get Telstra to show any interest in selling the 950 or 950 XL..

They announced this a few weeks ago "We know that a number of you have been keen for an update on when we'll be bringing the Microsoft Lumia 950 and Lumia 950XL to the Telstra mobile network. We're pleased to confirm that we will be launching the device in our stores in early April. We expect the Lumia 950 will arrive first. We'll confirm a date as soon as we have it locked in."

Thanks, I didn't know this..finally.. Telstra is the only service that works where I work..i can wait till then..

You have been able to buy the 950/XL handsets and stick your telstra sim in them from the start.

It's not an option for people who prefer to be on contract. Sure they can just take out the SIM and keep paying their contract fees, but it means they have to outlay $864 (from Optus) and still keep paying for their original handset MRO on contract. I have one mate who refuses to do that as he definitely wants it from Telstra, on contract. Perhaps he can get a free upgrage, or subsidised upgrade... but either way, I'm sure he'd prefer to be paying the MRO for one handset only.

"We'll confirm a date as soon as we have it locked in." Given how many times Telstra have given us rough dates for making these phones available (mid-January, mid-February), I don't put much stock in this.

Yeah, but any indication at all is better than the complete silence they gave before.

I don't see this as any different than previous rough dates we've been given. There's still no official press release or preorder page, and no exact date. ​We've been told rough dates before with the same level of confidence, only for those months to go by. In an official capacity, Telstra is still just as silent as they were before.

I thought there was complete silence before, so I thought some indication was better than nothing. If they do plan to release it in April, it would be nice if they had a firm date now considering it's only a couple of weeks away!

Lol omg.
Yes guys down under , dart looking for a new job Sent from Lumia 950

So now microsoft wants a carrier

Lol Posted via the Windows Central App for Android! (Nexus 5x)

Big mistake he was not made Microsoft CEO.

Slip slap selop! Let's race to the bottom on pricing......

Wish him good luck. He was good leader. Great devices were manufactured under his leadership. Lumia 800, 900,920,925,1020,1520. Nokia made great contribution to the windows platform in terms of SW and HW

Good times. Now all hope is gone thanks Mastermind.

Nice. Go Elop destroy Telstra. Lol!

This is especially hilarious because Telstra isn't giving any word to their customers on why they still don't have the latest Lumia phones, especially the 950 and 950 XL!

They announced this a few weeks ago "We know that a number of you have been keen for an update on when we'll be bringing the Microsoft Lumia 950 and Lumia 950XL to the Telstra mobile network. We're pleased to confirm that we will be launching the device in our stores in early April. We expect the Lumia 950 will arrive first. We'll confirm a date as soon as we have it locked in."

Yes, I've been following the CrowdSupport thread for a while now. We've been given dates as rough as that before by various customer service agents (all of which were as confident in the information), and nothing came of them. ​Until Telstra officially announces it and makes a preorder page, I'm not placing much stock in it.

Fair enough. That's why I bought my 950 from Optus... I couldn't be bothered waiting for Telstra, and I wanted the free dock - sadly I missed out on the free Xbox :(

-Delete please, meant to be a reply-

Better divorce laws Down Under Mate!

Oooohhh crap! Start looking for a new job now.

Why would any company hire a consistent loser like him?
Windows Central Newsletter
Get the best of Windows Central in in your inbox, every day!
Thank you for signing up to Windows Central. You will receive a verification email shortly.
There was a problem. Please refresh the page and try again.