Fortnite Xbox One players facing mouse and keyboard lag issues
Players are reporting issues with Fortnite's Xbox One mouse and keyboard support, following this week's public release.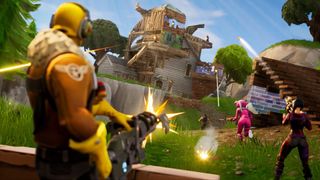 Microsoft just rolled out its freshest Xbox One update, delivering native mouse and keyboard support across select games. Further expanding the console's feature set, its implementation brings a viable gamepad alternative, with compatibility for most USB-connected peripherals. However, despite extensive Xbox Insider testing, it appears some users are experiencing mouse issues following the public release.
We're seeing numerous reports of Fortnite Xbox One players experiencing input latency when using a mouse and keyboard; a delay between moving the mouse and a subsequent on-screen action. The issue's cause is unclear, affecting only select Xbox One players, and we're currently unable to replicate it as of publication.
Given the variety of modern mice and keyboards on the market, it comes as no surprise issues are arising in the early days. Current reports detail extensive latency in Fortnite exclusively, with both Warframe and Minecraft mostly absent of the issue, indicating something isn't playing nice with Microsoft and Epic Games' solution.
It's hard to identify a fix, but one likely culprit could be polling rates, essentially the response time of a mouse, measured in Hz. For example, a mouse with a polling rate of 500Hz will report its position to the PC or console 500 times each second. While a higher polling rate means finer control in theory, it requires both hardware and software to keep up, which can be a cause of input issues.
Depending on the polling rate used by your mouse, you may be able to increase or decrease it to alter performance and how the pointer handles in-game. Microsoft doesn't offer the functionality natively on Xbox One, meaning this option is limited to those with onboard mouse memory, by changing polling rates via a PC. Razer Synapse, Corsair iCUE, and Logitech Gaming Software are among those touting configurable polling rates for respective accessories.
Alternatively, if you have multiple mice in the home, switching it out could be a temporary fix until Microsoft addresses the issue.
If you're among those with Fortnite Xbox One mouse and keyboard issues, drop into the comments section below with your experience. As new details or fixes emerge, we'll be sure to update this post.
Get the Windows Central Newsletter
All the latest news, reviews, and guides for Windows and Xbox diehards.
Matt Brown was formerly a Windows Central's Senior Editor, Xbox & PC, at Future. Following over seven years of professional consumer technology and gaming coverage, he's focused on the world of Microsoft's gaming efforts. You can follow him on Twitter @mattjbrown.
Yeap, there's definitely input lag. Even when you are at the game's menu.

Ik, my cursor/crosshair locks when i look up and down. MICROSOFT NEED TO FIX THIS

Good day! I had the same issue and i found a way to fix this. On your CUE setting change the hz to 125 and it will fix it.

Nut, I've already tired that solution, BTW i'm using razer synapse

Is in the mouses software because my mouse doesn't use a software
Thanks

Agreed. I had the same issue. Changed to 125 hz & have no more issues. It was set to 800 or 1,000 by default.

While my own personal experience has been limited, here's what I've encountered as someone who is on the Skip Ahead ring. Testing mouse/keyboard with Warframe wasn't horrible (aside from the fact that the game is a third-person game, which I HATE). Response what pretty much what I expected. Compared to m/k response on games on PC, I had a feeling it was a little bit behind, but I attributed that to something Microsoft was doing to "even the playing field" with console controller users (which is a completely stupid thing to do, but it's their show). Also, I have a Thrustmaster HOTAS One, which I use on my awesome PC for playing Elite Dangerous. Because I was loading a bunch of updates and my computer was taking forever to process them (on the Fast Ring), I decided to get Elite Dangerous on the Xbox and hook up the HOTAS One and try it out there. I can say for a fact that responsiveness of the HOTAS One on the Xbox is noticeably worse compared to my PC. This leads me to believe that Microsoft is indeed hobbling any device that isn't an actual controller when playing games. Now, as for those who are experiencing REALLY bad lag, I think it could either be the Xbox support for a mouse still needs work (likely) or it could also be the way they are "making things fair". Hard to say at this point.

Wow really fair waiting 4 seconds before it moves on screen litterly.
I got the Logitech g402 Hyperion Fury

If your mouse has an onboard memory try reducing polling rate. My rate used to be 1000, and it was unplayable. I reduced it to 250 and works fine.

lmao how do you mess up m&k like this?
It runs Windows ffs

I was so excited to see that they finally added mouse support only the to find that my Razer Naga Chroma was essentially unusable

While the issue of mouse input issues will be addressed and fixed soon, adjustment of the polling rates may fix the problem for you. Get a mouse that allows this to be adjusted. Typically, mice that have driver aps or software have this feature. My Razor Lancehead works great.
I have its polling rate @ 125hz.
I have addressed further xbox mouse and keyboard concerns on Epic's Forums.
Here's the link: https://www.epicgames.com/fortnite/forums/suggestions-advice/835884-xbox...
This is the same topic, no worries.

Definitely a polling rate issue reduced it from 500 to 250 -problem solved .only possible if you can connect it to a PC and adjust the software otherwise it's just luck that your mouse is preset to the correct polling rate.
Persevere it is sortable!

Same problem went back to my xim. Game menu for me is fine once i get in game it's horrible and it seems like the controller is fighting the mouse and keyboard