From the Forums: Games Spotlight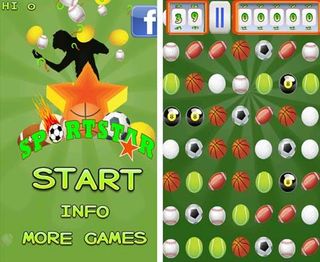 With all the new games coming out at E3 we are getting a good look at the future of games on Windows Phone. That's great for the future but what about now. Where can we go to learn about games available today? We have the answer to that question in our forum.
Many developers are making their game content available for us to enjoy, review and offer feedback on. It's all happening right here in our Games Spotlight area. Our developers want us to help them create the best game possible. They are posting information on these games in this area hoping we will download them and do just that.
SportsStar Lite - Sports Casual Game (Free): This game was published by Pixeldruids Studios Private Limited (opens in new tab) and is available in the marketplace for free. Pixeldruids has many apps available in the marketplace with titles including Christmas Gift, iFlier, and BeSpooked. This is what Pixeldruid has to say about this game.
You can find SportsStar Lite here at (opens in new tab) the Windows Phone Marketplace.
Boards & Pieces (incl. Free version): This game shows promise. It's not one game but instead 4 board games in one. This game includes Block It, Take the Gold, Trigex and Six Men's Morris. Brought to us by Serendipitous Bits LLC (opens in new tab) is this developer's only published game. Forum member NPavlov (game developer) posted this in our forum.
You can find Boards & Pieces Free here at (opens in new tab) the Windows Phone Marketplace.
Alone at War (Free): This sounds like a fun and interesting game. All the graphics are hand-drawn. That could be an interesting twist. This app is published by DPE Ukraine (opens in new tab) who is no stranger to developing Windows Phone apps. With 12 apps in the marketplace this game comes to us from a seasoned app developer. If that's not enough to get you to try this free game then maybe forum member Alcomi (the developer) can convince you to give his game a test drive.
Alone at War Free can be snatched up here at (opens in new tab) the Windows Phone Marketplace.
We have these and many more games available in our Games Spotlight Forum. These developers need your support to make the best games possible. By posting in our forum these developers are opening themselves up to constructive input to help build the best games possible.
We hear lots of talk about the quality of apps in the Windows Phone Marketplace. Now here is your chance to help make sure that developers are adding the best possible games.
It has a free version available: http://www.windowsphone.com/en-US/apps/4dac084b-d95a-4242-addd-f146d418f0aa?wa=wsignin1.0

Shows up under a different developer, odd.
Windows Central Newsletter
Thank you for signing up to Windows Central. You will receive a verification email shortly.
There was a problem. Please refresh the page and try again.