From the Forums: Lumia 900 is cheap as chips and Will WP8 take BB10?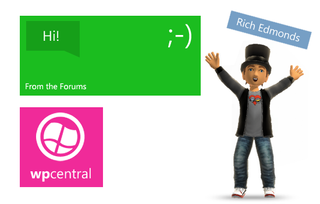 It's been an eventful weekend so far with the London 2012 Olympics in full swing and our community forums haven't seen any sign of sowing down for the games with more discussions being forged and engaged in by registered members. So what's been discussed over the weekend?
To kick us off tonight is 12Danny123 who looked at some posts over on our sister website CrackBerry.com. He noted that BlackBerry readers were discussing the possibility of upcoming BB10 not being able to push forward and follow Windows Phone with RIM pumping money into the platform attempting to build momentum. Cgk1 published an interesting response,
Windows 8 and Apollo are both on the way, which Microsoft can use (along with the Xbox) to push Windows Phone in the right direction. Aiming for business partners as well as consumers, the software giant can use Office, Lync, and more to drive companies away from competitor platforms. Here's hoping traction builds as these upgrades are released. We expect to see brand awareness boost in the months following Apollo and Windows 8.
What do you think about BlackBerry and the future of Windows Phone? Do you believe BlackBerry stands a stronger or weaker chance of building much needed momentum? Sound off in the comments and be sure to voice your pinion over in the "Wp8/7.8 vs BB10" thread.
Arriving from BlackBerry
Now we've covered a thread talking about the competition between BlackBerry and Windows Phone, it's only right we pick up on a newcomer who will be purchasing a Windows Phone to leave the arms of RIM. Current BB user pastornordel has asked for advice from Windows Phone owners who used to follow RIM.
Have you switched to Windows Phone from BlackBerry? Be sure to head on over to the "Question for bb switchers" thread to add your $.02.
Leaving Windows Phone and moving on
Forum member DanielCeleste has created a thread asking the community for advice on whether he should switch to the iPhone or can make the most of Windows Phone until Apollo arrives.
Have you got any advice for Daniel, or do you believe he should jump ship and see how it goes with iOS? Already owning an iPad, we would recommend the wait for Apollo, especially if he's set to get the next iPhone. With the likes of Nokia, Samsung and HTC preparing to launch newer hardware on launch, it's an exciting time for Windows Phone.
The "Bored with Windows Phone" is the place to be for discussion on this issue.
Miscellaneous: Lumia 900 falling, falling, falling in price
Lastly bigkevbosky has kicked off a discussion surrounding the Lumia 900's continuous price drop.
We've followed the pricing of the Lumia 900 since it first launched in the US earlier this year, and while many would comment that it's simply too cheap for what's on offer (especially with the Lumia 710 and 610 both being painted as the cheaper Windows Phone), we believe it's a superb opportunity for consumers to pick one up for less.
If you're not already actively visiting our community forums, be sure to do so if you're up for discussing the platform with other Windows Phone owners.
Rich Edmonds is Senior Editor of PC hardware at Windows Central, covering everything related to PC components and NAS. He's been involved in technology for more than a decade and knows a thing or two about the magic inside a PC chassis. You can follow him over on Twitter at @RichEdmonds.
WP8 will definitely take over Blackberry because yesterday I went to best buy and saw a Blackberry for $699. I was like "that is insane!". Who's going to want to pay all of that for a small screen, not very good ecosystem and poor hardware specs.

I'm a wp7 user (Focus Flash), I had a HD7 and was an Android user...i love my Wp more than any phones I had including high end phones with Android, i use my WP for mostly productivity purposes, im a comp Sci major and WP keeps all of my assignments updates etc eight in my pocket accessible at any time..i cab tweak send to the cloud to sync with my laptop, wp7 is not the best right now but wp8 will supercede vastly what we have now, i imagine all Microsoft offerings including the next Xbox will run W8 in some fashion to completely immerse you in W8's heavenly glory...making it the most seamless experience in productivity , fun social and anything else we cab do...i bet i cab Skype in w8, wp8, then pick it up on my 720 with reconnecting that's part of Microsoft vision...(hopefully)

Switched from bb a year ago. All I miss about my curve is the battery life.

It's hard to say, I've got a Lumia 800 and a Blackberry Playbook. I like them both, but I've got ages to go on my contract so its a question I don't need to answer yet.

The only thing I miss about my BlackBerry is how my battery could literally last for days if needed.

Ive got an 8520, last for days.
But I've just got a 9860 Torch, and it lasts the same as a WP7 phone.
SMartphones now packing fast processors, WiFi, HSDPA all drain phones quicker.
But... the Blackberry takes forever to boot! It freezes almost daily (very annoying) needs a battery take out. I prefer its multi-tasking though!
When WP7 gets true multi-tasking in Apollo I will never entertain another BB phone. The Ecosystem is dead, and apps quality is bad bad bad.
I feel sorry for RIM, as for a few years the BB qas great - and BBM is fantastic. But times change, and the new order and world means RIM is in deep trouble unless BB10 is awesome.

Wife had a blackberry now has a lumia 900, she had the blackberry for 18 months and I do not think she ever had much positive to say about it other than what you would expect:

Her Likes - battery life, physical keyboard (bb torch), convert music to ringtones with no hassle, email.
Her dislikes - too complicated of an os I do not think she ever really understood how to use it properly, too many screens to change features on the phone, how small the keyboard was (bb torch), connectivity for some reason was not great in the house.

I would definitely call her an average consumer(sorry honey if you ever read this) and she is able to do everything she needs on her Lumia. The only things she complains to me about now is: occasional freezes on the phone, battery life (she is not used to 4G battery life me thinks and needing to charge once a day)

Other than that she loves it, ohh her other complaint is that I don't add enough music for her :(

My GF has the TOrch with Keyboard.
I could not get her to take a Lumia 710, says its too big. One wonders why the Tango (smaller footprint) hasn't manifested itself in a smaller device!
They could also cut features etc to make a device that will run for 5 days.
(I know many people would like a phone like that)


Seriouslly are you kidding me? Blackberry is a piece of shit in enterprise. I am troubleshooting why contacts on a BB device are not automatically syncing with Exchange. What a difficult process have to navigate through Blackberry's shitty options or even using the Desktop Manager to fix this. Look Windows Phone just works never had an issue with contacts and Exchange no biggie why is RIM in the conversation when their product clearly sucks.
Windows Central Newsletter
Thank you for signing up to Windows Central. You will receive a verification email shortly.
There was a problem. Please refresh the page and try again.