From the Forums: Windows Phone OEMs matching Nokia and thoughts on the ATIV S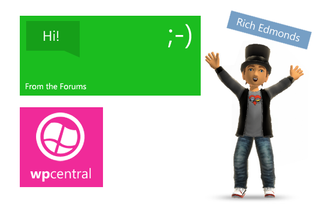 It's a relaxing weekend holiday with Labour Day just around the corner, but Windows Phone Central is still full steam ahead with the run up to Nokia's announcement (as well as other OEM hardware). If you haven't already done so, we recommend checking out our community forums for the latest and greatest platform discussion.
Forum member XENOPHOS has asked (and started a poll covering) the all important question, "when will you purchase your Apollo Windows Phone?".
It's rather difficult for many to predict when they'll purchase their next Windows Phone. Is it worth going for the hardware that's released at platform / release launch or is it beneficial to wait for prices to fall and more advanced devices to be unveiled?
We can safely state that we'll be taking the dive early on, as well as making the purchase later on - probably why it's viewed to be relatively expensive working in this industry with all the mobile devices that are available. But what about you? Will you be picking up a Windows Phone shortly, or will you be waiting? Be sure to reply and vote in the poll on the "So when are you buying your Windows Phone 8?" thread.
Nokia Lumias or the Samsung ATIV S?
Samsung recently unveiled its ATIV S Windows Phone at this year's IFA in Berlin. Many have been taken by the design and look of the device, while others feel it's just not enough. Simon Tupper has created a thread asking what you prefer out of the ATIV S or the 'leaked' Nokia Lumia devices that are expect to be announced soon.
We're also torn between loving the ATIV S design and despising it. Until we've had one in our hands we can't be certain either way, but it's interesting to see a Windows Phone cause such dividing in the community. Are you looking forward to its release, or waiting for Nokia's Lumia line? Add your thoughts in the "Nokia 820 VS Samsung ATIV S" thread.
Miscellaneous: other Windows Phone OEMs catch up with Nokia?
Forum member cp2_4eva closes off this From The Forums round-up with a valid rant / question as to why other Windows Phone OEMs aren't matching the effort levels of Nokia.
Unfortunately we've always had this issue with manufacturers when it comes to Microsoft's mobile platform, since it launched back in 2010. HTC, Samsung, and others simply launch hardware, offer limited support to released Windows Phones, and that's basically it.
Here's hoping Samsung opens its eyes to Windows Phone with the recent court result against Apple. Google is prepared to leave partners to fend for themselves, while Microsoft appears to have measures in place to better protect platform OEMs. What are your thoughts? Head on over to the "I find this so stupid about WP7" thread to voice your opinion.
Windows Central Newsletter
Get the best of Windows Central in in your inbox, every day!
Rich Edmonds was formerly a Senior Editor of PC hardware at Windows Central, covering everything related to PC components and NAS. He's been involved in technology for more than a decade and knows a thing or two about the magic inside a PC chassis. You can follow him on Twitter at @RichEdmonds.
Samsung ativ S is looking like a good choice for me because of the metal build but I'm still waiting on HTC and Nokia ... I have a hd7 and its the same one from Nov. 8th 2k10 soo Im really looking foward to htc... ;-)

2K10 is so much harder to read than 2010.

The Ativ isn't metal,,,its just metalic looking,,,its still plastic. And no way would I get another samsung phone,,,usre they look good but buld quality and fuctionality are usually lacking. I had a GS2 that I had to return over 9 times because the screen kept freezing and reseting itself,,and when I would open the text app it would just shut off.

Enough with the plastic complaints

How are you not banned yet?

So the question is, was it the device or was it the OS that was causing all the trouble? There's a huge difference based on the limited info you described. Because it can work both ways, you might have the best hardware/device but horrible OS. But if you believe the OS was great but the hardware was lacking then that's a different point as well. Just asking.

It was the phone themselves,,,super buggy and glitchy,,,I actually just decided to keep the last one I got and put up with it till my next upgrade which is already due,,,but I've been holding out for a WP8 from Nokia to come to T-mobile =)

It is metal, unless you consider the back cover to be the entirety of the phone. The body of the phone, as well as all of the buttons, are metal. The inside backplate is plastic, like every phone ever, and the back cover is plastic, so that it can send and receive radio signals.

I too have had hardware problems with Samsung. I purchased 10 galaxy S2 devices and had to return 5 of them due to hardware issues. Screens bad out of the box, non stop power cycles, bad GPS, just had another have the camera quit at 5 months old. I personally have an S3 also with issues, but they could be android related so who knows. Still not stellar results for me. My Titan 2 is treating me well, bit no updates in sight, and my HD7S never got an update either and it had bog problems needing a firmware update badly. Nokia will get my money next.

Own a Lumia 800, if Nokia doesn't come with something good enough to compete with ATIV (quality/price), then ATIV is going to be my next phone.

I am in the same position I am thinking of selling my lumia and getting one of these samsung's.

Good choise there, if you have the possibility, sell it - I had enough with Lumia's family (owned a 900, now a 800), I've understood that they were the very first phones, but the quality actually dissapointed me, not to mention that the WP7.5/7.8 it's simply pathetic comparing to the competitors OS's, but I have high expectations from WP8, which will also be my next phone (this time after I dig a lot, and test it a lot), and this ATIV looks like a nice choise for me, but I'm waiting to see with what Nokia comes up.

WP7.5 is a very huge strong point for me compared to ICS and iOS - which I found to be quite tired and dull (Vivid and 4s). WP is just way more efficient and elegant, IMHO. Must admit, though, I'm loving JB on my Nexus 7 and look forward to trying it out on a phone.

I agree about the 900, though. I was dissapointed in the quality and returned mine after one month. The screen was too blueish, the buttons rattled when the phone vibrated, the GSM radio provided poor reception, the camera sucked without a BSI and the screen was too small for me.

Then I got a Titan 2. I'm happier, but still find it lacking - capacitive search button doesnt always respond, the camera, while fantastic for stills, is almost useless for anything moving even slightly and the low res for the screen size bothers me sometimes with certain fonts.

I liked the Focus S the best of them all - if only it had LTE and a larger screen... It was light and thin. I dropped it countless times and I just put the battery back in and it was perfect except for the scratches on the corners of the case where it landed - extremely durable.

i'm excited to see how these new phones stack up. For me it's totally up in the air as to which OEM I ultimately choose.

Why do you not mention the 920?

You can't compare the 820 to the Ativ S or the NL900. You should compare it to the 920.

I have a Titan now, so I'm looking forward to seeing what HTC has coming.

For me it might end up being Samsung. Because I'm more interested in the Lumia 920 but I'm doubtful it will come to TMo and between the Ativ and Lumia 820 I might just go with the Ativ. Though I really want a Nokia device.

Unless Nokia pulls out a reasonably priced and fully featured Pureview model I'll go with the Ativ S. I've had a 1st generation Focus through the whole WP7 run and it has rocked. Quite honestly there has been hardly any hardware evolution on the WP7 generation, so I am figuring the launch models are pretty good.

Well, looks like it's going to be the Samsung Ativ for me. I'm on T-Mo and I'm not digging the 820.

If Nokia comes out with the PureView and an impressive megapixel sensor and lens combo, then it is "game over" for me. I do wish Nokia would allow a replaceable battery as I like to have a spare batter when I travel, but the support that Nokia provides is too good for me to ignore. I had the original Focus and have spent considerable time with Titan and Focus S before I got the Lumia 900. I was going to wait until the 2nd wave of WP8, but the PureView would be the deal maker for me.

Exacly as you said. If Nokia releases a Nokia pureview ( even if it is "only" 21 mp) nothing else will come close to it. I'm saddened that so many people in the US seem to have gotten Lumia 900 with factory defects because the European version has no such problems. Unless HTC and Samsung start giving wp8 the support it deserves I don't see how they will be a match for lumia, especially if the 920 has pureview and a 4.7" screen

I have my lumia 800 for over half a year now. And I still love bragging about it. I don't even need to start the conversation myself. The cyan blue color and the bold design does the trick. It really pops out.
That's why I'll stick to Nokia for Apollo. But because of the long life span I expect it to have (hardware wise), I'll buy a new lumia later on.

I own a Focus S and purchased three 1st Gen Focus for the rest of the family, plus I talked my niece into a Focus S. All five Samsung devices has performed well even after many accidental drops. However at this point, manufacturer support is more important to me that phone case aesthetic, so unless Nokia Win8 phones are total duds its Nokia for me without any doubt. The way I see it, my purchase dollars are Nokia's to lose. Hopefully they rise to the occasion and bring it, at least bring something as good as the Ativ S.

Nokia seems to be only one right now who is committed to bringing not only hardware but exclusdive (for a while) siftwre to their hardware to increase the user experience. That to me is a big plus. If the 920 is as good or better than the 900 then it will be a hard choice between the 920 and ATIV S But there are several others who will be bringing their own W8P devices to the table.

Can we trade-in our Lumia 900s?

Most of the folks, who bought initially got the L900s for free effectively after the $100 AT&T credit.
So, trading-in L900 might be a very expensive deal for Nokia, unless they pay you < $100 for trade-ins.

for me its nokia just because they are serious about win 8, the only reason why the samsung is tempting is because of there new 27 inch all in one, that thing is very tempting, and having the sammy phone and computer would rock, so the 5th will tell the tale,the ball is in Nokia court, was sammy just a tease for nokia device or not? to phi or not to phi, and if nokia brings a tablet to the game, im gonna start screaming like a girl.

The ativ looks good but it has to rise way above the gs3 in materials quality or i have to look elsewhere. The fact that it is as light as the gs3 worries me. Quality materials are not light. I hope they have pulled it off.

I own lumai 710 i have no issues with it its good and I'd like to own another lumia from wp8 later

Nokia if the specs are good enough. I like their custom software, its too bad all windows phones can't use Nokia programs

I'm hoping Nokia comes out with a good design and phone so I can pick it up for cheap early next year. I just bought a Titan II and its solid.

Nokia is and will be better choice. Nokia knows how to make phones and that's exactly what they showed with lumia 900. I'm waiting for WP8 from Nokia and as soon as it available im getting it.

I had a Galaxy S and Galaxy S2. Their build quality and look aren't anywhere near my Lumia 900. Call quality and signal reception are much better on Lumia 900. My next phone is definitely a Nokia phone with Pureview.

My first smatphone is the omnia7... With a back cover in métal ;-)
And no trouble with it since I purchase it on May 2011
I m sure it's only because of the quality of the back cover ! Don't Forget to focus on the quality of the back cover... Lol

Samsung for me.. I've had two Samsung devices and they both have never had any of those issues..

No one does it like Nokia. It will be a Nokia Lumia 920 for me. Nokia fully supports the platform and that is very important.

Buy Samsung or LG at your own risk and pray you never need any support that can't be answered by finding the solution on a forum because all you'll get from either manufacturer is the run around. When an "upgrade" is "supposedly" coming out (as they announce on the internet) it seems like there are many, many delays in it's release and then suddenly they announce that they no longer support that phone but they'd be happy to sell you a new phone that includes the upgraded items. This bit about "limited" exclusive rights is also a line....AT&T got the " limited" rights to the Nokia Lumia 900 - still has exclusive control over the 900 (unlocked ones will not run 3g/4g on anything other than AT&T) & now is trying to dump them because the new phones are coming out in a couple months! Now the new Nokia supposedly will go to AT&T "exclusively" and T-Mobile will get a mid level "bone" and Verizon will get something later! If Nokia and Microsoft want to really get both Nokia and Windows 8 as a major player, they need to sell as much product as they can. I give credit to them for advising the consumers that the pre Windows 8 phones will not be able to run the new software, but don't you think that is a major reason the existing Windows phone didn't sell as well as was expected....why would anyone buy an expensive phone that would be outdated in 6 months? Believe me, there are thousands of consumers out there who simply will not switch to AT&T just to get a particular model of phone - AT&T hs a reputation of screwing their customer over and will not be "rope a dopped" into switching over!

It's all about who will support their phones after sale, and of course that's Nokia. They've proven it time after time after time when they released the 800, 710, 900, and 610.

HTC exists because of Windows Phone, Nokia has to keep alive by WP now. So I would bet on Nokia or HTC. They design the best phones in my opinion.

If I wanted something that looked like an iPhone I would just get the iPhone 5. Why can't Samsung design something more original to fit the innovation of WP8?
Windows Central Newsletter
Thank you for signing up to Windows Central. You will receive a verification email shortly.
There was a problem. Please refresh the page and try again.