Forza Horizon 3 Windows 10 demo coming 'sometime after' full game is released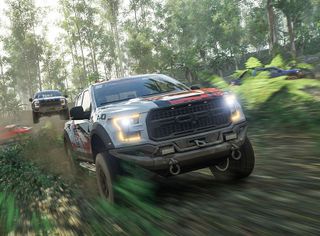 Microsoft has said it will release a Windows 10 PC demo of its upcoming open-world racing game Forza Horizon 3 "sometime after" the full version of the game is released on Sept. 27.
A demo of the game for the Xbox One console was released earlier today, but it looks like PC owners will have to wait a bit longer, according to an updated blog post on the official Forza Motorsport site.
Again, the full version of Forza Horizon 3 will be released on September 27, and Forza Horizon 3 Ultimate Edition owners will be able to get it earlier on September 23. It will be an Xbox Play Anywhere game, meaning it will allow people who purchase the Xbox One digital version to get the Windows 10 version for free, and vice versa.
does it matter? the purpose of a demo is to test a game before buying.

Well, it sure would be nice if the PC crowd could get demo access when the consoles do. But I guess that that would be asking for too much nowadays.

But being that this is one of the first games coming out with play anywhere, I'm up for letting them have some minor hiccups while they learn.

Excuses. They've been using Apex as their test (hence why they told people who wanted a Horizon 3 demo to try that instead). They've had plenty of time to make things right. There are plenty of other examples that they could follow to put out the 1.0 release on time and without being a disaster.

It does matter to me. I'm unable to test how it works, therefore I'm unable to preorder the full game as i originally planned, therefore I'm not getting any preorder bonus.
PC version needs a demo much more than Xbox does.

With the state of most Windows 10 AAA games on release I'm guessing this is because it's not quite ready for prime time and a demo will show the title in a negative light. But hey, prove me wrong, Microsoft, prove me wrong.

Given that it's a Play Anywhere game, it would be kind of dumb if it didn't release for PC at the same time as Xbox. With all the black eyes Microsoft has gotten over various PC games on the store in the past, it's hardly a surprise they're putting all their effort into making the PC version as good as it can be, instead of spending that time on a demo.

Oh it'll release at the same time, I can be sure of that.

So are they basically are saying that if Forza 6 runs on your PC then so will H3?

I think that it's pretty safe to assume a 'Yes" on this. Compare the recommended specs of both games just in case.

Good point. Hope it runs as I paid for the deluxe edition!

Forza Motorsport runs at 60 fps on x1, Horizon runs at 30 fps on x1. I wouldn't trust anything unless there's a demo to test.

The game looks amazing on the X1s so it'll be drop dead gorgeous on PC.

This makes sense. Apex on PC only left beta last week. They learned alot at Turn 10 about the PC development. So makes sense to utilize this knowledge and not release a mess on PC. Good decision by MS.

Nice demo wish it let u save the progress towards the full gamw

Microsoft has been trying the Apple strategy of assuming people will buy their products if they just sell it. The problem is that they have bitten every hand that has tried to feed them for the last few years. Now when all the old fans are Microsoft shy they decide that no one needs to try their products first. Sorry Microsoft, I'm keeping my fingers.

Your post makes no sense. You want them to release a demo in a bad state? Like every other single PC game that's ever released? I would of thought you would praise MS for making sure that everything runs great.

Uh, you would assume that if the full game is ready, a demo could be ready too.

First xbox fans complain why xbox excluisve comes to windows and now windows users complain why they don't get demo, first of all a lot of games dont have demos and forza 6 apex is free it is not enough ?? Can't you guys just be happy about one purchase one free copy ? Do you wanna check the quality of games on windows store well look at recore and forge and also forza 6 apex all have high stars in store Posted via the Windows Central App for Android

Isnt a but strange though that the demo will come out AFTER the game gets released though... but hey atleast in the end we still get a demo. To the point of Xbox Play Anywhere is quite an huge incentive though. which most arent doing these days; which is good considering their store dont offer refunds and in Australian law its illegal to refuse the ability to refund on legitimate grounds however. Back to the point; everyone complains but in the end it will happen regardlesss. Whether for Unity, or ensuring quality and no issues.
Windows Central Newsletter
Thank you for signing up to Windows Central. You will receive a verification email shortly.
There was a problem. Please refresh the page and try again.