Forza Horizon 4 hits 10 million players, Sea of Thieves crosses 8 million
Play them if you haven't already.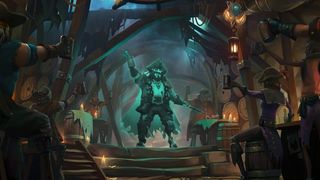 (Image credit: Xbox Game Studios)
What you need to know
Sea of Thieves is an open-world pirate game from Rare.
Forza Horizon 4 is an open-world racing game from Playground Games.
Sea of Thieves recently crossed 8.4 million players on Xbox One and PC.
Forza Horizon 4 recently crossed the 10-million mark on the same systems.
You can play both games through Xbox Game Pass Ultimate

(opens in new tab)

.
Sea of Thieves is the latest game from developer Rare. The team has worked on titles like Banjo-Kazooie and Perfect Dark in the past, so a pirate simulator is quite a radical departure. While the title launched as a barebones experience, the team has since managed to turn it around by adding mechanics like fishing, cooking, and even a single-player campaign.
In April, the developer released the "Anniversary Update" for the game. Since then, the number of players has spiked. According to the team, the title now numbers over 8.4 million players. This information was revealed during an Inside Xbox show a few days ago. If you haven't played the game yet, be sure to jump in because it's quite good.
That's not all the news that was shared. Today, Forza Horizon 4's developer shared that the game now numbers 10 million players. This information was first spotted by Twitter user "@emiel1981" while watching a Forza Horizon 4 livestream on Mixer.
Forza Horizon 4 garnered stellar reviews at launch and has one of the highest scores on Metacritic. That contributes to the game's continued popularity. The racing simulator is also getting a Lego expansion soon, so that should draw even more players in.
It's great to see that Forza Horizon 4 and Sea of Thieves are doing so well. High player counts are important for the longevity of both games because they rely heavily on multiplayer. You can play both of them right now because they're part of Xbox Game Pass. There's a promotion going on right now that upgrades your existing membership to Xbox Game Pass Ultimate for just $1. Xbox Game Pass Ultimate bundles Xbox Game Pass, Xbox Game Pass for PC, and Xbox Live Gold into one package.
Best of the best
(opens in new tab)
Xbox Game Pass and Xbox Live Gold in one

Xbox Game Pass gives you access to over 200 games for one monthly fee. Xbox Game Pass Ultimate also adds Xbox Live Gold to the package so you can play online with your friends. You can either get a month-long trial for $1 from the Microsoft Store, or a 3-month subscription for $20 through Amazon.
Xbox accessories you'll love
Every one of these quality accessories is guaranteed to enhance your Xbox experience.
PowerA Enhanced Wired Controller for Xbox One (opens in new tab) ($20 at Amazon)
PowerA's take on the Xbox One controller is an attractive pickup for budget-conscious gamers that nails all the basics.
Talon PDP Xbox media remote (opens in new tab) ($20 at Amazon)
The Talon PDP Xbox media remote is great for watching shows on your console.
Xbox One S vertical stand (opens in new tab) ($10 at Amazon)
Stand your console upright with this accessory.
Windows Central Newsletter
Get the best of Windows Central in in your inbox, every day!
Asher Madan handles gaming news for Windows Central. Before joining Windows Central in 2017, Asher worked for a number of different gaming outlets. He has a background in medical science and is passionate about all forms of entertainment, cooking, and antiquing.
Great figures. Glad to see so many people have played them. Horizon 4 will overtake 3 soon enough.

Wish they communicate on the numbers of concurrent players playing these games.
I think the numbers of players currently playing would be a lot more meaningful for gamers than these numbers.

I don't have an issue finding matches in both games. So I'm not sure what the issue is. If it's an old game, sure, I would be interested, but there are no matchmaking issues right now due to a low player count.

@Asher Madan
It's really simple. When it comes to consoles, Spencer and you guys are saying that number of console sold doesn't matter because maybe someone bought the console 5 years back and it's collecting dust. The better metric is to see how many are actively playing. Now in the case of a game you guys want to hype the total number of people that have played the games. And that include those who played it 5 minutes and deleted the game. You cannot say one thing in one case and say the opposite when it favours you. You said 'High player counts are important for the longevity of both games because they rely heavily on multiplayer.'
Most of those 8m SoT are probably not playing the game anymore. Concurrent numbers are MUCH more important. You may claim that you have no issues but that's just the claim of a random guy on the internet who is also a major MS/XB "fan". But for the general public and for the sake of transparency, it would be nice if they actually show the numbers instead of these which are more meaningless...

Maybe only for SoT, as FH4 is all multi-player based. It's also something that not everyone can play for 5 months straight, but they may drop in and out.

Why not every mulitplayer game? So that the people can see if the game still has players playing it or if it's a ghost town. And not just MS but also Sony and Nintendo.
At least Sony and Nintendo don't usually communicate on the "numbers of players" who tried their games as a way to mesure success

Sorry, I meant FH4 is not all muti-player based. I was simply comparing the two. As FH4 has a strong SP element to it the numbers aren't as important, but it does have a MP element so your next response still applies I think seeing the numbers of active players in MP games in the store listing would be a fantastic idea. At least a monthly average would be nice.

This proves my point as to why single player only games aren't as important as some people make it out to seem. Having multiplayer games where content is continually updated, match making tweaked, new maps, rules, parties, playing against different people each games always creates a unique experience. And part of the reasons what keep people coming back for more.

How does this prove your point? That people play SoT? Come on... How many people are currently playing TW3? You don't, and can't, know that. Also, I play FH4 solo except for when I have to, meaning it is a strong SP experience. So what does that have to do with anything?

Having both options is even better.

@jams
Yeah, I'm sure collecting each and every banana crate seem like a unique experience even after you got that achievement for collecting the 1000th one.
In case you didn't understand the article these are not the active number of players playing the game. These are the number of people who tried the game.

Also, it's worth pointing out that single player games can be updated too. Oh, and God of War has also sold over 10 million copies (as of 21/05/2019), so kinda in the same position as FH4.

Can we really say they are in a same position with a service like game pass?
When you say 10m bought a a game it actually means that these 10m people probably invested a lot more money than the 10m who played FH4.
When you just consider the numbers of players who played the game, it counts those who may have just tried it, or even the sub accounts of a single console (example kids with different accounts all playing the one copy of FH 4 on the family console), it also counts the used games market or games borrowed (1 copy of a game used by multiple users). For me, the best way to tell if a game is commercially successful is to look at how much profit it made for the company. Number of copies sold gives a good indication of that. Game pass members who have played the game as an added number to see how much of an influence game pass is to the game.

Assuming, every ps4 games have the same physics / digital ratio.
Gran Turismo Sport prob sold around 6m copies. No where near 10m players I suppose...
Does GTS have an viable e-sport events? It has an online feature but the game plays more like an single player offline game. Do people still play this game? Last of US prob be around 11m, God of War ≒ 10m, Bloodborne ≒ 5m, Nier ≒ 2.8m and we have 80+m ps4s in the world.

Are you seriously comparing sales numbers to the numbers of players that have played a game (renting/trying through game pass), lending/borrowing games, multiple accounts on a single console, used games market... Aren't you someone who works in the industry?
Windows Central Newsletter
Thank you for signing up to Windows Central. You will receive a verification email shortly.
There was a problem. Please refresh the page and try again.