Forza Motorsport 6 is free to play through August 28 for Xbox Live Gold members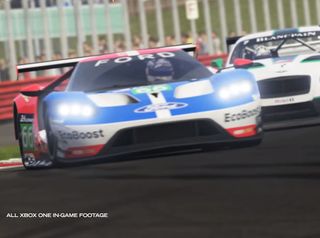 Xbox One owners with paid Xbox Live Gold memberships can download and play the full version of Turn 10 Studios' racing sim Forza Motorsport 6 for free through Sunday, August 28.
You now have until 11:59 p.m. Pacific time on Sunday to play the latest game in Microsoft's acclaimed in-house racing sim series for the price of nothing. For those of you who are unfamiliar with Forza Motorsport 6, here's the breakdown:
As Real as it Gets – Stunning realism at 1080p resolution and 60 frames per second / The danger and intensity of night racing comes alive under the stadium lights of Daytona and in the utter blackness of Le Mans' back stretch / Experience the immersion of racing in the rain as working wipers barely clear the spray and tires hydroplane across physically-based 3D puddles.
Ultimate Car Fantasy – Collect and race over 450 Forzvista cars, all featuring working doors, cockpits, damage and customization / Tour 26 world-famous locales, including 10 newly captured tracks, all built from the ground up for Xbox One / Celebrate he broad world of motorsport, reliving classic races and epic rivalries in the all-new 70+ hour career mode.
Never Race Alone – No two races are the same in the home of the greatest racing, tuning and painting community in gaming. / New Forza Race Leagues and online spectating combine to give everyone the thrill of professional competitive multiplayer racing. / Compete in epic 24 player races in single player against cloud-powered Drivatar opponents and on Xbox Live on dedicated servers
This free weekend of Forza Motorsport 6 is one way Microsoft is helping to promote the release of Forza Horizon 3. The open-world arcade racing spin-off will be released for the Xbox One on September 27
Thanks to Kittanan for the tip!
Windows Central Newsletter
Get the best of Windows Central in in your inbox, every day!
Go to Xbox Live Gold area in Windows Store on Xbox One and you will see it. Enjoy!

But, that is a good point, it's $29.99 instead of it's regular $49.99 price tag, good for another 5 days, so not only fee to play for now, but also good price if you want to keep it.

Sure, I tried it and I love it! Updated: I saw the ultimate version discounted the price to $53.99 or something. Pretty sweet deal for me. Sure, I'll grab it one for sure!

I looked there but that entry says "Available only as part of a bundle." When I go to the Standard Edition page it's listed at $29.99. I'm so confused.

Can't wait to dust em in multiplayer.

Downloaded it. I love Xbox free play days!
Windows Central Newsletter
Thank you for signing up to Windows Central. You will receive a verification email shortly.
There was a problem. Please refresh the page and try again.