Foursquare for Windows Phone updated, brings new UI to 7.x users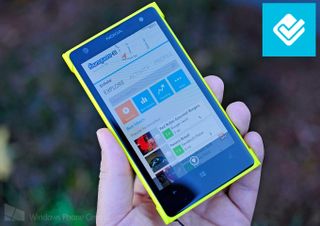 It's been awhile since the official Foursquare app for Windows Phone had an update. In fact, it was way back in June when we last saw some minor bug fixes come to the popular checkin app. Since then, we've also seen the Windows 8 version launch with high praise from users.
This morning, version 3.1.3.0 has landed and while it brings a few changes to Windows Phone 8 users (more on the below), from reader tips we've received, the Windows Phone 7.x version now has the new UI. (We haven't been able to verify since we're out of town, but a few of you tipped us on that fact).
It was in May when the new version of the app launched for Windows Phone 8 users, which brought a new UI. A version for Windows Phone 7.x with the new UI was promised to arrive "a few weeks" after the re-launch though evidently that did not pan out.
For Windows Phone 8 users, while there is no changelog, we can verify a few new layout changes—for better or worse. Here's what we've noticed:
The third tile under search has changed from 'Saved' to 'Trending'
In the context menu (three dots), 'search' has changed to 'filter'
New – 'Best Match' feature, found under 'Specials' allows you fine tune your suggested checkins
Actually, that 'Best Match' feature is really good. It allows you to only show things like 'open now', places where your friends have (or have not) checked in, price ranges and more.
It's also clear that with the replacement of 'Saved' with 'Trending', Foursquare is continuing to position themselves as a discovery application, instead of just a means for checkins. That's a business decision to help give direction the company, though we're sure the ongoing UI changes to force users to find new places may irk a few of you.
Regardless, if you're on any version of Windows Phone, you can download the official Foursquare app. The app was designed with assistance from Nokia, features HERE Maps and is by all accounts, one of the gems on our platform.
Pick up version 3.1.3.0 of Foursquare for Windows Phone here in the Store. You can also swipe to the right in our app or scan the QR code below.
Thanks, Sergio, Matthew and Jack, for the tips!
Daniel Rubino is the Editor-in-chief of Windows Central, head reviewer, podcast co-host, and analyst. He has been here covering Microsoft since 2007 when this site was called WMExperts (and later Windows Phone Central). His interests include Windows, Microsoft Surface, laptops, next-gen computing, and for some reason, watches. Before all this tech stuff, he worked on a Ph.D. in linguistics and ran the projectors at movie theaters, which has done absolutely nothing for his career.
Still can't checkin with friends

I second this complaint. How is checking with friends still not available. Their support replied telling me that they currently don't support that feature on Windows Phone, that was about a month ago. I don't get it.

Yeah, word! After I saw the update notification this afternoon, I thought, well maybe they added friend checkins now... Boy, was I dissappointend :(
I don't understand why they don't implement this in the WP app. I mean, iOS and Android versions already have this... for a long time...

I don't get it either. I basically sign in with my wife's android foursquare app to check in at places with friends...kind of sad.

yeah, still can't tag foursquare or facebook friends.. this is the worst foursquare app in any mobile platform.. and when you open a pinned "check-in" function but decided to, say check "Specials" or "Best Nearby" instead you have to exit the app and open the FULL app again.

People still use foursquare?

Hate to be one of those complainers, but the augmented reality maps don't work on Lumias anymore, plus you can't check into events (like movies or concerts) and you can't check in with friends. Why do they keep leaving out such important parts of the app that are available on iOS and Droid?
I'm grateful for the new UI and glad that we even have Foursquare on Widows Phone, but I don't get why they'd leave out such big features for no reason at all.
Anyone know why?

Probably because Microsoft is stretched so far and thin right now, having to work on a lot of apps, OS's and such.

That makes sense, but I don't understand how features that are already on other OSs can't be easily impilmented onto Windows Phone. Would it really take THAT LONG to add in a few key features? I can see why Vine or Snapchat doesn't have the time or willpower to develop for Windows Phone, given its weak numbers, but if you've already got an app on the OS, then why not make sure that it's as good as the other ones?

I think you meant Instagram. Vine is coming to WP and Twitter already has the app ready and on final tests ;)

Twitter? Did you mean Snapchat? And since when did anyone confirm Snapchat having an app and on final tests?!

No. I mean Twitter. Twitter is the owner of Vine (hende Facebook introducing videos on Instagram). If you have the latest version of the official twitter, you'll even see the upcoming Vine live tile in the twitter app pictures in the store. Snapchat also said they would be coming but I somehow have less faith in that one...

It does not make sense. Foursquare is writing this app, not Microsoft.

well, also keep in mind the windows phone wasnt evena big focus of microsofts until WP8, which was essentially coded from scratch (completely different OS than WP7) I think the slow updating is do mostly to M$ restructuring themselves, now that theyve got where they want themselves to be, I'm etting (hoping?) they'll be updating more frequently and finishing missing features.
also, its worth noting that this whole UI is incredibly different then IOS/android, those two essentially copy eachother to a T, M$ since there OS is so different, need to spend a bit more time planning out how a feature will work and look in a way that fits with the metro UI.

The lack of checking in to events is pretty annoying. But hey, at least they are updating this app every once in a while.

For current foursquare users, why should I make an account and start checking into places? I don't quite get the purpose of foursquare, but I am intrigued enough to give it a shot, especially because their Windows 8/RT app is so gorgeous. It is kind of like a cross between Facebook (checking into places so your friends can see), Yelp (rating/reviewing restaurants, etc.), and QONQR (checking into places the most allows you to be the king/mayor if that place)? Is that right? What if I don't have any friends on foursquare? Is it then less enjoyable?

Yep. You pretty much summed up what it is in your own post. I still find it enjoyable and fun, even without friends participating. I only have like 4 or 5 active users anyways. I just like tracking where I've been and discovering new places and leaving tips and advice. Also, some places have exclusive discounts and offers that come with checking in. Just another pointless social media app that sometimes provides more use than you'd think. I've taken a few chances at some restaurants that I'd normally never try, because of user reviews/info/pics on the places' Foursquare page.

I use it as a way to log my travels, so that six months down the line, I can look back and say "Yeah, I went there. Fun times."
It's also helpful when I get a weird charge on my credit card; I can look back through on 4sq and remember what I was doing when that charge was posted.

I only have a handful of friends on it, but I still like it. I don't even know why, but it's fun to see the history of where I was, and getting the points... like a solitary game of tag. :D I thought it was stupid when I first started, but I just can't seem to quit.

Dont update foursquare!!! Big bug! Dont update!!!!!

Works fine for me, what bug are you talking about?

"Something wrong" everywhere. Check at reviewer at store.

This has been around for a couple of weeks now. I had hoped the update was actually a fix, but no.

Yup, I regret I did it. Besides the UI being a bit disappointment on its own, the app crashes anytime I try to sign in.

Still prefer 4th And Mayor.

But we are still only limited to 4 squares

I still don't understand what the point of Four Square is. This is one of the most popular apps in the world and I have no clue what's it about and why so many people love it. 5 years from now I'm sure I'll still be saying the same thing :-)

Neither does Foursquare. They have mega trouble monetizing, and missed the buyout by Facebook train years ago.

I just started using Foursquare. I'm late to the game. It's kind of a ghost town these days, with most reviews over 2 years old. It's still fun to get points and become a mayor.

Now foursquare has become one of the best application available on the WP platform. Really a nice user interface.

It's still horribly slow with location detection and checking in is still a bit awkward. At least on my Lumia 720. I'm staying with 4th&Mayor.

Though 4th & Mayor has not been updated for quite some time and there are missing features & little annoyances to sort out.

The Availability of features on Windows Phone will coming soon for the next OS updates

Still full of bugs like randomly clearing search results & lacking many important features like venue events, incredible!

Use 4th and mayor much much better

Lumia 900, WP7.8: After update, Foursquare does not work at all, crashes after either own or facebook authentication attempt.
Windows Central Newsletter
Thank you for signing up to Windows Central. You will receive a verification email shortly.
There was a problem. Please refresh the page and try again.