The free year-long Windows 10 upgrade won't be offered to Enterprise users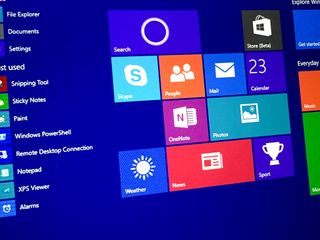 While Microsoft will offer consumers who own a Windows 7 or 8.1 PC a free upgrade to Windows 10 for a year after it officially launches, the company won't extend that same offer for Windows 7 and 8.1 Enterprise users.
In a blog post on Friday, Microsoft stated:
Microsoft plans to release feature updates for Windows 10 at a much faster pace compared to previous versions of the OS. However, some businesses want to simply get security updates and bug fixes. Microsoft stated:
Other business users of Windows 10 would still like to update their devices to use new features in the OS but they also want them to be tested beforehand. Microsoft stated:
Source: Microsoft
Windows Central Newsletter
Get the best of Windows Central in in your inbox, every day!
Makes sense. Enterprise makes huge revenue for them

Exactly, does this surprise anyone?

A lot of businesses use professional. I guess they still get it free.

Businesses use an enterprise version of professional. But the "software assurance" covers the upgrade...but that has extra costs associated with it. Just to clarify, the "enterprise" edition that this is referring to is better understood as a volume license edition. The enterprise/VL edition of windows is still the "professional" edition, just the enterprise version. It has some additional features like bitlocker and UNIX support...but still is called professional. So...if the registration code you used can be used to activate numerous computers (i.e more than 3), then you wont get Win10 for free.

No, they don't all use the enterprise version. They have a choice between that and professional. Just like you can choose between home and pro...

The article even said"for customers who require enterprise features". Small and medium don't necessarily need enterprise.

Yep we have around 300 PC's all DELL all running win7 pro OEM. We don't buy Enterprise client software waste of time and money

Then you are not an enterprise customer. The company I work for classifies a small business as having more than 500 employees. Enterprise have thousands if not 10's of thousands of employees. Believe me when you have a call centers with 1000's of employees you don't run Windows professional OEM.

And yet, our enterprise with about 60K employees and around 75K workstations is running Windows 7 Professional... We have no need for the Enterprise edition.

Nope. I called it. Didn't think there was any way they would let them upgrade for free.

The enterprise is where MS makes its money. They pay to get paid.

Seems reasonable, enterprise is big for them revenue wise.

The 2 top comments think alike

maybe out of topic but I really want to ask . If I have an original copy of Windows like 7/8/10 and I often upgrading my hardware (even whole thing at once sometimes) is that should be fine or what ?

Your right, that is off topic.

When is denim update arriving for phones which are unlocked?? I am bored of waiting

Plenty already have it. Keep checking the update page from Microsoft for you specific country.

I know that many have got denim update, but what about the rest that haven't?? Will it be released after we download developers preview for w10 on our phones? Mind you February has already arrived and it's time for w10.

Just have patience already! However late... We always have got updates!! Since portico....

Money for nothing and chick's for free

Lawl, one more day bro xD

February is not here yet..stop whining..and if you really want to know when it's coming ask your carrier not us...

Hey dumbass i.e. caliborn I said, 'unlocked' phone..we don't have carriers in our country, and its Feb 1st in my country..

I've heard that microsoft are updating newer models first then older models i.e if you have a L920 or L820 you wont get it til probably mid Feb is what's been said! sorry.

Not that those people should be concerned about it as it's literally only a change of name in the Extras part of settings.

You are extremely annoying with this. Stop already...

I cant believe anyone would think enterprise would get a free upgrade too, that's bankrupting madness lol

Haha, I'm using Windows 8.1 Pro.

Good thing we don't use Enterprise, but just Pro. So, I'm assuming that means if you're on Pro you get the upgrade "pro"-bono!


Bona fortuna! Or whatever it is.

Agree, can anyone confirm if Pro is included in the free upgrade? Must be as Pro is on many systems and they said it live that ALL windows 7 and 8.1 will get the upgrade for free. ​ ​ ​ ​ ​ ​ ​

I have a laptop with 7 Enterprise. Quite frankly I don't care if it's free or not, I just want Windows 10! lol

I don't think you'll get the free update :D

Who are enterprise users? (I'm new)

People in business that need business-specific tools (encryption, Windows To Go, etc.)

Enterprise to Microsoft = companies that are on the volume licensing plan.

Banks are definitely one of them

It make sence to pay for a windows 10 enterprise. Not to pay as an enterprise user to upgrade to windows 10 basic.

they are the main customers Microsoft

Enterprise is big business or domain login.

Enterprise is domain login?

Not necessarily. I don't believe we will pay for domain capabilities. Just large enterprises with contracts. I assume. This better not be RT all over again. Haha.

Domain login is a function of Pro and Enterprise. It is not available in Standard or Home editions.

That makes a whole lot of since, they mention nothing about business or enterprise being free for first year anyway

Well they gotta make money somehow :P

How else are they going to make money?

What's the point having windows 10 upgrade for free for only a year? This is extremy stupid.

Microsoft is a business and not a charity. They are giving users a whole year to be able to upgrade their PC to Windows 10 for free. This is plenty of time. If you miss the deal, you have to pay for a copy of Windows 10. This is fair.

I think you are misunderstanding what they're saying. If you get it within the first year, its free forever. If you wait until after the first year you have to pay for it.

If you upgrade during the first year, you get it free for ever.

Your colorful description applies to your own self very appropriately for still not understanding after so many explanations.

Yes making money is stupid..

Does that include Windows 7 Pro or 8 Pro? I don't remember seeing a Windows 8 Enterprise version.

There's a Windows 8 Enterprise. It was only available through MSDN channels, I believe, though. Don't hold me to that. :-)

Software assurance, and Intune too

I have 8.1 Pro N 64bit from MSDN and it doesn't appear to be eligible as the icon hasn't appeared.
It's probably time to install the Insider Preview version. I'm presuming those taking part in the preview are eligble for the free upgrade to RTM?

Enterprise means an os that is deployed in a large business where they need many special tools and features that regular consumers don't need.

So they're not talking about Windows 7 Pro or Windows 8 Pro then? Because that's the ones I have at home.

Nope. Pro is a form of the consumer version. So...a regular version with a few extra features but not business needed features. Supposedly, they're dropping all the version names now too. No more "Home", "Pro", "Enterprise", "Media Center", etc. Just Consumer and Enterprise.

In the current preview it hasn't been dropped mine keeps trying to download Win10 pro TP internal Ms build. Will check and see if my branch lists pro or blank

Enterprise versions of Windows are primarily provided to Microsoft partners and to businesses utilizing volume licensing with Software Assurance. It's not available to the general public and not sold retail. This announcement means nothing, since most customers eligible for Enterprise are either partners who get it free or companies with Software Assurance who are paying a maintenance fee anyway.

Thanks buddy
I thought it's a regular version like pro or ultimate , thanks !!

What he said. Software Assurance is like a subscription plan so that a business always has access to the latest OS or Office products. It's expensive, but there are benefits such as BitLocker (only available in Win 7 in the Enterprise version, not Pro or Home). It also has limitations (or restrictions, I guess) compared to Home or Pro. For example, with Windows 8, you can't upgrade to 8.1 without an OS reinstall and the 8.1 Enterprise disc and key. Windows 10 will be the same way. You can cancel the SA subscription after the term is over and still use the software, but you lose upgrade rights. So if a business is maintaining Software Assurance, they're going to be allowed to upgrade to Windows 10 regardless, but if you cancel the SA plan, you'll have to re-subscribe. Renewals are much cheaper than first-time buy-ins.

Also, if you plan to virtualize Windows desktops, you need Software Assurance to buy a VDA (Virtual Desktop Access) license, which is only available with Enterprise version. Enterprise also offers BranchCache and DirectAccess. BranchCache requires Server 2012 R2 implementation, and caches a read-only copy of files locally for faster access times and reduced bandwidth. DirectAccess also requires Server 2012 R2 configuration but is a seamless, automatic VPN to access shared network resources. I'm a network engineer/administrator.

My laptop is running 8.1 Enterprise because I used to have a MSDN account and figured, "why not??" I guess I'm going to need to downgrade to pro.

Well, they've got to get their money from somewhere, right?

My company is so cheap they upgrade nothing. Lots of old machines capable of running new operating systems that still have XP. Not a compatibility thing. When a PC dies that station gets a new one. We have a smattering of Windows 7 and couple of Windows 8.

Does anyone know if they are going to do something for those of us who paid $49, $69, $99 per license to upgrade our Windows 7 machines to 8/8.1 since if we had not supported their efforts to change we apparently would now get a free upgrade?

Yes, we will be included in the free upgrade offer. You have one year to upgrade before they charge a one time upgrade fee.

A lot of the big enterprises already have MSDN subscriptions that most likely include the upgrade anyways. This isn't really that big of news or surprising. Let's all just be happy they are giving away the personal editions :)

Slightly off topic, but what happens if you need to re-install Windows after the year free upgrade period has passed. This seems to be something that Microsoft haven't explained, will it still be free for re-installs like 8.1 is or will it need to then be purchased?

Since it's the licensed version, you can just use your W10 product key during reinstall...

They'll probably give you a new key when you upgrade, so as long as you don't lose the key, you can make a clean install.

No story here. It has been said during the presentation

So that means my employer that just recently upgraded to Win7 won't spend the money to upgrade until W10 until W7 is EOL and they fork over money to MS to extended W7 support for them because they move so slow. Posted via the Windows Central App for Android on my BlackBerry Passport

Personally this makes me feel like MS is no better than their rivals PR department. I mean... They made no attempt to notice it was only non-enterprise the offer was for. The reason for free upgrade ~ "to get all on newest and best for a better ecosystem" doesn't stand very strong without the enterprise part of the world, that part is huge and the main reason so many PCs still run with XP ... Or am I wrong? Personally I love MS for all they are doing but I still don't like their way of only focusing only on the positive aspects of it all =/ Well... Beggars can't be choosers, and as a fan, I want to think everything MS is cool, but I have to admit that the mixed signals is not cool.

Enterprise is not a commercial SKU... so why should it matter? not everyone can get it. unless you get it pirated. Enterprise it's for software assurance customers, and they can upgrade to any version without paying money, of couse not everyone does. so this article is pointless, especially when normal consumers can't get this version so this free one year stuff is all that matters.

What different enterprise with pro in windows 10 ?

This is misleading. It is offered via the software assurance program, which is required for enterprise version anyway. If you have Pro in a business, upgrade still applies.

Did anyone actually think that MS would of done this for their "Bread and butter" customers ? When they said they were giving Win 10 for free, first thing I said, I doublt that corportate customers will get it...

I'm going to bet this has to do with pirating. A lot of those pirated Windows version are enterprise. Makes it easier to "activate."

Yep. For reasons better not discussed here, Volume Licensing is easier to pirate even with WAT 3.0

How I will know if I'm using an enterprise OS.

It would have been ludicrous to do so. The amount of licenses they'd be handing out for free would be insane. I just hope it doesn't get used as an excuse to stay on Windows 7 for as long as possible. Like many places did with XP.

Nothing is changing except marketing buzzwords. Just as KMS and MAK activated Win8 did not get Win8.1 for free, they won't get Win10 for free either.

This is misleading. If you are enterprise and on SA you get the updates..that is the point of SA. If you let your SA expire, you are no longer an enterprise customer and are just a volume license purchaser..

So... I've had a Windows 7 laptop for about 4 years. Will I get a free upgrade to Windows 10????

Start menu on build 9926 makes me wonder as what is going on in Redmond?

I'm a bit confused, after the one year, are we expected to start paying a monthly fee to use Windows 10?

No, if you got it free, it's free for life

This is the way it should be. I would not want our users attempting to upgrade their machines. Best that it stay locked down and they bring them to us to do. The same was true when 8.1 came out, enterprise did not get it from the store like the consumer version did.

So.... 7 ultimate can make the leap for free right? Lots of comments about the "pro" version. Mine is above that

Windows 8.1 Enterprise licenses require software assurance. This means they are entitled to Windows 10 licenses regardless of this offer.

Not strictly true anymore. This used to be the case, but Windows Enterprise has been available as a separate SKU without Software Assurance for some time under MOLP/SELECT/MPSA Agreements. Anecdotally, very few customers have purchased Enterprise without SA so your point stands.

Right. Let me cover off a few things (I sell millions of pounds worth of licensing per year and manage a team of Software Licensing specialists for a Reseller in the UK): 1) Windows Pro is the primary version of Windows used by business. It is usually purchased as an OEM License with a machine and oftimes upgraded to a Volume License. Windows Volume Licenses are always Upgrades and require that underlying Qualifying Base OS - interestingly Mac OS can count as a Base OS!!)
2) Software Assurance (SA) is an additional maintenance contract organisations can buy for their software covering version upgrades and other SA benefits
3) Windows Pro + SA = Windows Enterprise (users who purchase in this fashion therefore will have upgrade rights to 10 anyway - this represents the VAST majority of enterprise businesses ((who purchase under EAs or ESAs)). Not having free upgrade will not affect these guys AT ALL.
4) Windows Enterprise has been available as a separate SKU since some time in 2014 WITHOUT SA. It appears these guys are the losers. Very few organisations would have bought in this fashion. If it is only Windows Enterprise users who don't have SA that aren't covered by the free upgrade, we're talking very low single digit percentages of customers...

Hey guys, will windows 10 be free for the insiders?

If you upgraded to Windows 10 from 7 or 8, yes, but if you installed it on a blank disk, no. They are only giving free copies for people with 7 or 8, not for free. So no free Windows 10. They are not giving it away for free, you need a past copy of windows to qualify for it ​

Think I'll purchase a full copy as not had much luck with upgrade's....... Thanks for free carrot Microsoft :-)

You can always do a clean install with an upgrade. Of course, the catch can be on full system reinstall, as can happen when your drive crashes. Then it is really nice to have a non-upgrade edition to start from.

After the year update, Windows 11 will be released. Haha!
Windows Central Newsletter
Thank you for signing up to Windows Central. You will receive a verification email shortly.
There was a problem. Please refresh the page and try again.