Fresh Surface Duo renders leak, reportedly coming to AT&T in U.S.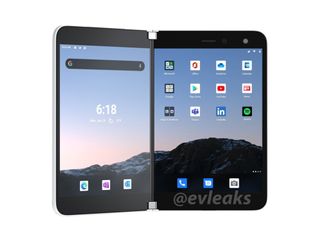 (Image credit: Evan Blass (@evleaks))
What you need to know
New Surface Duo renders have leaked.
The renders don't show anything new, but offer another look at the device in mutliple stages of unfolding.
Alongside the leaked images, leaker Evan Blass states that Surface Duo is coming to AT&T in the U.S.
The Surface Duo hasn't exactly been camera shy; we've seen Microsoft execs pose with the dual-screen device a lot over the last few months. However, if you're hankering for another look at the Duo, a new set of renders have leaked courtesy of prominent leaker Evan Blass (@evleaks) (via The Surface Guide).
The images don't really show us anything we haven't seen before. They do, however, give a nice, up-close look at the Duo in various states of unfolding. Check them out below:
The more interesting part of this leak is that Surface Duo is reportedly coming to AT&T in the U.S. We still don't know how much Surface Duo will cost, but carrier installment plans could make it far more affordable.
Microsoft hasn't detailed all of the Surface Duo's specs yet, but it's expected to run a Snapdragon 855 with 6GB of RAM and up to 256GB of storage. A single 11MP camera is expected to be on board, just above one of the two 5.6-inch AMOLED screens.
Official word on the Surface Duo's release date is still "holiday 2020." However, we've heard that Microsoft is planning to ship the Duo much earlier, possibly during the week of August 24. Given that we've recently seen Duo pass through the FCC and other regulatory authorities, it seems like the launch is fairly close.
Dan Thorp-Lancaster is the Editor in Chief for Windows Central. He began working with Windows Central as a news writer in 2014 and is obsessed with tech of all sorts. You can follow Dan on Twitter @DthorpL and Instagram @heyitsdtl. Got a hot tip? Send it to daniel.thorp-lancaster@futurenet.com.
Well, at least it will give me an opportunity to play around with it and decide if this is a device I would actually use.

If they only release it on at&t that would be lost $

I really do not see this as being only on AT&T, but rather you could buy it thru AT&T channels/website.

Anything like Lumia, you'll likely be able to buy it on AT&T and Microsoft Store, with locked / unlocked versions. It would be crazy if Microsoft had a locked version though.

Why AT&T in my opinion main reason windows phone went no where. At&t made fun of you for coming in to buy one. None of the employees would even bother to try to sell it. This is a huge mistake sell it unlocked and allow all carriers to sell if if they wish to. At least make sure its unlocked so if you buy it at At&t store you can go to any carrier.

There will no doubt be an unlocked version you can order directly from Microsoft website, like all Surface devices.

I agree with you here. Most of the best windows phones were on att and that was a big mistake. Some AT&T employees didn't even know they had windows phones lol. 🤦🏽‍♂️

I am sure AT&T was their only choice. No one was looking for Windows phones.

Just like iPhones when it came out. Only on ATT and no 3G when 3G was already popular in US. It lost me then, and I still never bought a iPhone and probably never will.

I think they should've used their GroupMe app as their default texting app. With GroupMe, they have an Internet-based texting app with all the benefits of being Internet-based (multimedia like videos; likes; location sharing; error correction to ensure delivery) while having SMS as a fallback in case you are texting someone that doesn't have GroupMe. This is the benefit of Apple's iMessage (Internet-based but with SMS as a fallback). Google wants RCS to be the default with SMS fallback. Anyway, it's all a moot point because until Apple supports RCS (which I doubt they ever will), everything still defaults back to the archaic SMS that can't even guarantee the message reaches its destination and can't support multimedia (we depend on the archaic MMS for multimedia which was never intended to send videos).

>app as their default texting app Such a US (North American ?) centric problem, the rest of the world has moved on. Stop enabling Apple uses by sticking with SMS and MMS, Apple won;t change so you have to. I use Telegram and Signal and its been years since I sent an SMS, I occasionally get 2FA SMS and that's it. Even in Japan where Apple had a higher penetration rate then the US for Apple, they use Whatsapp. It took me 6 months to change my friends, every time I sent a message I replied with "sorry, I only use Signal or Telegram for messaging, contact me there." If they did want to to contact me they used those Apps

Windows Phone is Always the best !

I assume (as others here have said) that I'll be able to buy an unlocked version to use on Verizon. I'd be happy to change carriers to get a phone I wanted (I switched to Sprint to get the Palm Pre), but unfortunately, in the rural area I live now, only Verizon provides decent coverage. So for me, I have no choice: it's Verizon or nothing.

from the scale of 1-10, 10 being very likely, will Microsoft announce the ac acquisition of Square Home Launcher developer? lol lol lol https://youtu.be/b7VNkgCQXOk
https://www.windowscentral.com/squarehome-2-another-highly-customizable-...

They need to announce sooner may lose people to Note 20...

I agree, if they do an exclusive deal with ATT it is pretty much doomed. They did that with the windows phones in the past and that didn't go well for Microsoft. I personally think that most people wouldn't jump carriers for a Microsoft phone. I also bought my 950 XL unlocked from Microsoft store but I had to buy it outright. I would have been a lot easier for me and others if we could have gotten through our preferred carrier. The cost would have been broken up in our monthly payments. Just like most android and IPhone which is why the sell a lot of them even though the are pretty expensive.

It won't be "exclusive" anymore than the pixel had been on Verizon. They'll let AT&T pay to market it then sell it unlocked direct from their own store. and that doesn't even account for this report merely saying AT&T will carry it, nothing to suggest Verizon and T-Mobile won't as well until proven otherwise.

Awesome, when the wizards in this group figure out how to have full windows work on this let me know

Imagine how miserable that experience would be. Just selecting a WiFi network would be such a chore with Windows on a 5" screen! Every task would be frustrating.

Yeah.. I'm gonna need this on Verizon. Thanks guys.

I keep wondering what the turnaround time will be for the Duo 2 and what MSFT wants to see in terms of market response to justify getting Duo 2 to market. Also, positioning this device as the best for productivity AND mobile gaming just got a lot more compelling as a pitch with Apple's intransigence on allowing xCloud and Stadia onto their platform.

Regardless of Gen 1, there will be a Gen 2. It will probably be released as soon as spring 2021.

the bezel is huge and no 5G, no NFC, it's better off to start less than $700 to have a chance to compete.

Very disappointing. Microsoft had enough time to work on this device and what is even more frustrating is the fact that they can do so much better. So so much better. They could have went with larger screens, nfc, and wireless charging. Makes no sense whatsoever.

I was very excited about this device, even with those ugly and outdated bezels and small screens but the lack of NFC and wireless charging are deal breakers for me. For a premium device being released in almost 2021 and lacking features that even some basic handsets feature is a failure in my opinion. Will be giving Samsung my money in the end.
Windows Central Newsletter
Get the best of Windows Central in in your inbox, every day!
Thank you for signing up to Windows Central. You will receive a verification email shortly.
There was a problem. Please refresh the page and try again.