Microsoft Surface Duo and grey Surface Earbuds shown off in tweet from Panos Panay
Panos Panay continues to tease us with images of the Surface Duo and other Surface hardware.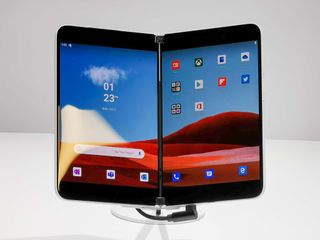 (Image credit: Windows Central)
What you need to know
Panos Panay shared an image of himself using a Surface Duo.
The image also shows Panay wearing grey Surface Earbuds.
The Surface Duo doesn't have a public release date but is often shown off by Microsoft employees.
Microsoft and Windows hardware chief Panos Panay shared yet another shot of himself using a Surface Duo. This time, he's shown off lounging with the Surface Duo unfolded and rocking some dark grey Surface Earbuds.
We don't have an official release date for the Surface Duo, but it seems like a weekly occurrence that a Microsoft employee shares a photo with one. Photos of the Surface Duo also frequently include other Microsoft hardware, in this case the Surface Earbuds in grey. We already knew that the Surface Earbuds would come in a darker color, but this shot shows them off a bit.
The Surface Duo Panay is holding appears to have a bumper case on it as well, adding a bit more protection to the folding device without appearing to add much size.
Windows Central Newsletter
Get the best of Windows Central in in your inbox, every day!
News Writer and apps editor
Sean Endicott brings nearly a decade of experience covering Microsoft and Windows news to Windows Central. He joined our team in 2017 as an app reviewer and now heads up our day-to-day news coverage. If you have a news tip or an app to review, hit him up at sean.endicott@futurenet.com (opens in new tab).
Definitely can't wait for Duo. So many questions, and so few answers. I'm seriously curious about this case, and how it works with such a thin device. A bunch of people over on our Surface Duo Facebook Group have been talking about all this stuff everyday. The Duo news and talk never ends.. I love Windows Central, and our Duo fan page. Can't wait for MS to give us more information on this device!! After this article, come join all 610 of us on Facebook for more! 👌🏽🥳👌🏽🥳👌🏽🥳👌🏽🥳
https://www.facebook.com/groups/397641020931176/?ref=share

When is the Windows Central team going to be done with Rodney advertising his facebook group on every Duo article?

It's not spam! I've been a member here longer than you've been out of kindergarten.. They know who I am. They know I'm a true fan, and they also know that our group not only doesn't take away from WC, rather helps out MS's initiatives. We have gathered over 610 MICROSOFT FANS, and repost WC articles all day long.. If anything, we are helping to increase WC traffic more and more everyday. BTW. What are you doing to increase WC traffic?? 🤔 🤔 🤔.... Maybe you should join us. 🤷🏽‍♂️

I think it is better though than the members here that blindly promote Apple and Google stuff (leaving out the disadvantages in their posts) in every Duo/Neo article.

Of course you think it's better.. Most of us are old Windows Phone fans, and we've been here since the Windows Phone Central days... And, who would complain about a bunch of Surface Duo fans on a Surface Duo article? 🤔🤔🤔 Did you join?

I think everyone agrees that Surface Duo is a dumb name. I bet the shipping version will be called Surface Scribe.

Lol. 😂 😂 😂 😂 I see what you did there, and thanks.. You know that "Scribe" is an awesome name.. You're just mad you didn't come up with it first. Admit it. Lol

Holy cow, Rodney! Your still hanging out like a should-have-retired-already hooker here?

So does Microsoft not want my money 🤔. Release this device already!! 😁😁

It looks way bigger than a 5.6" device should be. Must be due to the bezels and the 4:3 screen ratio?

But his hands are freakishly huge. He could palm a Surface 3.

No seriously, there have been a few pictures of him with device and something about sizes never look quite right. Is he really tiny? Because I've wondered if that could be it...

Who really cares about a teaser photo of something without a single piece of real information in 8 months? I hoped the 2019 reveal meant they would provide actual progress/information on the Duo throughout the year, but this stuff is so inane that it's more annoying than exciting now.

Well there is info about Surface Duo Android skin / changes covered by WC, so that is at least something. I get the feeling the device itself is delayed though, maybe even a few months.

Thing is, that's not delayed. It was announced as a Holiday 2020 launch. Zac Bowden and this site pushed the "launching in the summer" rumor, even as MS stayed wholly silent. They even went so far as to claim a plan to beat the Galaxy Fold 2 to market before its 8/5 launch. Again, this was with nothing public coming from MS about an updated launch or further device info. Then last minute, Zac comes out and says "actually, it's delayed to later in the summer." Yet again, this is with no evidence, no word from MS, and nothing that suggests it's a delay...or an explanation for the alleged delay. It's always been a Holiday launch and this site has led the charge in unproven speculation that really just hurts the credibility of the people spreading the rumor. At the end, Zac and others will just say "well, we were always right, but plans changed," which makes MS look incompetent for no reason. I'm not holding MS to the suggestion the thing is delayed because they didn't spread the early release rumor.

How dare you give us facts? Do you mean we should actually pay attention to keynotes and remember them? Oh no!!!

What the heck is a facts? Lol

We know the hardware is good to go. We now know the 3rd party software development team was brought inside MSFT. That tells you the product is now mature in the development cycle.
When will MSFT be comfortable with the device and the integration of software and hardware? How has COVID changed the timeline? Are they working through kinks that are simply unacceptable? We just don't know. But we also know the emulator is getting more and more polished. So App developers have a better grasp of the device and how to use the system to improve the productivity of their apps. Maybe they are just working through the process. We also don't know how much impact the work from home phenomenon is changing the resource allocation at MSFT. IF Azure is growing at 100%, and functionality for Teams needs to expand quickly, it may just be a simple reality that the Duo is not a priority. The growth of Azure and other cloud services are the most important now. So MSFT may just say hey, while we would like to get Duo out the door, the reality is we need to focus our attention on more important business opportunities. So know, we are not allocating marketing and distribution resources to getting Duo out today. Keep making improvements. But right now we are pushing our resources towards providing better services through teams and Azure to our customers. MST posts quarterly results this week. We will know just what is going on inside the company in the post COVID world we now live in. I also went to Costco today to buy my new Surface Pro 7 bundle for $799. Sold out as of last weekend I was told. But I can buy the identical bundle at MSFT Store for $1159. So I guess I wait a little longer for another bundle offer at Costco.

I'm still hoping that Microsoft will release a list of mobile service providers that will be offering the Duo sooner rather than later. 😐

If any do, it will only likely be AT&T and/or Tmobile. A handful of devices in store, otherwise order online. I see this device being more of a Microsoft Online store availability. I hope Microsoft promotes this device well, but that's wishful thinking. It needs to be in-your-face ads. The Surface brand is well known and popular. They need to market it as a premium mobile Surface device for business professionals. Hopefully, it will have the new Qualcomm's new 865+ mobile processor.

It has all but been confirmed that it will have the old 855.

Yes. I'm aware. But, it wouldn't be the first time specs have changed at the last minute, considering they will be released this year.

I don't think that is an easy change, especially for this insanely thin device.

This will not be sold as a phone. I doubt there will be any carrier deals. You will need to go to your carrier and get their sim. Then you can use the device. Or you just remove the sim from your current phone and place it in your Duo.

That is a very important question. Surface is a popular brand, but it's not carried in Mobile phone stores so it'll be interesting to see who carries it. I agree with AT&T and T-Mobile, as they were the last carriers to really inventory the last Win10 phones, and are the biggest mobile carriers. This is wear running the Android OS makes all the sense.

I'd prefer an unlocked device. I'll pay more to avoid a contract.

Theres 0 chance this device will be locked. They would have to pull a "Microsoft" level move to d.... Oh wait

Move to Norway, we can buy whatever device we like and use it with whichever provider we like. They have no say in our choices of hardware. I find the US provider locked devices to be stupid and not customer friendly. You need to demand change.

Think I will tease them with pictures of Windows Phone, Band, Zune, the list is endless!

We actually did see pictures of Panos with a Band 3.

May be I am the only one but did you notice the minor design change in the design of the border of the hinges, looks like they spaced out a bit so the protective cases can fit?
Also I still can't figure out the reason for the extra bump on right panel. I see its edges are tapered so the right panel bump will fit properly in to the hole of the left panel for better fit when flipped 360* but I doubt that can be the reason? May be the touch id on right panel needs case thicker on a side. It's bothering me, in a good way.

I'm wondering if it's a bump to sit flush with a keyboard on the back or something. That's my only guess. The Duo looked a bit awkward in the launch demo with the keyboard on the back, so maybe the idea is it gives the keyboard a place to sit (where the bump isn't) when it's not in use without messing with the angle of the fold?

Keyboard? I think you are getting confused with the Neo

Bump is for alignment with the flat surface pen so you can fold the device all of the way back while keeping the pen there and the device doesn't feel like a pen is between the two halves

Why is one of the biggest comp working backwards? Specs and display is old and it's running android 🤮

Backwards? in terms of what? Time? Windows is older. If anything THAT'S backwards.
Applications? Windows doesn't have mobile device applications that people want to use. If anything, THAT'S backwards.
Os functionality?
Windows is way too heavy for this type of device. If anything, THAT'S backwards.
Architecture?
Lol... DuoOs will be fine for Microsoft's product stack. This has a better chance of fitting that original tablet dream void that ipads are just now starting to fill. Everyone is acting like Microsoft is making a bold statement or move with this device. It's not. They are just the 1st to blatantly "say" what other haven't and that is 'You don't use your phone primarily as a phone anymore. You haven't for a while and it's time to admit it and build products around that'.

No, market for that nor mobile applications that people want. THAT'S backwards. That's why its not coming out. Android is more suitable right now and the only way forward for this device.

I'll wait 5 years and see if it's still around. I've had the Lumia, Windows 8 and Windows 10 phones. Now they are gone. I used the Mixer now that's gone. Microsoft ever got a heavy weight for it now that person is going to YouTube. The only products I stick with is Xbox, Office, SQL Server, and Visual Studio. They have a proven track record.

He's too relaxed. He thinks refining the software is the only challenge with this device.

No one produces good work stressed. Stop being weird. You have no idea what he thinks.

Its larger than I though. I know Panay is a tiny person - but that is a substantial device. I put that in the positive column

Definitely a positive. Here's a question for you just for fun.
In future, iterations when the bezels shrink , would you rather have same size device with bigger screen, or same size screen but overall smaller device footprint considering this is a mobile, pocketable product line?

@Mister Burns For me, if future versions shrink the bezels, I'd prefer the device be smaller and the screens the same size... but a lot will depend on how the current screen size feels in use.

That's also a good point, to wait to see how it feels. I would rather carry this device (and use it as a secondary [which is funny because that's really primary and my current cellphone would be secondary] device meaning more for notes, schedules, etc) in a inner jacket or back pants pocket so it should be fine for me but I know other people would use it differently.

Same size device with a bigger screen/smaller bezels, because they have already shown that the current size can fit in your pocket.

Good point. Same. I'm a bigger screen guy. I was an early Note adopter before wp8 and I remember all the criticisms. Funny how things change...

As long as it's still pocketable.

I hear beginning of August. Hope so! I also hope that picture wasn't taken with a Duo! Very washed out!

Probably taken on a Surface tablet his kids are using.

Who exactly is he "teasing" with this thing? Because when I think Android tablet, I think Microsoft. 🙄 Just like when I think Oracle DB, I think Apple 🙄. This thing has failure written all over it.

The day I can put W10x on it I'll buy it. If MS do not do it, make it easy for the W10 for ARM on Lumia guys to do it. Hell, let them put W10x on the Lumia.

They should make this device with easy bootloader unlocking and make interface and base rom open source for other custom rom devs. I would just want to install custom roms with MS integrated services instead of Google 🤷🏻‍♂️simple this was the requirement in the first place.

The problem with that is support costs

Why? I'm genuinely curious why you would want 10x on this over Android. My reasons I would want it is because Iike rooting for the underdog. I also think they could increase interoperability across their product stack.
I know those are weak reasons though and android will fill that in fine for now.
I do think they have an uphill battle due to Google and Qualcomm needing to seriously innovate Android and arm devices due to apple's alignment of products using the apple silicon in the very near future (next 2 years but need to start showing sooner than that. Luckily, they move WAY faster than Microsoft)

I do think that as great as Android has become, it is still a platform built for multiple form factors so doesn't present a sufficiently unique UI for single-screen vs dual-screen in my eyes. A Microsoft UI purpose-built from the ground up (like Win 7 was) for dual-screens would be a much better experience.

A delay to put a Snap Dragon 865+ chip in would make since. Otherwise, Galaxy Z Fold 2 here I come!!!

Also, there are no OEMs to step on toes like there is with Surface PCs. This should be done right! Not, half-ass!

Rather strange that MSFT doesn't throw its weight around with mobile like it does with Surface devices. Given the current anti-trust environment I wonder if their earlier experience has them a little skittish? For once I would like to see them stick with a product set for mobile and wearables and commit to them longer term. Win Phones, Zune, and Band do not encourage one to buy their products. If they will follow through and work with it like they have with Surface then this has a chance. But with the anti-trust guys focusing on Google what happens if they are required to spin off Android? It seems to me that sticking with a Win10 Mobile would have been a safer bet. It isn't like they don't do software.

Huh? This is Surface. What are you going on about?

Starting again with win10mobile would not work, if they kept it alive it could have worked (would have been an interesting comparison).

Lack of NFC kind of kills it for me. I understand their rational of not including 5G & I am not bothered about it, but NFC is a must in this day & age.

Nfc is a must for what these days?

NFC is must especially for google pay.

TBH, given the Duo's design, you're going to want a smartwatch or wearable device of some sort anyway , just for convenient view of notifications as they come in, so I'd say just use those for your NFC if it's important to you.

The beauty of google pay is that it can store not just your credit/debt cards, for tap to go payments, it also allows you to store your transport card, etc in Australia I can store my Miki card and just bring it up with the google pay app, and then just tap and pay with my smartphone, I sometimes leave my wallet at home, everything is pretty much tap to go for payments in Australia, I am not sure that would be possible with a smartwatch to pay for miki public transportation ,but hopefully I am wrong, the only thing I would add to the Duos specs would be that NFC and its chip... the other specs are more than adequate, the ram could have been 8 gigabyte, but 6 will do.

For some it is a must, but not for everyone. (I do agree it should been there though considering the probably high price).

This product will be canceled by MS just like other anticipated ones...!

So sick and tired of the teases already. Either release the product or put it on the island for misfit toys next to the Neo, Band 3, Surface Mini, Courier, and the rest of the death squad.

by the time they get around to releasing it, it will be DOA. Just my HO.
Windows Central Newsletter
Thank you for signing up to Windows Central. You will receive a verification email shortly.
There was a problem. Please refresh the page and try again.