Fruit Ninja for Windows Phone's price slashed to 99 cents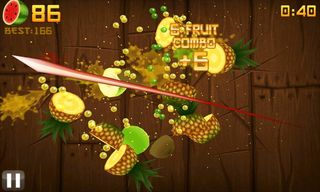 As if the release of Wordament for Xbox Live wasn't reason enough for Windows Phone gamers to celebrate, we get a new price drop today as well. Halfbrick's Fruit Ninja now costs 99 cents, down from the original price of $2.99.
Fruit Ninja is the world's most popular fruit-slicing game. It's made all the rounds, including getting an exclusive Kinect version on Xbox 360. The Windows Phone version lags behind the iOS version (and the 360 one) in terms of content, but even in its woefully not-updated-for-Mango form, it's a fun and approachable game. Choose one of three game modes and go to town on those dastardly, nutritional fruits! The Xbox Live Achievements are glitchy for some users, but on the whole they're fairly reasonable and you'll probably get them all after a while. Check out our review for more impressions.
As I said before, Halfbrick seems to have dropped the ball with updating Fruit Ninja on Windows Phone. The ball must have fallen down a well, where it's extremely difficult to retrieve. The Australian developer also announced Age of Zombies back at the Windows Phone launch, and yet the game has never materialized. Unfortunately for us, they are averse to answering emails, so we can't provide an official word on whether they've dropped Windows Phone support. As we wait for Age of Zombies to materialize (or even Jetpack Joyride, for that matter!), feel free to email ol' Halfbrickey and ask them to show Windows Phone the love it deserves.
Fruit Ninja now costs $.99, the same as the original iOS game. Get it here on the Marketplace, my fellow ninjas.
Windows Central Newsletter
Get the best of Windows Central in in your inbox, every day!
Paul Acevedo is the Games Editor at Windows Central. A lifelong gamer, he has written about videogames for over 15 years and reviewed over 350 games for our site. Follow him on Twitter @PaulRAcevedo. Don't hate. Appreciate!
Price drop reason, obvious, Windows phone has a heck load of new customers coming in at a fast pace, last thing Microsoft want is people complaining why the price of standard games is high. We were the minority I guess.

We don't need price slash for Ffruit Ninja instead we need an update to it. Right?

Good thing I didn't get the game last week.

Eventually the devs will get back on board right? I sure hope so, WP deserves better support than its been getting so far. Now if only devs cared.

I agree! Update the game pls for all of us specially for those who bought the game for $2.99 like me..

Sent them an email with my 2 cent. Paid the higher price, at least give us an update

Shoot, just bought two days ago at old price.

Is it possible that this game is the Deal of the Week and didn't actually get a price drop?

I got this when it was on sale for $1.99.... but, $0.99 ? It's great to see prices come to what other market. I look forward to more markdowns.

As I look through the marketplace, there is a bunch of apps for $4.99 that are in other marketplaces for $0.99 to 1.99. When they start really dropping, I'll buy a lot more games :)

Funnily enough, I spoke to one of the Halfbrick guys at PAX East about this. He claimed that Microsoft had really strange restrictions on updating Xbox Live games on WP7, specifically saying that they (devs for Xbox Live WP7 games) could only push out 4 updates a year. He dais that went against their style of developing games, which is to update constantly and pust new content all the time.
The developer also said that Windows Phone 8 will be removing most of the silly restrictions on the platform, including the one mentioned above, and that they will be returning to the platform once WP8 comes out.
If what he claims is true, I don't blame the lack of support at all. It's a similar situation to TF2 on the Xbox 360; they weren't allowed to update it as frequently as they qould like, so they just stopped updating it. At least they said they'd be returning to the platform once WP8 comes out, so I look forward to eventually playing Jetpack Joyride.

Hmm... If they'd updated it four times last year, I don't think we'd be complaining. They only pushed a single update, which consisted of bug fixes and no new content. I do understand the certification process is unpleasant for developers, but they're still giving a raw deal to customers by firing the game and then forgetting it.

I don't like the game but I purchased it to support lower pricing on the market.

Damn man, not only did I have to pay 2.99 but now devs are a abandoning us as well? Come on, we deserve better then that! =/
Windows Central Newsletter
Thank you for signing up to Windows Central. You will receive a verification email shortly.
There was a problem. Please refresh the page and try again.