Fujitsu's latest Windows 8.1 tablet, the Stylistic Q665, is ready for its Windows 10 upgrade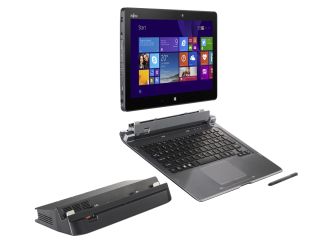 Even though we are just over two weeks away from the launch of Windows 10, some PC makers are still releasing new devices with Windows 8.1 pre-installed. That includes Fujitsu, which has just launched a new 11.6-inch Windows 8.1 2-in-1 tablet, the Stylistic Q665.
This is the third such tablet that the company has released. It already offers the 10.1 inch Stylistic Q555 and the 13.3-inch Stylistic Q775. Inside there's 8GB of RAM and buyers can get the tablet with either 128GB, 256GB or 512GB of SSD storage. Buyers can also choose to have one of three Intel Core M processors inside with clock speeds of 0.8GHz, 0.9GHz or 1.2Ghz, respectively. It also has a 5MP rear camera and a 2MP front-facing camera.
Of course, the tablet is eligible for the free Windows 10 upgrade which will start rolling out on July 29. Pricing for the Fujitsu Stylistic Q665 starts at $1,099. Some models include a keyboard cover that turns the tablet into a notebook. There's also an optional cradle that adds more ports for the tablet.
Check out the Fujitsu Stylistic Q665 at the Fujitsu Store
Source: Fujitsu
Windows Central Newsletter
Get the best of Windows Central in in your inbox, every day!
That super fast processor though... /s

I don't think he knows what he's talking about. If I'm not mistaken, 1.2 is the fastest clocked processor in the Core M family. He just saw a number and decided to blindly comment.

Pretty sure it was sarcasm lol

Obviously it was sarcasm. But the way it is written is appears he's claiming that the processor isn't fast at all.

Blindly comment? Wow. You obviously haven't used a core m processor to compare with the I series. Looked at any benchmarks of the I series before commenting? You should. Then you'll see the performance difference.

I'd say it's more likely you tried to use a core m for more than its intended purpose. It isn't designed for video editing, gaming and other intensive applications. It's there to be a simple machine to serve the needs of the average user.

Granted, for what you've listed. But when it lags with ~5 internet tabs open, I consider that a problem. Maybe I'm not your average user then.

Too many browser tabs are more likely a RAM issue, not processor. Do you check your task manager when your system lags to actually see what the bottleneck is, and what's causing it?

he is refering to that fact that the core M has a really low clock speed at 800mhz(though it does boost 2.00ghz). Having a dell venue pro 11 7140 i can tell you the core m is an outstanding processor for what it is designed for. You get about 80% of the performance of Haswell Laptop processor chip at 1/4 of the energy drain. It is best used used for professional tablet or a 2 in 1. Think of it it as prius instead of the sports car most enthuasiast are waiting for.

I'm surprised that so many people have problem to understand the point of Core M. Having real i3-i7 is great, but it requires FAN and if you run it on constant load it will become hot and eat your battery. I have Surface with i5 and it is great for what I'm using it and that is software development. It gives me the same experiance as desktop i5. But if you look how CPU is used you will see that most of the time it's idling. It use i5 power in short bursts, I never hear fan and it never become hot but it feels realy fast. That is the point. If you try to play some game or run syntetic test or try to use it for something that will keep CPU at 100% it will become very hot. Like it was not ment to be used that way. That is the point of CoreM witch was introduced latter. It gives you the same experiance but it doesn't require fan and does not become hot. It's nishe product that has it's place. It is not speed monster ment for games or 3D rendering. It's office mobile CPU. Good one...

Most people think you multiply the core clock speed by number of cores to get true speed

Which some retails also still imply

I wish I knew where that came from. Someone needs to be slapped for starting that rumor lol

You're both right and wrong. Yes, Core i processors are much faster and therefore can work in bursts. But you're wrong on the comparison between Core i and M. Core M was NOT created purely to be a fanless alternative to Core i, since there simply isn't a fair comparison. The point of the (ANY) fan is allowing the CPU to keep working at the same (or high) speed without throttling. Core M has no fan, so when it hits TDP, it will have to throttle down instead of turning on fans, which becomes an ENORMOUS loss in computing power. Linustechtips actually did an experiment on the new Macbook (the one with Core M), check out out: https://www.youtube.com/watch?v=9DyUitTVWlw

Sure, i5 with fan will throttle too. You can find a video about sufrace having higher FPS in demanding games if you point a big FAN at it :). But I don't think you shoud play demanding games on ultrabooks. Or if you want, you should pick a model that can handle it the way you want. Point is, if playing games is important to you, you probably need console or desktop or gaming laptop. Ultrabook without dedicated graphic doesn't have enough power any way. Why bother... Same goes for most of other havy tasks. Like rendering 3D videos. No reason to bother ultrabook with that. It's too slow anyway and cost too much money. There is a huge market for CoreM. It gives you i5 speed in short burts. Using Office applications and, in my case VisualStudio, simply doesn't push CPU enough to throttle. System is as responsive as real Core CPU. It's not for everybody but it is not bad for everybody too. Actully, there is nothing better that can work witout fan. It preaty easy to determinate if this cpu is good enough for you or not. But I never read something like that. Review-ers are acting like this is an Athom of old. Like you are going to suffer with it no matter how lite your work is. That is simply not true.

The Lenovo Yoga 3 line, that uses Core M, actually has a fan! Yes!

thats a lot of windows 10 news

Still have one of their ide based hdd for my old win98 machine

And this ladies and gentlemen is why we have surface. Look at that thing! I still cant believe that after all these years there is still no OEM 2 in 1 with detachable keyboard & icore cpu <2.5 lbs like the Surface Pro

Well considering their more business then home consumer(as is almost all OEMs) it has to last

Fujitsu makes some awesome PC products. They had a ""100% Waterproof"" Windows 8/8.1 tablet(with Keyboard add on if you wish to get, as a seperate item for it) before anyone else did, with 2+K screen, with built in Stylus, that i saw at 2013 CES show in Vegas. Fantastic comp, with awesome prods, that people don't really know to much about them. I really wish these AWESOME PC comps, would get together and to much better marketing with Win10, and put CrApple to shame, and educate people how overrated, 4 years behind,.........garbage iJUNK, or MacCrap prods really are.
Windows Central Newsletter
Thank you for signing up to Windows Central. You will receive a verification email shortly.
There was a problem. Please refresh the page and try again.