Fujitsu's new ARROWS Tab Q335/K starts rolling out this October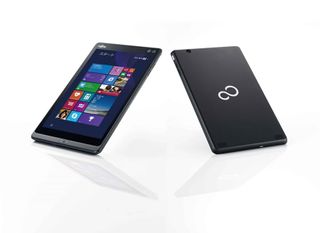 Fujitsu has announced a new Windows 8.1, the ARROWS Tab Q335/K. The ARROWS is aimed at enterprise customers, and features an 8-inch screen, an Intel Atom processor, and comes with Windows 8.1 Pro.
The Q335/K comes in at 0.39 inches thick, and less than 5 inches wide. The tablet weighs less than a pound, which Fujitsu says is ideal for one-handed use while walking around. In addition to coming with Windows 8.1 Pro, the ARROWS Tab can also come with Office. Fujitsu's Cloud PaaS MobileSUITE is supported as well. Fujitsu is also releasing a cover accessory with the Q335/K that can double as a stand.
Fujitsu will begin to roll out the ARROWS Tab Q335/K to customers around the world starting in October.
What do you think of Fujitsu's new Windows tablet? Tell us below in the comments.
Source: Fujitsu
It looks quite nice. Any price or other accessories available? I wonder if there will be more stylus options with future tablets.

Looks like a phone....
...............
Did you know that Fujitsu was the first to make a waterproof WP device❔ Yes, well it's absolutely true❕
.......................
http://m.wpcentral.com/japans-is12t-windows-phone-mugs-camera-ces-12

How much? Hoping for around

No price or additional details? D: The first full windows 8 device with a full HD or just plain quality screen, and a good stylus, gets my money. (in the 8" category)

Wouldn't that be an ASUS VivoTab Note 8?

That's just HD, not full HD

True but he did say full HD or plain quality. :-)

Yeah. The Note 8 display is nice, but not really amazing. I meant something like the Surface Mini was rumored to have... That I probably would have been ok with. I've also heard a rumor that the Note 8 was TN? But I have no idea if its true. Basically, Microsoft or FullHD :P I did come very close to getting a Note 8, but the screen + the lower quality Atom held me back.

I'm in the same boat. Ionno if I can wait though, the Lenovo ThinkPad 10 is extremely lightweight for a 10" device. Really annoying that there is no digitizer for the ThinkPad 8.

Wonder where they'll price it seeing their 10 inch and up tablets start around 900.00 and goes up from there.

more details from the source: http://www.fujitsu.com/global/about/resources/news/press-releases/2014/0...

Hope they make a wp again...

Fujitsu, the most committed of the Windows OEMs to Microsoft tablets. Thank you!

Most committed and by far the most overpriced.

They are expensive but solid. We were deploying Fujitsu "convertible" tablets with XP back in 2005/2006 for hospitals in droves. They definitely target specific verticals in enterprise markets.

Nothing special. I'll stick with my dell venue 8 pro for now. The specs are vague and there's no mention of a proper stylus option.

Well if it's coming out in October, it might be running cherry trail. And it'll probably be quad hd. And I'll be surprised if it's under $600.

Sounds great, if only it had a pen.

I would like more info on this lil bad boy...in the market for a tablet this fall/winter. I want a surface pro 3, but if I go that route I will forgo a new game system...

Looks like the Windows 8" category is getting crowded, but still no LTE, Google Nexus is a Windows fan savior. Pity I'm be forced to use Android.

No price (i bet 300 > w 8.1 pro! ) and few spec... Coming in October... That's perhaps one more reason why surface mini announcement was cancelled... Just to please Fujitsu who was late ;)

No digitizer/pen? No sale :-\
Windows Central Newsletter
Get the best of Windows Central in in your inbox, every day!
Thank you for signing up to Windows Central. You will receive a verification email shortly.
There was a problem. Please refresh the page and try again.