Full page Ad for Samsung Focus Flash appears in Sunday's LA Times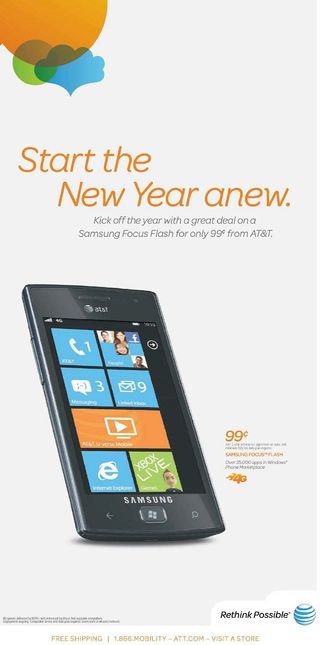 Well, it's nice to see AT&T kicking off the new year by once again promoting the Samsung Focus Flash. We guess the low-priced Windows Phone gets more advertising priority than the Focus S or HTC Titan--a decision we're not exactly thrilled with, but we suppose we'll take what we can get.
What you see to the side though is a full-page ad in today's LA Times. That's a pretty popular, widely read newspaper and full-page ads are fairly eye catching (not to mention expensive). Hopefully it will pay off for AT&T and Windows Phone but as we mentioned, we couldn't help but wonder why they're not pushing the giant Titan nearly as much--seems an easy sell with that 4.7" screen.
Thanks, Lawrence F., for the tip and scan!
Daniel Rubino is the Executive Editor of Windows Central, head reviewer, podcast co-host, and analyst. He has been covering Microsoft here since 2007, back when this site was called WMExperts (and later Windows Phone Central). His interests include Windows, Microsoft Surface, laptops, next-gen computing, and arguing with people on the internet.
Yea it seems like a no brainer to go with a bigger screen. You can argue the target demographic mumbo all day long, but at the end of the day the size of the screen would probably be a better choice for the ad.

Big screen is nice yes, but I won't go above 4" screens. Just easier to hold.

I agree that 4" is perfect for me as I have a current Focus. But it still would be wise to advertise your best phone.

M hands are not that big I like the feel of the focus but I have played around with a live titan and a live ocus s as well as the flash and HTC vivid and samsung skyrocket and the 4.3 screen not that much larger than the focus' 4 inch and the 4.5 and 4.7 are not that much wider than the focus to me its personal preference I could be happy with any of them from 3.7 to 4.7.

if we could only have these phones in canada without having to spend 800$ to order it from the states!

There is plenty of space on that page... AT&T should have printed both the Flash and the Focus, the young and the big brother.
Btw I personally think the squared Windows button on the Flash looks horrible.

using the lower price phone to build interest in WP phone, then once in the store the customer cab be shown other WP Phones that have bigger screens and better internals.

Ok, this trashing of the Flash is ridiculous. Just because it's cheaper doesn't mean it's so lowly. It is one of the best phones I've ever owned.
I had the HTC HD7S, and it was much too large. Where am I supposed to carry the thing in polite company, my front pocket? Can't sit without it looking like I have a tumor, if I can sit--it wouldn't fit in the fashionable tight jeans. Then I whip it out at a business meeting and it looks like I'm a die-hard gamer, or I put an iPad through the laundry.
The Flash is the perfect phone for a large population of people who want the advantages of a great phone in solid hardware with a great screen and excellent internals that is easily pocketable and handleable. It's the business sector, those who are going to appreciate that their Exchange email accounts are in a native environment, and that they won't have to fuss with attachments that are MS Word, MS Excel, MS Powerpoint, etc. Yeah, we like to play games too, and browse the web, but these are supplements. How's the map function? It's pretty good, and those driving directions came in handy a lot.
Go ahead and think that the Flash is a lesser phone, but you're wrong. It's about fit to a population of users. You may not be the target user, but I sure was. I couldn't wait to dump my wannabe tablet phone for a sensibly sized phone that ran Windows mobile.

Well first of the Flash doesn't run windows mobile. And second I don't know who you think is trashing the flash. I don't what the ad looks like because I can't get the picture to load, but they should have at least included the big boys in a full page ad.

i think they heavily promote the Focus Flash because of the price. most people who wanna get their 1st smartphone will look at this phone because it's basically free.

55% of people 18-29 years old are working in the U.S. Looks like a good ad to get that 45%. I would love to see the carriers in the U.S. follow some of the Europe ads and run higher end phones for free with the 2 year, like the Nokia 800. Hopefully At&t or Verizon will spend a little and run the Nokia 710 to match the Tmobile at $49 or under.

I think the focus (npi) should be tens of thousands of dollars was spent on a Windows Phone ad in a leading North American publication.

While the Focus Flash and Radar 4g are really fun phones, Windows Phone is not going to take the mobile world by storm with budget phones. Android and iPhone users are going to be enticed to try a Windows Phone if they continue to hide the really premier Windows Phones. Just saying. This is a lopsided marketing strategy, but nevertheless, Windows is getting some notoriety and that's great.

If I were American. I would go to AT&T as they show WP7 love. Not anything that I can say about the Canadian Carriers. Telus is the best, they suck recently too.
Windows Central Newsletter
Get the best of Windows Central in in your inbox, every day!
Thank you for signing up to Windows Central. You will receive a verification email shortly.
There was a problem. Please refresh the page and try again.