Game of Thrones Episode 5: 'A Nest of Vipers' due next week on PC, Xbox One and Xbox 360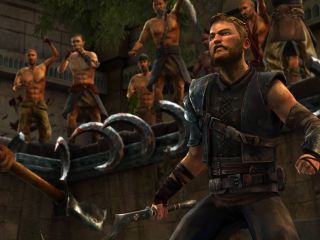 Game of Thrones may have recently completed its fifth season on HBO but Telltale Games's episodic game series based on the TV show is still going strong for people who need their fix. The developer has announced that Game of Thrones Episode 5: 'A Nest of Vipers', the latest chapter in the series, will debut on July 21 on the PC and July 22 for the Xbox One and Xbox 360 consoles.
Here's a quick description:
Previous chapters in the series can still be purchased for $4.99 each.
Source: Telltale Games
Nice! Great series so far!

Exactly. I don't know why people are so excited about this.

It may be boring to some but others who haven't seen the show will find it interesting

Hardly. I find it interesting. The story lines are nowhere as good as the actual series but they've picked an interesting story nonetheless and it's fun playing a part in the world. All the other Telltale games are lackluster but this one is not too bad.

Agreed - it's just a bit of fun but the moral dilemmas make for an interesting game.

Are other languages available?

I've been a fan of telltales other series but not this one. Your choices mean less than ever and they're constantly pushing you to cower down to your enemies. If you do, bad things happen to you anyway. If you don't, the game will push and push and push you to change your mind. If you stay defiant, even worse things happen to you. Eventually you'll try as hard as you can to stray from the obvious direction telltale wants you to go. Not cause of the characters and story, but because you just want to stick it to telltale. I do regret getting this game. Ita their worst one yet.

Everything you have said I agree wholeheartedly.

Will they ever make a phone version?

I haven't even bothered with ep 4 yet, I would have been annoyed if I'd paid full price but I got it in the telltale bundle for bugger all. I am much preferring Tales from the Borderlands over GoT.
Windows Central Newsletter
Get the best of Windows Central in in your inbox, every day!
Thank you for signing up to Windows Central. You will receive a verification email shortly.
There was a problem. Please refresh the page and try again.