Game Troopers goes prehistoric with Age of Cavemen for Windows 10 PC and Mobile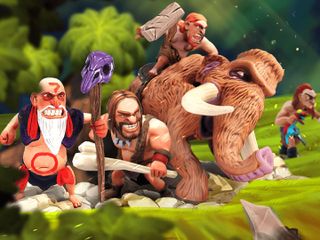 Publisher Game Troopers has released their latest game for Windows 10 on both PC and Mobile. Age of Cavemen is a real-time strategy title set during prehistoric times and is developed by Fuero Games.
Here's the breakdown of the game's features:
Clash of clans style. A classic RTS game
Cross-save your progress between devices
Build a strong and prosperous village
Survive attacks of the enemies
Train a huge army
Lead the warriors to victory in battle
Explore the prehistoric world with other Chieftains and conquer the world
Seasonal events to enjoy with your friends
Age of Cavemen is free-to-play but does include some in-app purchases.
Download Age of Cavemen from the Windows Store (opens in new tab)
Windows Central Newsletter
Get the best of Windows Central in your inbox, every day!
Looks interesting gonnaa try this one

I used to love RTS games but over time I just lost interest in them. I do love the premise of this one and the characters look amazing. I still probably won't play it. But love that Game Troopers is thinking outside the box.

Its the freemium model that kills it

Try Bloons Monkey City it doesn't have that freemium model.....playing it for more than a month now XD

This looks exactly like Clash of clans with different skins. Don't think I'll be playing this one.....

yea tha'ts what i thought, it would be great to see UWP clash of clans app;/

Id recommend Spectral Souls(it currently crashes on w10m or Pylon(haven't tried that one on w10m).

Just too bad, that game which has in-game achievements, doesn't support Xbox Live features. And I thought those would be easier to add now.

Won't play just because it doesn't support xbox live! Posted via the Windows Central App for Android

I wouldn't play it for that reason. I don't have a Facebook account. If I can't play with friends via Xbox Live, this game is worthless.

That feature might get implemented later. GT have most of their games with XBL integration. Fingers crossed.

Say hello to bad news!
Reply from game troopers: http://i.imgur.com/m1hBldP.jpg Posted via the Windows Central App for BlackBerry Passport

Link is down, what did it say?

they said no short term plans to support xbox. and not to share their emails without their consent

Kool, thanks for that and lol re their email stance

They are stupid not to include Xbox integration.

You realise that GT are the publishers? Not the developers +640 on Windows10Mobile

Does this require Facebook for friends or can you use your Microsoft Account?

going to download and try this game!! :D hopefully it will be another hit game! ~DheeraJ~
Lumia 640xl 10586.164

AOE Castle Siege still rocks!

I'm confused, is it a classic RTS or is it like Clash of Clans? It can't be both.

No xbox support, no download, please take notice gametroopers.

Not having Xbox integration is disappointing (#SaveXboxWP, baby), but does this also suggest this is for Windows 10 Mobile only, and not WP8.1 too?

I went to twitter asking why didn't they add Xbox features, they said two reasons. Cost of it, they can't be sure if there's return for that money and work spend. Secondly they feel that they don't get coverage on a Xbox press, "if they don't care, why should we."

the name is cavemEn.. not mAn... sad how even editors/writers dont know to read

Say hello to bad news!
Reply from game troopers: http://i.imgur.com/m1hBldP.jpg
No xbox live anytime soon!! Posted via the Windows Central App for BlackBerry Passport

The sound effects is not very good. Sounds feel like machine gun effect, when many people attack a building or something