Looking for Laika, a new game for Windows phones, sends you on a quest after your abducted dog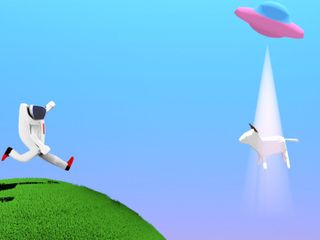 Game Troopers continues to release new games for the Windows Phone and Windows 10 Mobile platforms at a rapid pace. Their latest game is called, Looking for Laika, and it's a side-scroller puzzle-adventure game where you have to rescue your dog Laika from aliens.
The game, developed by Moanbej, employs a minimalist art style. Here's a quick description:
Looking for Laika does support Windows Phone devices with 512MB of RAM. It's available now for both Windows Phone and Windows 10 Mobile for $1.99 for a limited time.
Layca is an indian international mobile operator

That title can be read totally wrong due to punctuation. First time through I read it: Looking for "Laika" (a new game for Windows Phones) sends you on a quest after your abducted dog.

Laika is the name of the dog, who became the first animal to go into space. She went to space on board sputnik 2 in 1957, and also became the first animal to die in space because she couldn't be recovered.

Are these Game Troopers games all ports of other platforms or do they just have a ton of games lying around waiting to be published????

From the game trailer it seems it is windows exclusive, not sure!

Game Troppers are only the publisher, not the developer.
These games were made by other dev teams, they just publish it and take care of the marketing.

Nope. Game troopers develop these already available on ios,android games for windows. They share the revenue with the actual developers.

Every story about Laika is a sad story

LOL. Wait until myAppFree will make a deal with Game Troopers.

Where is killlooooo....???????

"Laika means child (बच्चा) in छत्तीसगढ़ी language...."

How does Game Troopers pump quality games out at this rate?

They're actually publishers, not developers, so it's other devs that make these games.

I find the ragdoll physics hilarious.

the price is really interesting, but I find it a pity that there is no trial versions and mostly it is not translated into French ______________________________________________ galaxy note 4 samsung galaxy note 5
Windows Central Newsletter
Thank you for signing up to Windows Central. You will receive a verification email shortly.
There was a problem. Please refresh the page and try again.