Game Troopers' new game, Elements: Epic Heroes, hacks and slashes on Windows Phone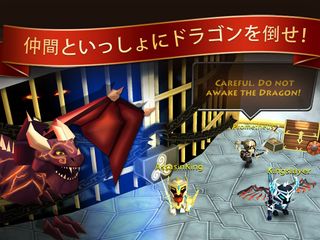 First announced back in mid-October, publisher Game Troopers has finally released the fantasy hack-and-slash game Elements: Epic Heroes for Windows Phone and Windows 10 Mobile. The game is free-to-play with in-app purchases, and supports Xbox Live achievements.
Here's the breakdown of the game:
"You will be able to build up a team of blocky heroes that will defeat the Dark Lord in an epic battle at the Kingdom of Elements. Join a classic fantasy quest through monsters, dungeons and castles in rich 3D environments, solo or with your friends in a multiplayer scenario."
Control a team of up to 3 heroes with simple, intuitive touch controls.
Play heroes of different classes, each represents its own Element.
Complete lots of missions in different locations and slay bosses with unique skill sets for awesome loot reward!
Defeat giant raid bosses with your friends in fully Online Multiplayer experience!
Team up with friends, socialize with them and show off your epic gear.
Rich character improvement: lots of unique and upgradable weapons and armor, unlockable skills and more.
Achievements and challenges (200G)
Download for free
Supports devices with 512MB of memory
Download Elements: Epic Heroes for Windows Phone/Windows 10 Mobile (opens in new tab)
Only getting connection error after the opening play through

Yeah. Connection error after tutorial.

Can some one post the link please

https://www.windowscentral.com/e?link=https2F%2Fclick.linksynergy.co...

"Let's attack the dragon with our friends"

Swear filter? And how is "héll" a bad word? I've seen PG-13 movies that use the word!

I will give it a try. I play and love Dungeon Hunter 5 but with last update it's full of bugs...it's unplayable.

What's your username there? I play it frequently.

I cant join any guild. The game getting heavier after i joined

I'm PSO, for Phantasy Star Online. I usually play daily for a few minutes.

Interesting. I might be trying this.

With xbox and no problems playing after opening play trough. Love it! Update: It freezes after being connected :/

Such a big supporter of the platform, but why are they also not releasing this on w10?

Because majority of users are not on 10 yet. I'm sure they will support universal in future

Looks like this would be fun on PC and tablets. Guess I'll wait...

Caramba! I love it! Cool! Really cool! (Lumia 520)

Doesn't load after tutorial :(

For those freezing after the tutorial, uninstall and reinstall. The achievements weren't live and it was supposed to trigger an achievement there. You'll have to replay the tutorial again.

The same thing after tutorial U_U

Pls give us some good sports games like dream league

My username is yaz join me

Game doesnt work right? Or is it now

Ok, i got it to work. How do i add you?

Does progress sync between Windows 10 devices? Between different PCs and your Phone?

Just read properly and it's only for WP and W10M. But does progress sync between phones at least?

I liked the game so I decided to give it a go and also do some sort of a review and sum up few impressions of my own here in super-monkey-star-bio-weapon review , so if you have time feel free to check it out as well. what I do like about this review is this straightforward breakdown with all the key points which I think is going to be very useful to hoever might want to check out this game. thumbs up from my side
Windows Central Newsletter
Thank you for signing up to Windows Central. You will receive a verification email shortly.
There was a problem. Please refresh the page and try again.