Gameloft releases 'Order & Chaos Duels' free card game for Windows Phone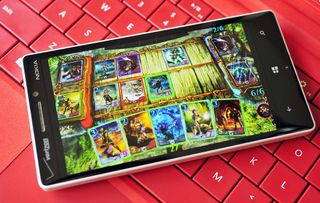 Gameloft is on a tear lately with Windows Phone, publishing many new titles in the last few months. Unfortunately, they have also seemingly ditched any ideas of Xbox LIVE certification, opting instead for direct releases to the Store.
Today, they have a new game on the market dubbed Order & Chaos Duels. The game is a massive 449 MB in size, but it runs on a 512 MB devices like the Lumia 520. The reason it has low memory requirements is because it is not an action game per se, but rather a turn taking card game based off of the ongoing Order & Chaos series, including O&C Online and the new Heroes of Order and Chaos.
From the game description:
The game is almost 500 MB in size due to the high quality imagery used:
Nearly 300 gorgeous cards to collect, with all the heroic fantasy-art style of the Order & Chaos games (MMORPG & MOBA)
Fast & accessible duels on the go with spectacular special magic effects for the cards
Deep content & strategy with the game mechanics of a traditional trading card game (TCG)
Epic live and asynchronous online multiplayer games
Quests & adventures to fight against evil and free the world of Haradon
Optimize your deck for battle in solo & online multiplayer PvP modes
We are going to go ahead and say this is for the diehard Order & Chaos fans, champions of abbreviations in game descriptions, or those who used to play Magic: the Gathering. Order & Chaos Duels is a free game and with the content it contains, it should keep users busy for some time.
Thanks, Lance_WPCentral, for the tip!
Daniel Rubino is the Executive Editor of Windows Central, head reviewer, podcast co-host, and analyst. He has been covering Microsoft here since 2007, back when this site was called WMExperts (and later Windows Phone Central). His interests include Windows, Microsoft Surface, laptops, next-gen computing, and arguing with people on the internet.
Gameloft loves Windows phone

Yup I definitely agree. They keep releasing games every now and then. I'm sure Gameloft has earned their respects from WP users in the gaming world on WP.

They love the money MS pays them. Its the only reason and it isnt a secret.

Yeah, they dont even support the games they release...

That is wrong,they update their games like asphalt8,minion rush etc.

It isn't ? Please fill me/us in.

To some, perhaps. To others, they lost respect back in November 2013 and have steadily reaffirmed that ever since.

If you get to choose the card you play then this is what I've been waiting for. And it definitely looks like you do.

You have a pretty low bar for card game quality.

Not quality. Just one of my requirements of functionality. The other currently existing card games on weekdays phone randomly controls the whole battle process you can't pick cards so you can't adapt.

Can't find it in the store nor the download link work. Anyone??

The article has a link that works.

http://www.windowsphone.com/s?appId=df7de66c-6ee2-4b64-9c85-fc57537055a7 :)

Thanks!! Downloading now.

They need to stop popping out new order & chaos games and fix the original

Agree... The game is free now, but a lot of people payed for it, and they don't uppdate it at all.
Would be cool to see it in the win8 and RT store aswell.

Yea and when I moved to a 1520 it got upgraded from buggy to umplayable

Word is they actually are going to fix the original this year. Fingers crossed!

I had heard they were working on a patch but no direct news. I was talking to their support on twitter but as soon as I said WP I got radio silence so I won't hold my breath.

I have confirmation that it's really getting an update. No details about how they will update it exactly, but my guess is they will publish a non-Xbox version and pull the outdated Xbox version. Hard to believe given that they took a year off from updating at all, I know. But putting the past aside, Gameloft seems to be making a serious push into WP and Windows 8 now.

That's good, and I would suspect them to republish too given that they (and everyone else) have dropped XBWP (thanks MS)

I wish Satya Nadella would sort out Xbox games for WP, but at least Gameloft is well and truly supporting the platform...

Give him a shout out on Twitter, then, and tell him to #SaveXboxWP.

I can't seem to get the game past the starting splash screen. Anyone else?

App link failed to parse !

I hope blizzard will release hearthstone for windows phone

Yes that would be great. This is an interesting game as well.

Does it require active internet connection as well? Anyone who had played the game, please answer. My 500mb download depends on this.

Really really sad about Xbox on Windows Phone going to shit.... :(

Really really happy about more games coming to WP :D

Well I love Hearthstone on pc so I'm hoping this is similar

Like all their non Xbox games I will be sure to avoid this one.
Others are happy, good for you guys.
I have zero respect for Gameloft after what they have done in the past.

We're with you, compadre. #SaveXboxWP. Without Xbox integration, Gameloft games aren't worth it. That was the only thing that made them tolerable before.

It's no Hearthstone, but I may give it a shot

Why are wp apps so heavy on the MB side? Imagine a simple messaging app that is newly installed already gulping more than 100 MB without even having a single msg in it's archive.

Lol what are you talking about, whatsapp weighs in at a regular 16 mb's...

Parsing error. Please fix

Hmm, maybe still some hope left for a fix, and maybe even the enspansion(s?) for regular Order & Chaos?

Yes, the word is they are finally going to fix it this year. :D

Downloading .... Hopefully this game will be satisfied me !

Still waiting for Hearthstone on W(P)8.1, it has been confirmed, hope we won't wait too much.

When gameloft gonna release asphalt 8 update...?????

Parsing error! Nice to see Dan don't even read the comments (if he did he would've noticed the fail junk already)

Gameloft_Ryan said that OCD will come first for 1GB devices, and later for 512MB. Happy to see, the game supports both at the same time. But, 440+ MB is definitely a factor to worry for a card battle game. :/ Anyway, we should thank Gameloft for releasing the titles now and then. Have to download this damn game on Wifi. :lol:

Microtransactions...
If Gameloft can release a game that DOES NOT HAVE microtransactions again, then I'd love Gameloft more.
Brain Challenge, Block Breaker, Let's Golf 2... all good games then. Now it's utter crap. Well, except for Minion Rush for the fact that it has cloud saves; Subway Surfers does not.

You should play the game. It's really fun.

I love how xbox martyrs keep depriving themselves of newer and newer, better and better games...
Keep doing this maybe you will achieve.... nothing. Inb4 'someone' comes and tells me that I'm "condescending".... I know, I know this is your all-time favourite word, don't need to remind me :)

LOL, best comment.I agree :D

Looks like a slick Astral Battles type game

It supports carrier billing too

These days, GL games are released too fast that they don't care much about low-end devices like the lumia 525, which is mine. I installed Heroes of order and chaos, and Rival knights. Both games crash frequently. HOC crashes when I'm in the middle of a match, RK after downloading extra data. GT Racing 2 provides me with a really bad experience. Slow, bad graphics... The only thing keeping me from deleting it is that the "inside car" view is pretty amazing. Anyone facing the same problems?

Hey,
When I open the game, it just shows the gameloft sign then the order and chaos duels loading screen. After it finishes loading, it gets minimized and when I maximize it again, it just goes back the gameloft and loading screen and repeats. Please Help
Windows Central Newsletter
Get the best of Windows Central in in your inbox, every day!
Thank you for signing up to Windows Central. You will receive a verification email shortly.
There was a problem. Please refresh the page and try again.