Heroes of Order and Chaos from Gameloft does battle on Windows Phone and Windows 8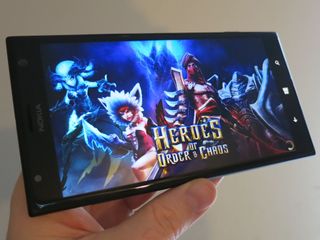 Does anybody remember Order & Chaos Online? It was the first and only Massively Multiplayer Online Role-Playing Game (MMORPG) for Windows Phone with Xbox support. Although beloved by RPG fans, publisher Gameloft basically abandoned the Windows Phone version of Order & Chaos Online. With no content updates or bug fixes, and compatibility issues making it unplayable on the Nokia Lumia 1520, the game never got the chance to thrive like it should have.
One year later, Order & Chaos is back! Sort of. Gameloft has just released Heroes of Order & Chaos for Windows Phones (with 1 GB of RAM) and Windows 8 and RT. Heroes is a Multiplayer Online Battle Arena (MOBA) spin-off of the main game. Since the PC hit League of Legends is not available on mobile devices, Heroes of Order & Chaos is truly the next best thing. And it's free to play, with cloud save support. Head past the break for our hands on video and first impressions!
Learning to battle
Heroes of Order & Chaos begins with an exciting fully voice-acted tutorial. Players must first select from one of three Heroes. Unlike Order & Chaos Online, you won't be customizing the character's appearance or class. But you'll eventually build up a whole team of characters, so your first Hero is really just meant to get you started.
Having chosen a Hero, you'll enter a village that is being attacked by monsters. The first order of business is helping the town guard fend off the monsters at the gate. Next you'll have to rescue a couple of nearby companions from another batch of monsters. Your team can then destroy a couple of control towers, battle a dragon, and wipe out the remaining invaders.
Although Heroes of Order & Chaos is a deep and complex game, the basics of combat are easy to grasp. You can control your hero's movement either with a virtual analog stick or by tapping anywhere on the screen. At the right, you'll find buttons for attacks, switch target, and skills. Tapping the minimap at the top corner of the screen will expand it, at which point you can tap anywhere on the map to view it and/or select a destination for your hero.
Your hero and his or her teammates will battle weak enemy NPCs, stronger enemy heroes, and extra tough enemy boss monsters. And you'll probably die a lot, in which case you have to wait a while to respawn and join the fray. Games can go on for quite a while, so don't start a match unless you're ready to stick with it until the end.
Cross platform battles
Windows 8 version
Although it does offer single-player battles, Heroes of Order & Chaos requires an online connection to play. You can log in with either your existing Gameloft account or Facebook. The game doesn't seem to save your Facebook login information, so the Gameloft account is definitely the way to go. And since characters and profiles are stored on the server, you can use the same account on both Windows Phone and Windows 8. Don't you wish we could've done that with Order & Chaos Online?
The Windows Phone version of Heroes of Order & Chaos seems to be suffering some server issues at the moment. I tried repeatedly to play a single-player match and the server just kept failing. Yet I managed to start a match on the first try on Windows 8… Is anyone else having the same issue on the phone game?
Server issues aside, Heroes of Order & Chaos is off to a great start on Windows Phone. It offers over 40 Heroes to choose from (only some of which are free at any given time), solo, co-op, and PvP modes, and an endless array of loot to buy with the spoils of your battles. If you've been looking for a serious online game for your phone and tablet or PC, look no further. Let's just hope Gameloft keeps the Windows versions up to date!
Heroes of Order & Chaos – Windows Phone 8 (1 GB or more of RAM) – 659 MB – Free – Store Link
Heroes of Order & Chaos – Windows 8 and RT – 691 MB – Free – Store Link

(opens in new tab)
Thanks to Amit Nahar and Mohamed Ashid for the tip!
Paul Acevedo is the Games Editor at Windows Central. A lifelong gamer, he has written about videogames for over 15 years and reviewed over 350 games for our site. Follow him on Twitter @PaulRAcevedo. Don't hate. Appreciate!
Yeah, that's bloody annoying...

512MB support will be coming with an update to the game, I promise!


These comments need to stop.

Why? What's wrong with supporting Xbox Live out of the gate especially when Windows Phone has hardly any appealing USP left now!

Xbox Live is dead on WP. So if you don't play 99 percent of Windows Phone games, just don't comment on stories relating to those games.

Though I'm sad that XBox on WP is dead,I'm not one of those guys who say "No xbox,no buy/play" -_- That is seriously wrong and demoralising for many devs.If we go according to your rules all the 100,000-150,000 games on WP should be xbox. Keep calm,keep buying and downloading games,hope for the best for Xbox on WP but this current strategy is very very wrong.

I'm all for idie devs, and such, but I rarely purchase a non-Xbox game. Bought ARMED! and Teedee cause they're too damn awesome. I often download free/ad-sponsored games thou. But this new Order & Chaos really disappoints me since the first one is Xbox Live. I really hoped they would continue with that for this title.

Gameloft officially stopped making Xbox WP games near the end of last year. The only third party we know of that might still be making them is Ubisoft. Rumor has it they are bringing Assassin's creed Pirates to WP.

In addition to Ubisoft, EA and SquareEnix are third-party publishers who are possibly still making Xbox games on WP. They've each released games approximately within the past half year. Not ideal, of course, but there is no evidence they've pulled a Gameloft and plan to release their games without Xbox integration.

It's hard because we've been trained to covet achievements for so long. I still hold out for Xbox, it's totally sad. :(

Who said that Xbox Live is dead on WP? I've never seen that announcement.

Apparently, you're right but i still don't understand their idea behind renaming "games" hub to "xbox games" hub in WP...

Honestly Paul, he does have the right to comment, as single minded as his comment is, it relates to the article. Doesn't make it any less dumb though

His comment is pretty relevant to this article. This game is a follow-up to the Xbox-enabled Order & Chaos. That this game is a sequel to that and lacks Xbox integration is worthy of criticism towards Gameloft. #SaveXboxWP

Did u just question your own reply? :P No Xbox No buy is plain and simple BS. What, is it hard to enjoy a game that has no Xbox label on it? People should look further and support the developers instead of Complaining all the time. Or simply swap to android and complain some more.

Lol,no.I replied "Seriously?" first to the person who commented and than explained so he could understand.Are you on phone?because it's looking fine on my laptop. :P

Let me explain it to you in a nice way. Not all games can or should have Xbox Live integration and this game is one of them. This game is the type of game where achievements don't make any sense at all. Like I said not all games can or should have Xbox Live. You take a look at say Flappy Birds. That game is an example of a game that would just be stupid to have Xbox Live. If you have at least kept up with the trends, you will know that League of Legends or any other MOBAs does not support achievements at all. The game is not a game to beat you just keep on playing online. I get it. I'm with you. I too want games to support Xbox Live BUT you can't just have Xbox Live support just for the sake of it.

Well, it's not that I or anybody else doesn't want games like this to support Xbox Live. But like I said above, Xbox on WP is dead. There will be next to no games with Xbox features released on it unless Microsoft has a big change of heart and revamps the program. WP gamers need to understand that and get over it already - the writing has been on the wall for well over a year now.

Hey Paul, since Microsoft seem to be releasing Xbox games pretty regularly for Windows, and they want to have parity over their ecosystem of gadgetry, would it be silly for us to believe that this course on Windows Phone might reverse in the near future? Especially since they've supposedly started making it easier for devs to build and certify their games across the Microsoft ecosystem?

It's definitely easier to get a game approved for Xbox branding on Windows 8. But even there, Microsoft just pulled a bunch of Xbox Windows 8 games for some weird reason (Zombies, The Little Mermaid, Gunstringer, etc.) and pissed off their developers. They could change their mind and open up the Xbox WP program someday, but I wouldn't get your hopes up for it.

But there hasn't been any word about it from Microsoft themselves so I wouldn't write it off as dead just yet.

dont understand this, xbox branding means nothing on mobile games. Just gamer points, the games play the same branded or unbranded. If anything, xbox branding should go away for good.

You must have not been there when we would get gift cards for getting gamerscore at 360voice. Those were good times. There are a lot of people (including myself) that only switched to WP for achievements. At the time I switched, WP was way behind (still is, but not as bad). If MS doesn't improve XBL games on WP, I don't see WP having much a future.

Xbox integration means a unified, social experience. It makes every game better for that very reason. If a developer wants my money, they need to provide the features I enjoy. I've got plenty of things to keep me entertained, otherwise. I don't need to play games on my phone. But, if there are some fun ones and they have Xbox integration, then I'll definitely consider buying them. Otherwise, no gracias. No Xbox, No buy. #SaveXboxWP. Awesome details here.

It's not in the hands of developers.

If not the developers then the publishers. The point is that Gameloft is capable of making Xbox games on Windows Phone and Windows 8/RT: they have quite the catalog of them. They stopped because it wasn't worth it to them. That's their choice. But it's also my choice to longer play their games as a result. If they want my business, they'll need to give me the features I want. My guess is that they'll be just fine without my business, which is evident in their decision to drop Xbox Live support. They don't care about me; I have no obligation to care about them. No offense to Gameloft, but I don't find their games very appealing anyway. Most are buggy, unsupported, and unoriginal. I'd much rather Microsoft bring ID(at)Xbox to WP and Windows 8 so we can get indie games, which are often more innovative, with Xbox integration, which would help those developers get the recognition they deserve instead of having it all go to cash machines like Gameloft, releasing games like Asphalt Eight and Modern Combat Five while games like JoyJoy go unnoticed.

I wish indie developers could do Xbox live integration. I went to a developer event at Microsoft and asked a rep what I had to do to get Xbox live due to matchmaking and achievements I had planned but he pretty much said it wasn't gonna happen. Hope they change it :(

Games still have a unified, social experience, he is right, the only difference between xbox live and not is Gamerscore. Anything else just uses a different form of social interaction.
Personality I wish more games would start utilising notifications again, as that was more a boon for me. Especially freemium games. Hotter I won't not but a game just because it is missing one of many features I enjoy. To likely to missed out on something good if I act like that.

No, it's not the same unified, social experience. Xbox Live has shared friends list, messaging capabilities, friend activity tracking, and shared leaderboards across an unmatched number of platforms: Windows Phone 7, Windows Phone 8, Windows RT, Windows 8, Games for Windows Live, Xbox 360, and Xbox One. Everything my friends and I do on all of those systems, in regards to Xbox gaming, is unified. No other gaming platform on Earth has as .much reach as that. Other benefits of Xbox gaming can be read here and here.

Oh so when I look at my friends profile on my 360 when he is playing the Xbox one and it not actually telling me what game he is playing is friend activity tracking? As I have mentioned in the past Facebook integration allows friend lists to be far larger than Xbox live while still affording the same benefits. Then there is the fact that Xbox live is highly restrictive in its achievements system and doesn't display across all devices (Xbox one games are grouped in 360 when looking at profiles). I don't understand why people are so upset about missing a feature that doesn't work that well anyway.

It works fine: you can track all of your friends' Xbox activity at xbox.com. Facebook is not available on all the platforms I mentioned above, nor does it maintain a unified Gamerscore or global leaderboards (only in-game leaderboards). Not to mention that not all of my Xbox friends have Facebook accounts but they all have Xbox gamertags.

Having to go online to check basic things isn't exactly a unified system though is it? Also games for windows live was a failure, it doesn't really exist any more. Also, just a question, what is the difference between global leaderboards and in game leaderboards?

In-game leaderboards could be just friends leaderboards, as with most Xbox WP games. But generally, they basically mean the same thing.

I play a game if the gameplay is nice and enjoyable. Basing preferences on whether a game is xbox live enabled is just stupid.

It's because Microsoft required that all Xbox live games should have no in app purchase ...

They required that for the first year or so of Xbox WP games, but it hasn't been a requirement for a long time now.

Xbox should act as the Game Center on ios...

Thankfully they have released it on Windows as well.If all developers do this,I'll never have to worry about my 512mb ram WP.I'll probably download it tomorrow after cleaning up a bit of space,looks pretty cool :D

I agree it's cool! But I thought you didn't have internet access or something?

Whenever I have my laptop,I have internet.On WP,If I use internet,I'd probably be browsing WPC instead of playing games.I play WP games only when I don't have internet :P Yeah,I know it sounds weird,sorry :P But take a look at this current example.I'm on my laptop with internet so I'm browsing WPC but when I'm bored,I'll probably play it on my lappy(with internet).On phone,I'd probably keep on browsing WPC instead of playing online games. Yeah,I know it still sounds weird but can't help it :P

I bought O&C in case the Windows 8 version would come out . . . #fml

Or... You know, you could have bought it when it was released on windows 8? Just saying

Universal apps. Pay once, play anywhere. That's why I did it.

We have plans to add a Windows 8 version and of course, update O&C Online. The game is still very much in our plans for support. Your purchase was not in vain!


I am glad to hear this Ryan! I love the game on my WP, and would love to play it on Windows 8 as well.

Whoot! However I think I will wait to download the game since you're saying there are issues with the single player campaign.. Hope they fix it soon tho

I have been waiting for this game FORVER!!! :D

Does it work? Currently Order and Chaos does not. so.......

Yet another Gameloft game that is dead on arrival.

Why is it dead on arrival?

Because every Gameloft game had no support. Look at O&C:Online, that game hasn't received a single update. :(

That was indeed a huge shame. But Gameloft actually does support and update their non-Xbox games, including Asphalt 8 and Minion Rush. So hopefully they'll keep up with this one too.

Updating O&C Online is still very much in our plans. With it being an Xbox title it takes a bit longer to push out updates for according to the information I've received. These update plans also include adding a Windows 8 version as well. We obviously don't aim to have such long periods between launches and updates, but we definitely still are working on supporting the game on Windows.


Well.... I have a really hard time believing that. The ball has been dropped really really far. But I want to believe.

Any idea if you can play this with IOS and/or Android users in multi-player?

I dabbled briefly with the Windows 8 version on my SP3 and I saw a mouse/keyboard option, now that would be unfair!

+1, Kind of disappointing. I wanted another or a better MMORPG. O&C is a neat idea; they should spend more time on it.

Oh, joy, trade a compelling RPG for a sad strategy game ripoff of a game that's already mostly for casuals. No thanks, who's got a real RPG laying around?

This game is anything but casual. It's extremely hardcore and challenging.

You think mobas are for casuals? Lol. Posted via Windows Phone Central App

Plz update Order & Chaos instead and give us winter expansion.

Downloaded on my Windows Phone, played through Tutorial, and now can't login. Yay we killed the Gameloft servers! Go us! /s But seriously can't wait to try it out when it's up and running again.

Love this game! Don't care if it's not Xbox live enabled. Look at jetpack joyride, still on version 1.1 and same for fruit ninja. It's a shame the Xbox game on WP with the certification system

Jetpack Joyride actually was updated a couple of weeks ago.

I don't care about if a game is Xbox or not, I care more about the gameplay and the graphics

Xbox Live is dead on Windows Phone and we have no one to blame for its demise but Microsoft themselves. Microsoft never cared about Xbox Live like they haven't cared about other things that would give them an advantage.

Game is just like DOTA on PC

How can an xbox 360 with just 512mb ram do far more complex games

You should end questions with a question mark. But to answer your question, every platform handles memory differently than every other platform. The 360 only has to have like 48 MB of system data in RAM and the rest is available to an individual game. Windows Phone games on the other hand get a maximum of like 180 MB to use, with the rest used by the system and other games and apps.

Wat only for 1gb ram wat about guys who bought 512mb devices Ms sucks

512MB support will be coming with an update to the game :D

Soon there will threads in the forum how the game requires at least 1GB RAM, then a "patched xap" version for 512MB devices, followed by complaints about sluggish performance, crashing, and lastly 1 star ratings from devices with 512MB RAM. I guarantee it.

I know xbox games on wp is dead but in all honestly Microsofts to blame for that they need to revamp the entire program. As a achievement hunter it provides me with little incentive to buy non xbox games.

user device 512 is always disadvantaged

Didn't know about the 512mb RAM limitation until after I bought my phone. Other developers have tweaked their games to run on phones with less than 1gb RAM, why not Gameloft

Gameloft does it too. The extra optimization/cutting down of the game takes time though, so 512 MB support usually comes later via an update.

This game kills battery faster than any charger could charge. Do you have to buy to get new heroes?

You get a certain selection of heroes free every week. If you want to keep any particular hero, you have to buy them. It's the same system used by League of Legends, etc. and seems to strike the right balance between being fair to free users and encouraging users to spend.

I remember playing this game back in late 2012 on my iPod Touch really fun game. If I could play it on my 520 I'd be downloading it right now. I'm a MOBA lover lol

512MB support will be coming with an update to the game (: +1 for being a MOBA lover!

whats the point of this game in Windows 8/8.1? its never gonna compete with DOTA 2, LoL, Strife, HoN and the billions of other x86 MOBAs and lets not forget Heroes of the Storm

Are those games designed to run on touch screens? Also, the other advantage for this one is you can jump between WP and RT and Windows 8 using the same save game, etc.

Guys, I have a Lumia 925 with WP8.1 and realized in time to play on cellphone, any game (Monters SA, Toy Story, Angry Birds etc..) The battery is completely drained, I can play for at most 30 minutes, someone is more with this problem? and how was the performance in WP8 before upgrading? hug

You could buy a charging case for the Lumia 920 - we've reviewed two of them, I think. You can also turn down brightness, turn off cellular data, Bluetooth, and NFC, and those will help with battery life. With a game like this, it might be better to just play while plugged in or using an external battery. Graphically intensive games and those that use online connections drain more power than simple ones.

You need to keep the phone cool. Play near an AC unit :)

The game looks fun! I'm into it...
Installing now

why cant i download this for windows 8? it takes me to the app store but doesnt let me download it.

As perusal...WP starts to get followers and people start to complain same as android I loved android at the start because there not many had it then it got big now look complainers complainers and more complainers....just buy the god dam game and support the OS and the devs.

WP is going to make a 3 part guide for this game?

You mean WPCentral? I might do a single guide for it, if I keep playing the game long enough and develop a keen understanding of the gameplay. Our Order & Chaos Online guide was 2 parts because the game was really complex, with lots of systems for me to explain.

Too bad not available for 512 Ram :(

It's now available for 512mb ram, im about to install it now on my lumia 625, cheers!

Available for 512mb devices aswell now guys #HeadsUp

Please, hurry this game upe

Heroes of order and chaos pls give me update

Server error ... most of the time , connection time out , please give me soluiion of this ??

Not asingle update in years , they just left windows users in dark

This game need update please hurry

This game need new heroes

This game not same and android and iphone

Android version so many heroes

Very boring heroes..........so update new heroes please

I have invested alot on this game but it just keep crashing and no updates... Pls Ryan update...:)
Windows Central Newsletter
Get the best of Windows Central in in your inbox, every day!
Thank you for signing up to Windows Central. You will receive a verification email shortly.
There was a problem. Please refresh the page and try again.