GameStop is temporarily closing all U.S. stores during coronavirus pandemic
A complete about-face from previous statements.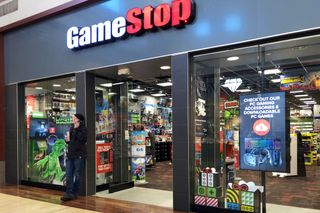 (Image credit: Shutterstock)
What you need to know
Recently, GameStop announced it would be keeping stores in California open, in opposition to regulation during the coronavirus pandemic.
In a complete turnaround, GameStop has now announced it will be closing all U.S. stores.
Digital purchases and curbside pickup will remain as options.
Addtitionally, the company will be giving paid time off to employees whose hours were cut.
Just a short bit after GameStop made headlines by announcing it had no intention to close down any stores in California — under the argument it provided 'essential' retail services — the company is changing course. According to a new press release (opens in new tab) from GameStop, the company will be shutting down all U.S. stores, effective March 22, 2020.
"This is an unprecedented time and each day brings new information about the COVID-19 pandemic. Our priority has been and continues to be on the well-being of our employees, customers and business partners. We have been steadfast in our adherence to CDC-guided safety and local government orders for retailers in each of our communities," said George Sherman, Chief Executive Officer of GameStop. "We believe it is prudent to institute further safety protocols while meeting this increased demand through curbside pick-up. As such, stores that remain in operation will provide only pick-up at the door or delivery to home activities to further protect our employees and customers."
In the meantime, digital operations will continue, so digital games can be purchased and orders placed. Physical orders can also be picked up at local stores through curbside pick-up. As part of its statement, GameStop is also giving employees who lost their hours paid time off and is encouraging employees not to come into work if they feel sick.
While this is certainly a shocking swerve from GameStop's previous statements, it's good to see.
Windows Central Newsletter
Get the best of Windows Central in in your inbox, every day!
Samuel Tolbert is a freelance writer covering gaming news, previews, reviews, interviews and different aspects of the gaming industry, specifically focusing on Xbox and PC gaming on Windows Central. You can find him on Twitter @SamuelTolbert.
Who would have thought...

It was stupid for them to claim that they were an "essential" businesses to begin with. When I'm in a crisis, the first thing I think about is getting food and water, NOT bargain-bin used games.

Something tells me their insurance company threatened to drop them.

I would say that the employees walking out also had something to do with it

With approximately three people per every million worldwide infected, this is several orders of magnitude away from the definition of the word "pandemic".

Do you really think the only people that are infected are the numbers that are currently confirmed with the little amount of testing that is being done, especially in the US? Wow. Were you also one of the douchebags that were on the beach for spring break as well?

Since when do you define the word 'pandemic', Dr. Hopmedic of the WHO?

I would guess that Dr. Hopmedic of the WHO thinks it's just the flu!!!

Actually, I don't define it. Neither does the mass hysteria media. Here's how intelligent people find what words actually mean.
https://www.merriam-webster.com/dictionary/pandemic That's called a definition. And now back to your regularly scheduled election year manufactured crisis.

Just wait a few weeks... We all thought it was a joke here in Europe... 4 weeks ago... I'm in one of the hot spot area right now and while I'm not afraid of the virus, thousands of people of all age will die... To give you an order of magnitude a country like Italy is about to count its death by the thousands daily... a country with 60 million inhabitants... Having my family in the medical field they don't tell you that on TV, but in some hospitals over there they don't take people over the age of 55... That's how bad the situation is... Sure we won't die most of us are fine... But there will be massive amounts of casualties... It will be a pandemic... Unless we find a way to stop it... Which far from it so far...

@Hopmedic
What intelligent people do is listen to actual expert and not try to act like one. I would love to see your qualifications and level of experience...
Honestly, I would rather listen to the World Health Organization than some random guy on the internet who think this is an hoax. I'm in Europe and the situation is really bad for some time now. Weeks back we've had people who were downplaying this just like what you're doing. Now that the problem is more visible and the situation is just getting worse and worse, these people are staying at home and a lot more quiet. Are you stupid? Do you really think all world leaders, the WHO, the medical sector made this up? For what? Because of the election of your country? LOL I'll just post a last thing. One thing that I would like you to listen. It's not me, not the government, not any world leaders...
Just a doctor who is dealing with this everyday for some time now:
https://www.youtube.com/watch?v=tQD4B_hmdvo

Thank you for your invaluable feedback. I'll file that right where it belongs. By the way, pointing out that the word pandemic is being inaccurately used does not mean I take it lightly. It just means that I'm pointing out that the media is hyping this thing more than it needs to be.

https://www.dailywire.com/news/nobel-laureate-why-coronavirus-crisis-may...

In Italy, it's 978 people per million, It is also currently in 192 out of 195 countries. Things get worse, it's about minimising spread, I mean Hell everything starts at nothing. You aren't going to ignore a fire on your curtain because the rest of your house isn't affected yet, no, you'll put it out so the rest of the house DOESN'T get burned to the ground.

What is the point of buying digital from game stop instead of buying digital from
the game console store

That is something I have never figured out.

So, the idiots at the top of GameStop have finally seen sense..... well as much as GameStop has anyway

Haven't bought a physical game from Gamestop in ten years. All my Xbox (One X) games are digital. I knew they couldn't stay open for long. Now my job (USPS 24 years) needs to close or offer administrative leave.

Eh, USPS is pretty essential.

many people depend on USPS for maintenance delivery medications.

I'd be thankful to be still gainfully employed.
Windows Central Newsletter
Thank you for signing up to Windows Central. You will receive a verification email shortly.
There was a problem. Please refresh the page and try again.