Gaming on a projector is an incredibly immersive, but flawed, experience
It's immersive and flawed.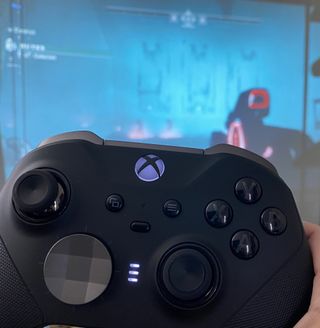 (Image credit: Windows Central)
For years now, I've been asked if console gaming on a projector is a viable option. How do factors like input lag, image quality, colors, and built-in speakers affect the experience? There are many different devices on the market, but we tested out the affordable ViviMAGE Explore 3 that costs $200 and the mid-range BenQ TH585 that comes in at $600. While both perform admirably when you're viewing films, shows, or other content, they don't quite match other affordable TVs with low input lag like the TCL 6-Series R625 (opens in new tab). With that said, a massive image takes immersion to unprecedented levels.
Both the TH585 and Explore 3 are 1080p projectors. We decided against using 4K ones, as many start at the prohibitively-expensive $1,500 range and go up from there. That's a lot more expensive than many 4K TVs with low input lag, which is, in my opinion, the most important metric when it comes to gaming. Low input lag results in more precise controls, which, in turn, results in a much more pleasant gaming experience.
The TH585 projector features a brightness of 3,500 lumens, a 10,000:1 contrast ratio, a built-in speaker, 15,000 hours of lamp life, a dual-voltage power supply, so it'll work all over the world. However, the highlight of the device has to be the "Game Mode." It appears to tighten up the input lag and response time, making your controller actions feel much more immediate and precise.
I played Anthem, Destiny 2, Doom Eternal, Gears 5, Monster Hunter World: Iceborne, and Ori and the Will of the Wisps on the TH585 using an Xbox One X. While 60 frames per second (FPS) games like Doom Eternal, Gears 5, and Ori and the Will of the Wisps performed really well – with minimal input lag – Anthem and Destiny 2 were a little difficult to aim because they run at 30 FPS on the console. If you're going to be using a projector, I'd recommend sticking to 60 FPS titles.
The Explore 3 projector features a comparable brightness to the TH585, includes a dual-voltage power supply, but has an 8,000:1 contrast ratio. However, it makes up for that by offering great surround sound speakers and 60,000 hours of lamp life. The image quality on the Explore 3 isn't as good as the TH585, particularly the vibrancy of the colors, but the price is $400 less.
Just like the TH585, I played Anthem, Destiny 2, Doom Eternal, Gears 5, Monster Hunter World: Iceborne, and Ori and the Will of the Wisps on the Explore 3 using an Xbox One X. Again, 60 FPS games like Doom Eternal, Gears 5, and Ori and the Will of the Wisps performed well – with minimal input lag, though more than the TH585 on Game Mode – but Anthem and Destiny 2 were a little difficult to aim because of their low frame rate on the console.
I personally wouldn't recommend playing 30 FPS games on a projector because they feel incredibly choppy. 60 FPS titles fare much better, but 4K televisions still have the upper hand when it comes to input lag. Everything is just a little bit smoother and more responsive on the TCL 6-Series and the Sony X900F (opens in new tab). The next generation of consoles is launching this holiday season and games appear to be targeting 60 FPS at a bare minimum. Hopefully, that's going to be the end of 30 FPS games.
Now, you might ask, "can you really tell the difference when it comes to input lag?" Well, the short answer to that is "yes." Even games like Destiny 2 – that run at 30 FPS – feel much smoother on a 4K display with low input lag than they do on the Explore 3 or the TH585 with Game Mode enabled.
Higher input lag figures don't render these projectors unplayable by any stretch of the imagination, but you do have to wrestle with the controls a little bit. The precision to get on a 4K display isn't there when you're gaming on a projector. The difference is slight, but it's noticeable.
However, there's one area where TVs can't compete, and that's immersion. The benefit a projector offers is the ability to scale up the image dramatically. When you're playing on a 120-inch screen, or larger, it just feels more immersive. You can't beat the experience, no matter if you're on a 65-inch 4K display.
It's hard to describe how it feels when you're controlling the action from a projector that encompasses your entire wall. There's a sense of elation that I haven't experienced in a while since I mostly use gaming monitors or high-pixel density TVs. I wouldn't say gaming on a projector is better than a TV, but it's way more fun. If you do decide to game on a projector, just have some external speakers handy.
Affordable option
(opens in new tab)
Can't beat the price

The ViviMAGE Explore 3 features native 1080p resolution and 60,000 hours lamp life. Employing four times as many pixels as 720p, it creates clear images for a great gaming experience.
Big-screen gaming
(opens in new tab)
Features Game Mode

The BenQ TH585 is a 1080p projector with a low-latency mode for gaming. It also features a 10,000:1 contrast ratio, so images appear brighter and colors more vibrant.
Asher Madan handles gaming news for Windows Central. Before joining Windows Central in 2017, Asher worked for a number of different gaming outlets. He has a background in medical science and is passionate about all forms of entertainment, cooking, and antiquing.
I used to love watching TV and movies on a Projector, many, many years ago. Used to own a few Optoma projectors, with their Themescene (HD20/HD80) offering reasonable blacks etc. Used one for many years. But, eventually, the dreaded colour wheel of disco damage appeared more than once. You HAVE to have adequate cooling and expect it to break. It will, without the cooling (or if you don't run them in a boiling room). These suckers get hot but, maybe, these days they might have improved. 119" screen... cannot be beaten!

Yeah it can 200"...mine is bigger than yours 😜 Sorry too easy... Now for the other... Having been in the Home théâtre scene for almost 2 decades... Unless you are ready to dive in and spend big buck on a dedicated room I'd go for HT sound systems first foremost and a good TV... I find a good sound system way more immersive than an average projector with a sound bar... I just moved in a new house a year ago with a full basement... Planning on going all in this time and my budget with the current prices is around 20k and that's just for the equipment not the construction material to turn the room into a viewing room... So yeah if you stay in your living room go for a good 5.1 and a good TV for a third of the price if not more 🤣
Windows Central Newsletter
Thank you for signing up to Windows Central. You will receive a verification email shortly.
There was a problem. Please refresh the page and try again.